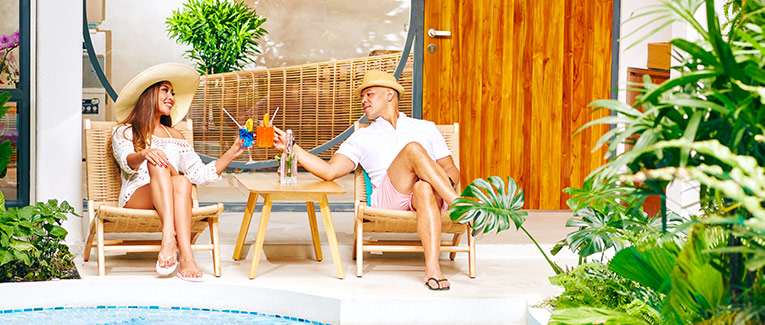 A honeymoon is that beautiful, once-in-a-lifetime journey that all newlyweds dream about. But if not planned right, your perfect honeymoon can completely drain your savings, and the last thing you want to do is begin your marriage with a mountain of debt.
How do you plan a honeymoon on a budget, and come back home with a treasure trove of memories? We're here to help with some honeymoon planning tips.
Planning Your Deam Honeymoon On A Budget
1. Pick a honeymoon destination based on your preferred experience
Do you dream of soaking up the sun on white, sandy beaches while sipping on delectable cocktails?
Does the thought of skiing down the Alps get your adrenaline flowing?
Does snuggling under the covers at an elegant Bed-and-Breakfast sound like the perfect getaway for you?
Once you've figured out what excites both of you, you can choose your destination.
Belize, Krabi, Costa Rica, Riviera Maya, and Bali are just a few of the most breathtaking and affordable honeymoon destinations out there. So, explore your options and take your pick.
2. Jot down your honeymoon expenses
Once you work out how long you want your honeymoon to be, list all your expenses, including:
Research each of these to arrive at a rough estimate of your total honeymoon cost. Compare it with your savings and income, and then hammer out your honeymoon budget.
Saving Up for Your Honeymoon on a Budget
According to a study by Zola, the average honeymoon cost is $5,000. So, if you're pondering how to save for your honeymoon, we've got some ideas for you.
1. Set up a honeymoon fund
• Consider opening a high-yield savings account
It gives you a much higher interest rate than your regular savings account. Often, 10 to 25 times higher.
Set it up for automatic debits from your checking account, and watch your honeymoon fund grow!
• Set up a honeymoon registry
Who wants another juicer, when you can have some extra cash for your honeymoon? So, ditch the usual wedding registries and set up a honeymoon registry as soon as you get engaged. This way your friends and family can pitch in for all your honeymoon expenses like flights, hotel stays, and also for experiences like snorkeling, camping, and more.
Hitchd, Honeyfund, and Zola are a few of the popular honeymoon registries. Figure out the one that works best for you.
Honeymoon tips and tricks:
Stash away 25% of your wedding gift money for your honeymoon fund
Use apps like Mint or Digit that automates monthly savings for your honeymoon fund
2. Make the most of your credit cards
What if spending on your wedding could help you save on your honeymoon? Yep, you can make this happen with the right credit cards.
Do a bit of homework and keep your eyes peeled for credit cards that:
Offer a lavish welcome bonus which will increase your points in one go
Rack up airline miles
Award you with honeymoon-worthy benefits like airport lounge access or hotel elite status
Honeymoon hack: Want double the benefits? Have your spouse-to-be sign up for a credit card, too! One of you can earn cashback, while the other can snag those miles.
Be Flexible with your Travel Plans
1. Travel in the offseason
This is a great way to save on your trip if you aren't taking your honeymoon right after your wedding. So, if you're dreaming of taking a walk down the serene streets of Granada, plan your trip between June and November.
Pro tip: Be aware of any special events that take place in your chosen destination. For instance, you don't want to be in Granada during the Spicemas festival that takes place from the end of July until August. The huge crowds and the high airfare and hotel prices might not be worth it.
2. Plan a Mini-moon
Set off on a road trip to the nearest camping spot, or plan a midweek two-night stay at a secluded beach resort.
The positive aspect of this is that you can save up for a second, longer honeymoon!
3. Keep your flight costs low
Fly on a Tuesday instead of the weekend
Fly during off-hours
Track flight prices using apps like Skyscanner, Kiwi.com, and Kayak. Kiwi is especially great for long trips, as it helps you find the cheapest and most efficient itinerary.
Book flights from secondary or farther-distanced airports, provided you don't have to spend a fortune on a taxi to get to your hotel.
Make smart accommodation choices
1. Get cozy at a vacation rental
Picture a tranquil cabin by Lake Tahoe, or a beachfront apartment in Maldives or Phuket. With killer views and homey vibes, vacation rentals are amazing budget-friendly honeymoon getaways.
Before you book a rental:
Call up the owners to get a better understanding of the property,
Check their amenities,
Scan reviews and be wary of fake reviews,
Ascertain if it's a safe neighborhood.
2. Choose your honeymoon package deal wisely
Honeymoon package deals sound great. Who doesn't love free champagne and room upgrades? But a snazzy turndown service with rose petals sprinkled on your bed might not be worth the extra money.
So how do you choose the right package?
Compare various packages. Pick the one which includes activities that both of you would enjoy.
Calculate the cost of each activity and arrive at a total cost.
If the total cost is more than the cost of the package, seal the deal.
Honeymoon tip: Shop around for package deals that bundle your hotel and flights together.
3. Contact the hotel directly
Did you know that some hotels offer the best rates on their website? So, compare prices before you hit that 'Book now' button on a travel deal website.
Another piece of advice is to call up the hotel directly.
4. Think outside-the-box and save more
Don't dine out every day. If your room has a kitchen, use it.
Use public transport whenever you can.
Tag the hotel on your social media posts. They get the publicity, and you might just get a room upgrade or complimentary drinks at the pool bar.
Travel Insurance, Even If It's A Budget Honeymoon
Travel insurance is probably the last thing on a honeymooner's mind. But, can you imagine having to cancel your trip because you broke your arm? Believe us, your hotel or airline is not going to save the day and fully refund you. So, what do you do?
You buy a trip cancellation insurance plan. Visit Insubuy, where scores of travelers like you buy insurance plans every month. Do a quick comparison of the various plans, and then select one that makes the most sense to you. With a BBB rating of A+, and customer service agents who go out of their way to help you, Insubuy helps you leave your travel worries behind.
So, go on. Plan your coveted dream honeymoon on a budget..
We are sorry that this post was not useful for you!
Let us improve this post!
Tell us how we can improve this post?