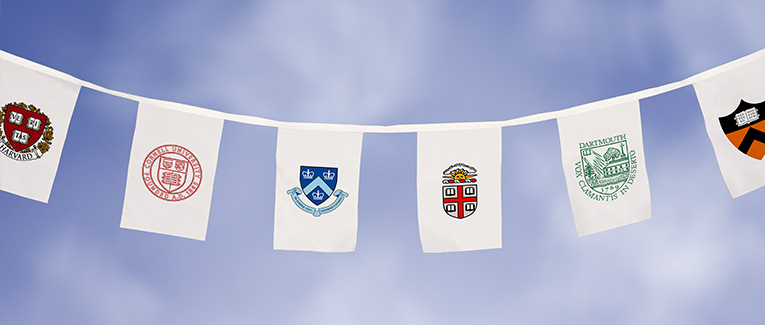 If you're planning to apply to the top universities in the U.S., here are the top 12 Ivy League colleges you should not miss.
We'll cover some basic information, and highlight some key differences between these colleges, so that you can make your choice about which college you want to prioritize.
1. Explore the scope of flexible academics at Brown University
Brown University is one of the leading research universities in the U.S. If you want to attend this Ivy League college, you have to stand out, because their acceptance rate is only 7%.
If your interests are diverse, ranging anywhere from astrophysics to poetry or athletics, Brown University has the means to facilitate the development of all these skills in the span of your preferred program.
There are over 70 available majors, with even an option to choose a major of your own design. The open curriculum allows undergraduates to develop a personalized course of study where you can take your time to discover what you truly love.
You can work with world-class faculty, assist in their research, and even conduct your own research. The environment of Brown University is filled with bright, young minds, giving you the opportunity to forge crucial lifelong connections with the up-and-coming academics and professionals.
2. Study in The Big Apple at Columbia University
Expand your worldview and become a better version of yourself in the thriving academic atmosphere of Columbia University, which constantly encourages you to push your limits.
You'll meet students from all over the world. The value that these different perspectives bring to your life and education is incomparable.
Choose from three undergraduate schools, and 13 graduate and professional schools. Almost every other faculty member you meet is going to be a leading expert in their field.
Columbia University ranked #1 in the Best Colleges for Philosophy in America, #2 in Best Colleges for English in America, and #2 in Best Colleges for Performing Arts in America. These rankings make it one of the top Ivy League colleges in the U.S.
3. Learn in harmony with nature at Cornell University
Cornell is renowned for its Agricultural Sciences and Architecture programs. It enrolls over 15,000 undergraduate students, allowing you to be a part of an even bigger and more diverse student body.
What sets Cornell apart from other Ivy League colleges is their mission to create an equitable and inclusive atmosphere for all Cornell campuses. They encourage diversity in education and their student body.
The University also recognizes the importance of nature, and promotes sustainable ways of working. The campuses are situated to provide a balance of rural and urban. The main campus located in Ithaca is situated nearby lakes, natural waterfalls, and gardens.
4. Dartmouth College is the leading expert in healthcare education
The college is relatively smaller, with a little over 4,000 undergrad students. If you find crowds overwhelming, consider enrolling with the smaller student body of Dartmouth.
The university has a special advantage in the area of healthcare development. The institute of health policy and clinical practice has been recognized as the leading institution in the U.S. They also have one of the oldest engineering schools, which strives to bring systems engineering to healthcare delivery.
The University also has more than 75 centers and institutes that offer learning and research in areas as diverse as medicine, the arts, engineering, and business.
You can also make your own degree plan. This personal enrollment pattern allows you to own a mix of on-campus commitments, and the opportunity to work, study, or serve off-campus and abroad.
5. Harvard University – the top Ivy
Harvard University has been ranked as the top Ivy League university. With an acceptance rate of only 5%, it is one of the most sought-after Ivy league colleges in the world.
Harvard University offers almost every program you can think of. To read about the programs, visit the school's website.
24% of Harvard students are international. You'll find more than 50 international research centers and programs on campus, and more than 80 languages taught here.
Harvard is not only limited to academic or basic extracurriculars. The university has played an integral role in the Olympics, Paralympics, and Special Olympics for over a century.
6. Go to Princeton University for global options
Princeton has been home to Michelle Obama, Jeff Bezos, two Nobel laureates, and two former presidents. Adding to its impressive track record, Albert Einstein taught at this fine institution.
The university has been ranked as the second-best college in America to study political science and public policy analysis.
Undergraduate students get access to the extraordinary resources of a world-class research institution dedicated to undergraduate teaching. Graduate students engage in original and independent scholarship and research under the supervision of world-class faculty.
You also get opportunities to learn and pursue research beyond the University's campus, as Princeton is a global university.
7. University of Pennsylvania is diverse in student body and academics
Also known as "Penn," University of Pennsylvania, like Cornell, has an average of 10,000 undergrad enrollments. Even though the student body is quite large, the acceptance rate is only 8%.
The university offers a generous financial aid budget and inclusive aid policies. So, financially, Penn State might be a more attainable goal.
You'll also meet students from the widest possible range of backgrounds. Like the student body, in which 54% of the students identify as persons of color, even the academic program is very diverse. You'll get many interdisciplinary opportunities to express and discover your academic creativity. You can also pursue a dual degree, where you can receive two bachelor's degrees simultaneously from two separate schools of the University.
9. Yale University is renowned for its incomparable faculty members
Yale is one of the top Ivy League colleges. It has been ranked as #1 for having the best professors in America, and #1 for best colleges to study history. As expected, their acceptance rate is only 6%.
At Yale, you get both local and international reach. The university partners with its hometown of New Haven, Connecticut to strengthen the city's community and economy. Apart from this, it also engages with people and institutions across the globe to promote cultural understanding, improve the human condition, delve deeper into the secrets of the universe, and train the next generation of world leaders.
You will also get opportunities to go abroad to study, research, or work. If you want to become a global citizen with a passion for learning, Yale should definitely be your top pick.
Ivy League Colleges that Aren't Technically in the Ivy League
The following universities are not technically Ivy League Universities, in name. However, in other aspects such as prestige and academics, they're at equal standing, or sometimes even better. This is why they're often commonly mistaken for Ivies.
1. Stanford University is most commonly mistaken for an Ivy
According to the U.S. News National Rankings, it ties #6 with Penn. However, Stanford is way pickier, with an acceptance rate of only 4%.
Approximately 7,000 undergraduate students attend Stanford, with almost 70 major fields of undergraduate study. Over 9,000 graduate students are pursuing academics in nearly 200 graduate programs in all seven of Stanford's schools.
As a student, you'll create and apply knowledge by thinking and doing, preparing for leadership in a rapidly changing world, rather than just sitting in classrooms.
2. Tackle difficult questions at MIT
If you're curious to learn and further the field of your choice by embarking on academic adventures, MIT is your pick. More than just earning your degree, you learn to innovate, research, and create knowledge.
The university ranked #3 in the U.S. News National Rankings, right alongside Yale and Columbia.
You will be a part of a university that is working to serve society by solving the hardest problems. To be a part of this prestigious team, you have to be in the top 7% of the applicants.
3. Northwestern University combines the different fields in academics
Northwestern University provides an inclusive environment for all its students, regardless of their background. Through their diversity, they have achieved a unique environment that unites knowledge and ideas, ambition, and imagination.
You will always have someplace new to go, another idea to chase. You'll be encouraged to take paths that twist, turn, and take you to unexpected places.
4. There are 'No Barriers' to the University of Chicago
University of Chicago ranks #6 right alongside Stanford and Penn. Inclusivity is something the university really values. In an effort to express this, they have launched 'No Barriers.'
The comprehensive plan increases access to college through initiatives like generous funding for summers and the school year. They offer paid internships and research positions for study abroad, as well as career exploration treks for all majors. You will learn not what to think, but how. You'll be encouraged into free and open inquiry, student and professor debates, collaboration, and investigation, while challenging assumptions.
We are sorry that this post was not useful for you!
Let us improve this post!
Tell us how we can improve this post?