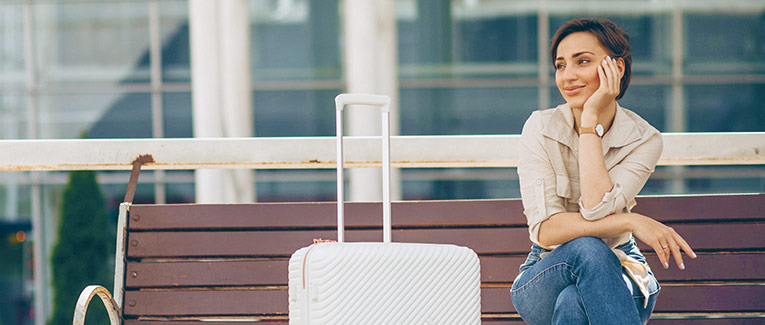 When you love to travel, sitting in a plush corner office can feel like punishment. You are the most productive when you are out and about; not when you are stuck in a chair.
Here, we have listed a few jobs that require travel and pay well. These jobs satiate your wanderlust, often at your employer's expense. We have divided them into four main categories.
4 Categories Of Jobs That Require International Travel And Pay Well
Jobs Where You Get Paid Vacations
Studies suggest that vacations boost employee productivity. Numerous companies allow employees to take vacations each year and even pay for the trip. The trip allowance ranges anywhere from $1,000 to $10,000 depending on the company.
Backpacking Jobs
For young backpackers, there are plenty of short-term gigs available while traveling. Working at hostels, housesitting, and helping at organic farms are some of the options. These jobs can help fund your globetrotting endeavors.
Digital Nomad Jobs
As a digital nomad, you can work for others, run your own company, or even freelance while you are exploring exotic destinations. These jobs let you earn a paycheck while exploring. Digital nomads are different from other traveling workers, because theirs are traveling jobs that pay well without degrees.
Jobs That Require Travel
These are careers that require travel and pay well, so consider yourself lucky if you get an opportunity. Thus, employers pay for their employee's trips and accommodation in addition to their salaries. You can explore new destinations after work hours. This also lets travelers explore places as a local.
Jobs That Let You Travel And Earn Along The Way
1. Flight Attendant or Pilot
Pilots, flight attendants and cabin crew members get to travel the world as a part of their job. They also get employer-funded accommodations abroad. When you are off-duty, you can explore your destination, and make memories and friends all across the globe. These are among the best jobs that require international travel and pay well alongside.
2. Cruise Ship Workers
Cruise ships have all sorts of facilities that offer different opportunities for employment. When working on a cruise ship, you can travel and enjoy paid holidays abroad while you earn a living. This is a job that pays for travel and housing, and the salaries can be lucrative. You can work as an onboard chef, manager, accountant, or even entertainer.
3. Travel Agents or Guides
A lot of travel agents and tour guides work as freelancers. There are multinational companies that have travel agents and tour guides on the payroll as well. Often, the agents' job duties extend beyond making reservations. Some companies send agents abroad to make sure the arrangements for high-profile clients meet the requirements and standards. These job roles are also referred to as luxury travel advisors.
If you have experience in handling groups of people and showing them around, you can also be hired as a tour operator or guide.
4. Consultants
Consultants in many fields have to meet clients overseas in order to offer their services. If you are a business consultant with a specialization in a certain subject matter, your company may send you to handle overseas clients. However, such positions are only available to those with experience and relevant skills.
5. International Aid Workers
Would you like to make a difference in the world while also getting to travel? If so, you can work with international aid organizations like the Red Cross, for example. Such jobs include visiting countries and areas that require relief after conflicts or natural disasters. Accommodation and travel expenses are provided for by the organizations, as well as allowances.
Please note that these jobs can be physically and emotionally draining. However, you are able to help people in need while exploring places that are usually not open to the public.
6. Telemedicine Workers
Those with a degree and experience in the medical field can look for telemedicine jobs. The most common job role is that of a travel nurse. Job duties mostly include administering treatments and medicine to patients across your country, or even abroad.
You can contact hospitals and medical organizations in your country and check if they have vacancies for telemedicine workers. You can use your medical degree to make money while traveling to different places and help people along the way.
7. Foreign Service Officers
If your aim is to serve your home country while also exploring other locations, you can work for your government as a Foreign Service officer. Every country has different rules regarding hiring candidates for such positions, so do your research before applying. Once you get hired as a Foreign Service officer, you can be deployed on foreign missions. Your job may include coordinating and communicating with governments of other countries and working on issues like immigration, disaster management, and foreign relations.
During your off-duty hours, you can explore the country where you are posted.
8. Au Pair
If you are comfortable working with children, you can enroll in an au pair program. In these programs, you get to live with families abroad and work as a nanny for their children. You typically get free accommodations, as well as an allowance.
It is a great way for young people to earn and explore. Also, sometimes families take au pair partners on international trips to help with handling the kids. This way you get to explore more new places.
9. Travel Writer or Journalist
If you have a flair for writing, you could get hired by publication houses or media outlets for travel writing. These jobs can include writing reports about experiences in different destinations or covering international news stories.
Travel is at the center of these jobs, and companies make complete arrangements for that. You get to work while exploring new places.
10. Construction Manager
Experienced professionals in the field of construction can be hired by multinational firms. With such jobs that pay to travel, you can travel to other countries to overlook different aspects of construction projects.
For the duration of the project, you'll be free to explore the area during your off-hours. Once the project is complete, you'll have a new project and destination to look forward to.
11. Travel Publicists
Travel agencies, airlines, hotels, and cruise lines hire travel publicists to promote their businesses in different countries. As a travel publicist, your role may include traveling to other countries to help your employer grow its brand awareness and publicity.
The travel and accommodation expenses in this role are typically paid for by the employer. You will also receive a salary.
12. Yacht Crewmember
Yacht owners often set sail towards exotic locations and international vacation destinations. However, they need someone to crew their ship. If you know how to sail a yacht, or can offer cooking or cleaning services to the yacht owners, you could get hired to accompany them on trips.
Your living expenses will usually be paid for by your employer, and you will also receive a salary while getting the opportunity to explore lovely islands and coasts.
13. Traveling Personal Shopper
Just like people hire others for running errands, you can be hired to run international errands. Your job may include visiting international destinations and bringing back specific items. These items could be expensive jewels, pets of special breeds, or other objects that cannot be shipped.
While running these international errands, your employer typically bears all expenses. You'll also get the opportunity to explore the places that you visit.
Now you know what jobs require travel and pay well. These offer you tremendous opportunities to explore the world. So, start sending in your resume and begin your sightseeing adventures. However, don't forget to buy travel insurance before you go.
We are sorry that this post was not useful for you!
Let us improve this post!
Tell us how we can improve this post?