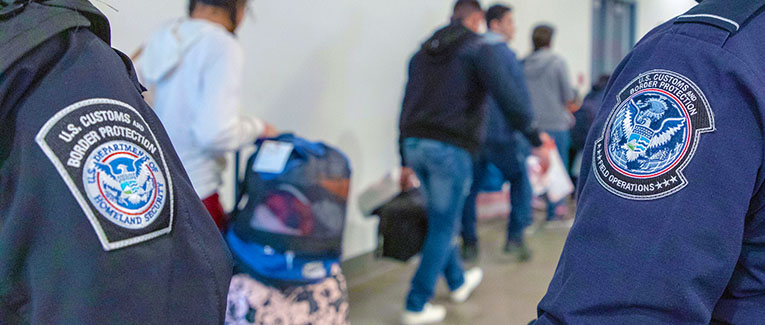 A valid visa stamp does not guarantee entry in USA. You may be refused entry on one or more grounds of inadmissibility for entering the United States.
Visa stamps allow you to apply for entry into the United States at a port of entry. Due to several reasons described under INA 212(a), a U.S. Customs and Border Protection (CBP) officer may determine that you shouldn't be permitted to enter the United States. These are mostly criminal grounds of inadmissibility. You will either be placed in detention or temporarily held until return flight arrangements can be made. If you have a visa, it may be cancelled.
In certain instances, if officer(s) are not able to decide if you should be allowed into the United States, your inspection may be deferred (postponed), and you will be instructed to go to another office located near your intended U.S. destination for further processing.
In some cases, if you used a valid visa to apply for admission, you can request a hearing before the Immigration Court, where an immigration judge will determine your case. A judge's decision can be appealed to the Board of Immigration Appeal (BIA). You will receive instructions on where and how to appeal, if you're denied entry on grounds of inadmissibility for entering the United States.
Who qualifies for a waiver of inadmissibility for entering the United States?
If you applied for admission to the U.S. on a Visa Waiver Program, the officer's decision is final. In cases involving fraud, willful misrepresentation, false claim to U.S. citizenship, or lack of a valid immigrant visa for an intending immigrant, the officer's decision is final.
List of Reasons/Grounds of Inadmissibility for Entering The United States
The grounds of inadmissibility USCIS follows are mostly known. You will not be allowed to enter or remain in the United States if you:
Have a communicable disease, such as tuberculosis or HIV/AIDS.
Have a physical or mental disorder that makes you harmful to others.
Are likely to become a public charge (dependent on welfare).
Are a drug abuser ("tried it more than once" in the last three years is enough for the USCIS to specify you as drug abuser).
Have committed or been convicted of a crime of "moral turpitude" (a crime considered morally wrong or committed with bad intention).
Have been convicted of multiple crimes.
Have been convicted of certain specified crimes, such as prostitution or drug trafficking.
Are the immediate family member of a drug trafficker and have knowingly benefited from their illicit money within the last five years.
Have committed espionage or sabotage.
Are a member of a totalitarian party (particularly the Communist Party).
Are a Nazi or have participated in genocide.
Have violated immigration laws or committed immigration fraud.
Have falsely claimed to be a U.S. citizen.
Are unlawfully present in the United States or haven't obtained proper documentation to enter the United States.
Were previously removed or deported from the United States.
Are a polygamist (have married more than one person at the same time).
Have committed international child abduction.
Are or were on a J-1 or J-2 exchange visitor visa and are subject to the two-year foreign residence requirement.
We are sorry that this post was not useful for you!
Let us improve this post!
Tell us how we can improve this post?