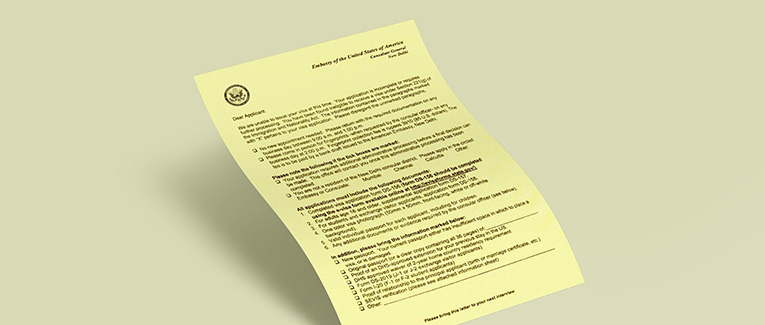 Embassy of the United States of America
Consulate General
New Delhi
Dear Applicant:
We are unable to issue your visa at this time. Your application is incomplete or requires further processing. You have been found ineligible to receive a visa under Section 221(g) of the United States Immigration and Nationality Act (INA). The information contained in the paragraphs marked with "X" pertains to your visa application. Please disregard the unmarked paragraphs.
_____ No new appointment needed. Please return with the required documentation on any business day between 9:00 a.m. and 1:00 p.m.
_____ Please come in person for fingerprints—when requested by the consular officer—on any business day at 2:00 p.m. The fingerprint collection fee is rupees 3910 (85 U.S. dollars). The fee is to be paid by a bank draft issued to the American Embassy, New Delhi.
Please note the following if the boxes are marked:
_____ Your application requires additional administrative processing before a final decision can be made. This office will contact you once this administrating processing has been completed.
_____ You are not a resident of the New Delhi consular district. Please apply in the circled Embassy or Consulate:
Mumbai Chennai Kolkata Other:
All applications must include the following documents:
1. Completed visa application Form DS-156 (Form DS-156 should be completed using the e-visa form available online at http://evisaforms.state.gov/).
2. For adults age 16 and older, supplemental application Form DS-157.
3. For students and exchange visitor applications, application Form DS-158.
4. One color visa photograph (50mm x 50mm, front-facing, white or off-white background).
5. Valid individual passport for each applicant, including children.
6. Any additional documents or evidence required by the consular officer (see below).
In addition, please bring the information marked below:
_____ New passport. Your current passport either has insufficient space in which to place a visa or is damaged.
_____ Original passport (or a clear copy containing all 36 pages) of:_____________________
_____ Proof of a DHS-approved extension for your previous stay in the U.S.
_____ DHS-approved waiver of 2-year home country residency requirement.
_____ Form DS-2019 (J-1 or J-2 exchange visitor applicants).
_____ Form I-20 (F-1 or F-2 student applicants).
_____ Proof of relationship to the principal applicant (birth or marriage certificate, etc.).
_____ SEVIS verification (please see attached information sheet).
_____ Other: ________________________________________
Please bring this letter to your next interview.
We are sorry that this post was not useful for you!
Let us improve this post!
Tell us how we can improve this post?