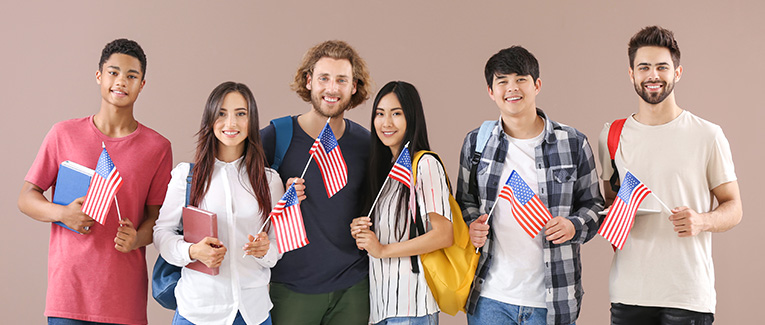 Studying and staying abroad in the USA can be a life-changing experience. Attending college all by yourself in a new country might feel a little daunting at first, but in the long run, there are a lot of benefits to doing it.
Advantage 1: It Will Improve Your Language Skills
You will literally immerse yourself in a foreign language. Studying a foreign language is one thing, but being able to put it into practice is another. While staying and studying in the U.S., you will be required to speak and write in American English every day. Even if you're already fluent in English, this experience will improve your language and writing skills measurably. This can benefit you academically, and in your future career.
How to make the most of it?
Make sure to communicate frequently with fellow students, professors and neighbors to make the most of this opportunity. You can also use language apps, blogs and forums.
Advantage 2: You Will Get Better Job Opportunities
Many international students in the U.S. take part-time jobs on campus. The advantages of this are twofold. First, it can help you make some extra money. Secondly, it will give you international work exposure. Students with international work exposure are more flexible, self-motivated and confident.
How to make the most of it?
When looking for an internship or part-time job, choose one that's related to your studies, as it will help you gain experience in the field you hope to work in after graduation.
Advantage 3: You Can Explore the World
Many programs offered by American colleges and universities include field trips and excursions. Studying in the U.S. allows you the opportunity to travel to neighboring states and countries. This will increase your exposure to different cultures, and help you expand your professional and social networks.
How to make the most of it?
You can join travel groups with your friends and explore as often as possible. You can interact with people from different backgrounds, and learn about new cuisines and languages while traveling abroad.

For visitors, travel, student and other international travel medical insurance.
Visit insubuy.com or call 1 (866) INSUBUY or +1 (972) 985-4400

Advantage 4: You Will Learn to Live Independently
This is one of the major benefits of studying abroad. Living away from your family pushes you out of your comfort zone and forces you to learn things, like how to value money and manage your finances.
How to make the most of it?
Enjoy your newfound independence, but be sure to act responsibly. Find opportunities to grow and learn more about yourself.
Advantage 5: You Can Choose From a Wide Range Of Course Options
U.S. colleges and universities offer a huge array of research and skill-based courses. By taking a wide range of courses, you can receive a well-rounded education that further expands your future career prospects. Most universities allow you to take different types of courses simultaneously, so you're rarely limited to one area of study at a time.
You can base your course selection on the following criteria:
Research environment provided to the students
Job opportunities after the completion of the course
Optional Practical Training (OPT) available after the completion of the course
Whether the course credits are applicable to your major, minor, or area of concentration
How to make the most of it?
While you should obviously choose all the required courses necessary to earn your degree, there are many elective course options as well. You can choose elective courses based on your interests, professional goals, or simply because your think you would enjoy them.
Tips for Students Going to the U.S. for Higher Education:
Don't get overwhelmed by all of the options. Select your field of study first, then you can decide on a destination and college.
Most colleges with international programs offer scholarship opportunities to international students. Do your research about scholarships and grants offered to international students at the schools you are interested in.
When deciding between two colleges that offer the same courses, you can compare aspects like tuition fees. Tuition costs are largely based on the location of a school. You can opt for a college in a smaller city and pay less.
Buy international student health insurance before you arrive at your school in the U.S. Health insurance can provide medical coverage for illnesses or injuries, and is a requirement for international students in the U.S.
Join students' forums, chat groups and communities to get in touch with both the new and existing students at your university. This will help you prepare for your student life in the United States.
We are sorry that this post was not useful for you!
Let us improve this post!
Tell us how we can improve this post?