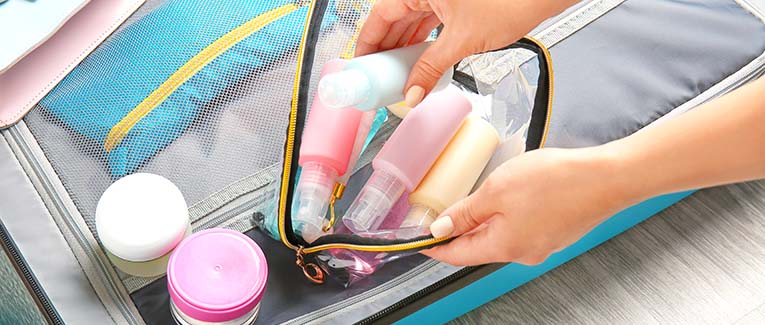 A terrorist plot named the 2006 Transatlantic Liquid Bomb Plot is why we have the 3.4-ounce limit in place for bringing liquids on airplanes. The plot involved a group of people carrying liquid explosives to assemble bombs in the air. Had they succeeded with the plan, at least 1,500 people would have died.
The docuseries "Terrorism Close Calls" covered this plot in their fifth episode.
Where does that leave you? What items are allowed and not allowed on airplanes? This article will offer you the answer. In the next five minutes, know the 6 things over 3.4 ounces allowed in your carry-on.
6 Things Over 3.4 Ounces Allowed in Your Carryon – A Complete Guide
What is the 3-1-1 rule?
How many ounces can you take on a plane carry-on? The 3-1-1 rule answers that. The 3-1-1 rule has three components: One person, one quart-sized bag, and 3.4-ounce containers. According to the TSA liquid carry-on rules 2021, you have to put your liquids in 3.4-ounce containers, and place the containers inside a one-quart bag. Additionally, only a single quart-sized bag is allowed per person.
Reasonable Quantity
Even though the liquids mentioned in this article are exempt from the 3-1-1 rule, you cannot carry large quantities of them. "Reasonable quantity" is an ambiguous term of measurement, right? Let us look at an example to see what that is:
It is okay to carry a week's worth of medication for a three-day trip, as a precaution. It is a reasonable quantity. But carrying six months' worth of medication for the trip can be alarming, and TSA officers might not allow that.
What are the Exempted Liquids?
#1 Breastmilk
What is allowed in a carry-on bag? Breastmilk is one such item. As per TSA policy, you can have your breast pump either in your carryon bag or checked luggage. On most airlines, the pump comes under the category of medical devices. To check your airline's policy about the same, Google "<Airline name> breastfeeding policy."
Although carrying a breast pump is easy, using it is where things get tricky. If you do not have access to a room or do not like pumping in an airport, bottled milk can be helpful. And you can carry more than 3.4 ounces of frozen or liquid milk with you.
You can carry a reasonable amount of breastmilk in your carryon. More on "reasonable amount" later. The breastmilk doesn't have to be inside the one-quart bag either. You can present it for screening separately from the rest of your stuff.
The TSA officers will need you to transfer a small quantity of the milk for screening. If you do not want the breast milk to be X-rayed or opened, you can request alternate screening methods. Please make sure you inform the TSA officers about any requests.
The TSA website states that you don't have to travel with your child to carry breastmilk.
#2 Food for Babies and Children
All food that is liquid/gel/aerosol comes under the ambit of the 3-1-1 rule. You cannot carry more than 3.4 ounces per container. But when the food is for an infant or a child, you can carry more than 3.4 ounces. You can carry breastmilk even when not accompanying a child. But with other food for children and babies, you will need to have them with you.
You can carry liquid food, e.g., formula, juice, canned or jarred food, for child nourishment. You can also carry ice packs, frozen gel packs, and other accessories necessary to keep the food cold.
You can pack the food in your carryon. but make sure the food is accessible enough to produce for screening if needed. You can also pack the food in a separate bag and check it in. TSA has no limitations imposed on checked baggage.
The food items have to go through screening, just like any other liquids. However, the FDA assures that there are no adverse effects of eating food or using medicines that have been X-rayed.
#3 Medication and Medical Liquids
The liquids rule exempts medical supplies and medications, allowing you to carry larger but reasonable quantities of these items.
You do not need a prescription, but remember that you will need to comply with state laws regarding the same. According to the TSA, even contact lens solution is a medically necessary liquid. Check the TSA website to answer and questions related to medical liquids.
You are also allowed to carry medical fluids and injectable medicine on board. IV bags, blood products, and injectable medicine like insulin are some examples.
Please disclose any cooling gel packs and gel-padded clothing that you might have with you. Such disclosure can help you get through security quicker.
#4 Alcohol
Deciphering the alcohol policy can be tricky, but not impossible. For example, you cannot carry drinks with over 70% alcohol (140 proof) in carryon or checked bags. However, you can carry drinks containing 24% to 70% alcohol. These drinks cannot exceed five liters in checked bags. The drinks will have to fit into the one-quart bag contained in 3.4-ounce bottles in the carryon.
You have no limits for drinks containing less than 24% alcohol in checked bags.
So, did you go crazy in the duty-free store and bought an alcoholic drink that you are not sure if you can carry with you? You can, as long as:
It is inside a transparent, secure, tamper-evident bag packed by the retailer.
You purchased it in the last 48 hours.
You have the receipt to prove your claims.
#5 Hand Sanitizer
Ever since COVID-19 became a pandemic, passengers can bring up to 12oz of hand sanitizer with them. However, the TSA website specifies this exception as being in effect until further notice. So, make sure to check the website before your next trip.
#6 Water, for a Pet Fish
Yes, you can carry more than 3.4 ounces of water in your carryon bag. But there is a catch; you can only carry the said water when there is a live fish inside.
You will have to pack the fish in a spill-proof, transparent container filled with water. You cannot carry your fish in checked luggage.
You will have to inform your airline ahead of time and learn about any restrictions. Your airline might also request an inspection before allowing your fish onboard. Additionally, know your destination country's regulations about carrying live fish.
6 Things Over 3.4 Ounces Allowed in Your Carryon – Check the Updates Before Your Trip
Now that you know the 6 things over 3.4 ounces allowed in your carry-on, here's one last tip. The regulations and permitted quantity for liquids may change with time and circumstances, so it is always good to visit the TSA website to check for updates before you leave for your trip. Make sure you do not carry banned liquids, and be sure to purchase travel insurance before your trip. It can help you receive financial compensation if your baggage is lost or delayed, among many other benefits. Happy traveling.
We are sorry that this post was not useful for you!
Let us improve this post!
Tell us how we can improve this post?