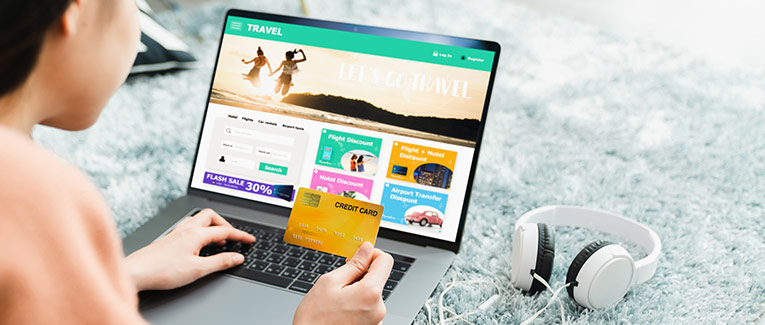 When planning a trip, it might seem convenient to use a travel booking website. You can make all of your reservations in one place, and they promise the best deals.
However, these deals might be too good to be true. Here, we will discuss six secret travel booking hacks that consumers don't know. Use them to save on your next trip.
Problems with Online Booking, And Travel Booking Hacks To Solve Them
While there is no doubt that an all-in-one booking site seems like a great idea, it does come with its downsides.
One of the biggest issues with any online travel site is that these platforms offer wonderful deals on travel packages, but they lack customization. Also, many travelers find that when their trip hits a snag, these online travel vendors don't offer much help.
Here are a few travel booking website secrets for when you plan your next trip:
1. Some Deals Are Too Good To Be True
Everyone loves a good travel deal until your online bargain falls apart.
From organizing arrival and departure transfers to accommodations, these sites promise many services. But, it's not as good as it sounds.
You'll come across travel packages that are dirt cheap, but chances are you're settling for a disappointing experience. For example, you might find a great price for a plane ticket. However, the flight comes with several layovers.
Hotels and airlines also charge extra fees for any booking you make through an online travel site. With these convenience fees, you might be better off purchasing your travel and accommodations straight from the source.
2. They Don't Coordinate with Hotels
Not every hotel wants to affiliate itself with online travel sites. This is because these sites charge heavy commissions, and they rarely include necessary details about your accommodation. You don't have any idea about the room, amenities, or view.
By booking through a third party like a travel website, you immediately become ineligible for any upgrades. Once you get to the hotel and you see that you got an extremely small room with a view of the alleyway, you're out of luck. The front desk agents are not able to upgrade you to a bigger room with a better view.
Additionally, if a hotel is overbooked, you are more likely to be walked. This means that you will be placed at the closest hotel with open rooms.
Here's a shocking fact: The site's software sometimes isn't connected to a hotel's booking system. You may not have a guaranteed reservation in any place. Troublesome, right?
Why Are Online Travel Sites Still Popular?
Online travel sites remain popular because of convenience. Planning a trip can be stressful, and having all of your accommodations and travel options in one place can take a lot of pressure away.
However, these packages are usually a collection of low-end items bundled together. You may be better off making your purchases separately or at least doing your research about the particular travel site beforehand. Read reviews and see what others have experienced with the site. This travel hack for booking online could save you a lot of unnecessary trouble.
6 Travel Booking Secrets to Save Money
Most consumers avoid booking their travel on such sites, but they're still useful. Here are a few travel booking website hacks from fellow travelers who use online portals:
1. How to 'Safe Search' Travel Packages on the Internet
An online travel site is a functional knowledge base for travelers around the world. Some users land on these sites to gather information.
Since online travel sites are aggregators for third-party websites, they're resourceful. They provide useful information to assess a tourist destination.
2. Try Incognito Mode
One hack for buying cheap flight tickets is to enable incognito browsing. You can clear your browser cookies for anonymity as well.
Here's what happens:
Flight prices remain stable
Booking dates are flexible
3. Read the Fine Print
Don't set yourself up for a disaster by being uninformed. It's important to read the fine print of any kind of travel package. This means you double-check before and after the purchase.
You should check for multiple flight layovers and browse hotel reviews before making a decision. You should also confirm flight and hotel booking by contacting the airline and hotel beforehand.
Here's what happens:
You're in control of a booking
Find out about tourist tax fees
You're paying for quality services
Find out about departure tax
4. Airline Inefficiencies
Unforeseen circumstances like an overbooked flight can and do occur. Online travel sites don't provide any assistance.
Here's a tip: In case of a canceled flight, you should always opt for cash compensation over a voucher.
5. Get Travel Insurance
Domestic or international travel insurance is a comprehensive solution. It can offer financial aid due to things like flight cancellations and loss of baggage.
You'll want an insurance policy that covers a range of inclusions:
Frequent flyers in the U.S. use Insubuy to find the right travel insurance plan for just the right price. Hundreds of 5-star reviews on TrustPilot are testimony to the quality of service.
6. Last Minute Travel Booking Hacks
You can use an online travel site to pick a destination, but if you want a customized trip, a time-saving option is a traditional travel agency. They can plan and organize a trip as per your needs.
For example, when you're booking a flight, travel agents are a cheaper option despite the extra fees. This is because they have contractual rates with airlines.
Other benefits include:
Many dissatisfied travelers have had a bad experience with online travel sites. They don't offer refunds, they aren't flexible, and they don't assist you during your travels.
While exploring travel options both online and offline, you should set a budget first. It never hurts to run a quote past a travel agency, an airline, or a hotel. These travel booking hacks help you make an informed decision and save money in the long run.
We are sorry that this post was not useful for you!
Let us improve this post!
Tell us how we can improve this post?