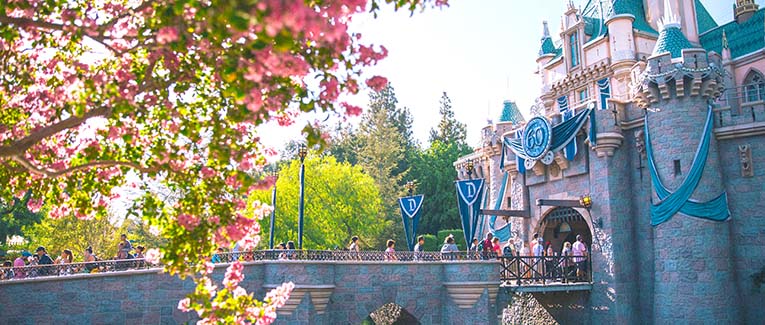 Disney Theme Parks wouldn't be half as magical or fun without their hidden secrets. You keep on wondering what are some Disney Park secrets. You may have gone hunting for the hidden Mickeys. You may have heard of all the secret references to Disney shows and movies. You may even have checked out the underground tunnels beneath the Magic Kingdom.
But these adventures lie at the very tip of the enchanted iceberg. There are plenty more secret places in Disney Parks you might not have even heard of.
In the next five minutes, learn all about the 7 secret spots in Disney parks you know nothing about.
7 Secret Spots in Disney Parks
1. The Hidden Basketball Court at Disneyland's Matterhorn ride
The hidden basketball court easily comes under the 100 Disney secrets. Matterhorn Bobsleds lie on the border of Fantasyland and Tomorrowland. These intertwined roller coasters are fashioned after the Matterhorn peak in the Alps. Near the top of the ride lies an attic that hides a little treasure – a basketball court.
Now it's not a full-sized basketball court. The minimalist mini half court has a simple basketball hoop along with the floor markings. For basketball lovers longing to shoot some hoops while visiting Disneyland Park, this mini basketball court is a real treat.
How did this secret basketball court come to be? According to legends, this attic used to be a resting spot for employees that worked the roller coasters. When the weather was bad, the employees could no longer climb up the roller coasters.
On one such day, an unknown employee decided to bring a basketball hoop to kill time. The basketball hoop has been there ever since; a little gem hidden away from the regular visitors.
2. Disneyland's Fifth Train Car
One of the best Disney hidden secrets is the Fifth train car. Most people are familiar with the four train cars that operate on Disneyland's railroad. Three of them are named after prominent Santa Fe Railroad executives. But there's also a fifth train car that few know of. This one isn't named after a locomotive legend.
Disneyland's hidden fifth train car is called Lilly Belle. It was named after Walt Disney's beloved wife, Lillian Disney. Incidentally, Mrs. Disney played a significant role in designing this train car.
For many years, Lilly Belle operated as a VIP-only train car. It now runs special two-hour tours, and can be booked by any park visitor. Lilly Belle is still one of Disneyland's best-kept secrets. That makes it an excellent way of avoiding crowds while exploring Disneyland.
3. The Secret Suite Inside Cinderella's Castle
The famous fairytale castle is one of Disneyworld's biggest draws. Cinderella's Castle is an expansive 189-foot structure located in Orlando, Florida. The castle itself is breathtaking, and a must-see Disney World location. What makes it even more special is that it's the hiding place for the fabled Cinderella suite.
The Cinderella suite is one of the world's most opulent and mysterious lodgings. Reaching the suite is an adventure in itself. You'll need to ride up an elevator resembling the fairy tale's famous pumpkin carriage. A private concierge will then guide you to the suite.
The suite holds two king-sized beds. There's enough space for comfortably housing two more guests. The lounge has a magical TV set that also serves as a mirror. What's more, you can watch Cinderella's entire story on the suite's stunning stained-glass windows.
The tricky thing about Cinderella's suite is, you can't make reservations for it. The suite-only allows overnight stays in special situations, such as fulfilling a Make a Wish request. Winning Disney's sweepstakes is another way you can get an opportunity to stay in Cinderella's suite.
4. Disneyland's Dream Suite
Disneyland's Dream Suite is another Disney world resort secrets, and inaccessible to regular visitors. The way to Dream Suite starts at the top of the Pirates of the Caribbean ride. Take the turn at the corner of Club 33. You'll find an elevator that will take you straight to Dream Suite.
Dream Suite features state-of-the-art amenities. You can project realistic stars, clouds, and the moon on the master bedroom's walls. The bathroom includes a panel for playing music from Fantasia. The suite also has a giant parlor based on Disney's original designs for his Main Street apartment.
5. The Private Apartment of Walt Disney
Want more Disney World hidden details? Presenting the private apartment of Walt Disney. Few people know the secret location of the apartment where Walt Disney stayed when visiting the park. This plush apartment covers 500 square feet. It's located on the top of the Main Street firehouse.
It's said that the park's employees would constantly monitor the apartment's table lamp. If the lamp was lit, it was a sign that Walt Disney was in. Today, the lamp stays lit around the clock to honor the great man.
Unfortunately, nobody is allowed inside Walt Disney's private apartment. The next best thing is getting a good view of the apartment. The best spot for doing that is right across the street from the Main Street firehouse.
6. The Captain's Quarters Aboard Mark Twain Riverboat
Disneyland's Mark Twain Riverboat docks in a sheltered spot of Frontierland. Almost everyone knows that bit. What most visitors don't know is that they can actually visit the Captain's own quarters.
It's pretty simple too. All you have to do is ask an employee.
The Captain's quarters and the wheelhouse are both located on the boat's upper deck. If you're fortunate, you can even get behind the wheel and steer the boat. Your chances of being extended this privilege rest on the number of people around.
Most passengers that visit the Captain's quarters aren't aware they can ask to steer the boat. If you find the steering wheel idle, discreetly ask a boat employee if you can steer it.
7. The Wishing Wells
Disneyland and Disney World both have hidden Wishing Wells. Disneyland Park's wishing well lies in the Snow White Grotto.
The Snow White Grotto is a breathtaking garden located to the right of Sleeping Beauty Castle. It features beautifully detailed marble statues of Snow White and the Seven Dwarfs. What makes the garden even more magical is the sound of Snow White's voice echoing through the Wishing Well.
Simply toss a coin into the well and make your wish. Every coin that ends up inside the Wishing Well goes to a children's charity. The well really does make a child's wish come true.
If you want to find Disney World's Wishing Well, head to Tomorrowland. Make sure you're walking on the righthand side of Cinderella's Castle. A short walk will get you to the Wishing Well. Similar to Disneyland Park's Wishing Well, coins tossed into this well are also donated to a children's charity.
Secret Spots in Disney Parks – How to Get the Most out of Your Disney Park Trip?
Disney Parks are expansive wonderlands filled with countless thrills and amusements. It's easy to lose yourself in their magical offerings, or miss out on attractions associated with your fandom or interests. So, how do you avoid that?
It's actually pretty easy. Make sure you devote ample time to research the Disney Park you're headed to. Create a list of your top favorite activities and attractions. Now plan your day-to-day schedule accordingly. This little strategy will help you make the most of your trip to a Disney Park.
Once you've planned your ideal trip, book well in advance, purchase your travel insurance, and get ready to enjoy "The Happiest Place On Earth" at Disneyland, or "The Most Magical Place On Earth" at Disneyworld.
Now that you know the secret spots in Disney parks, we hope the information will make your trip even more enjoyable.
We are sorry that this post was not useful for you!
Let us improve this post!
Tell us how we can improve this post?