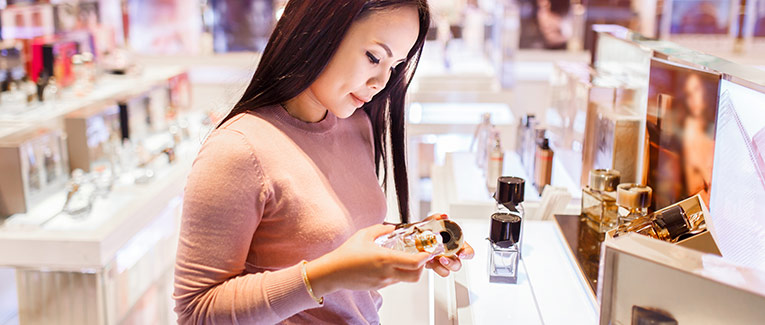 Travel elicits loose purse strings, more so when you know you're saving on taxes.
It's rare for anyone to have walked past a duty-free shop without giving in to its alluring displays and deals. The duty-free shopping trajectory is well on its way upward, projected by Statista to become a USD $155.3 billion industry in the next five years.
You likely have and will continue to contribute to that growth, but shouldn't you know how to do it in a smart way?
Continue reading to find out what items don't want to miss out on at the duty-free.
1. Alcohol
Alcohol is a top contender for the one thing that people leave duty-frees with. Whether you're stocking up on your favorite bottles, or want to try out a specialty soju, the choices are plenty. Keep an eye out for locally produced liquor that you won't be able to get anywhere else.
Restrictions on quantities can vary between countries, so check the allowance at your destination, including stopovers. In the U.S., 1 quart of liquor per person over 21 is permitted, with no curbs on wine or beer. The limit of 3.4 oz on liquids in carry-ons won't apply to alcohol bought after security check, though it might be enforced if you go via connecting flights.
2. Tobacco
Like alcohol, tobacco is frequently purchased at the duty-free for the considerable difference in price without the sin tax. Check the local tax rate if you're curious about the cost-effectiveness; the higher the regional tax, the cheaper the duty-free price tag.
Plus, tobacco is often available in multiple pack sizes and flavors that you may not get at home. Ensure that your purchase complies with customs rules. Most U.S. states permit each individual to carry 200 cigarettes, 100 cigars, and a nominal amount of other tobacco products.
3. Chocolate
Ever tried a Dairy Milk from the UK and wondered why it tasted different from the ones you've had from your neighborhood Walmart?
If you haven't, pick up a Dairy Milk the next time you're at an airport outside the U.S. and notice the change for yourself. Manufacturing processes of global confectioners vary between countries, and it's no surprise that the best chocolate tends to come from the brand's country of origin.
Equally, since all major duty-frees carry renowned chocolatiers' products, you can get your hands on premium Swiss or Belgian chocolate without visiting Europe. But, don't expect the prices to be competitive; reaping rarity is the objective here.
4. Perfume
Scents have the power to spark memories. Treat yourself to a tropical or ocean breeze fragrance at the duty free to remind you of the glorious summer vacation you spent tanning by the beach.
Duty-free markdowns on perfumes are attractive, so stock up on the scents you know and love. If you discover new ones for a steal, spritz your wrists and walk around for a few minutes to test how the smell develops on your skin. Perfumes are unique and subjective to the wearer, so you wouldn't want to waste your coin on a quick buy that leaves you with weak silage or an unpleasant dry down.
5. Cosmetics
If makeup and skincare are staples in your daily routine, particularly high-end ones, you can save a pretty penny buying them from duty free.
Cosmetics sections have travel-sized samples and freebies galore, so make sure you ask for them if they're not handed out to you on your shopping spree. Duty-free retailers also tend to curate exclusive combination packs that you can check out to maximize the bang for your buck.
6. Luxury Accessories
You are probably familiar with the brand names that you see as you've strolled through a duty-free, and have perhaps even succumbed to their appeal with a shopping session. As you should, because designer accessories, particularly bags and sunglasses, are at great discounts thanks to Value Added Tax (VAT) concessions.
Regardless of if you're in the market for posh knick-knacks, it doesn't hurt to look. You never know when you might spot your best friend's dream purse at 40% off, or be able to snatch up a pair of limited-edition boots. But, keep in mind that you'll have to declare your spoils at U.S. customs, which allows products worth USD $800, beyond which taxes will be levied on the excess amount.
7. Souvenirs
You've had your amazing vacation, and only when you're at the airport does it strike you that you won't hear the end of it from those back home if you return empty-handed. The trip would feel incomplete, too, without some keepsake for yourself. Where can you scramble for last-minute gifts? The duty-free.
If you do plan ahead to buy souvenirs and have an hour to spare, explore a little to see which store has the best promotions. The collection of items will be uniform across retailers for the most part, but prices can vary. The same magnets at three for $10, could be four for $10 a few shops down.
8. Country Specialties
It may be akin to a sin to leave Dubai without dates, the Caribbean without coffee, or the Mediterranean region without sea salt when you know that these specialty things are the closest to authentic that you can get anywhere.
If you can't check off your food or fashion bucket list while on your actual trip, the duty free is your last resort to pick up the stuff you missed. Or much like souvenirs, you can buy delicacies for friends and family to try.
Tips for Duty-Free Shopping
Always keep your passport and boarding pass handy to show at the checkout counter for verification
It's good to purchase in local currency, or a card without international transaction fees
Research and evaluate whether you're getting a better deal at the foreign duty-free than your native outlets; also compare between duty-frees if you travel frequently and have the option to shop at different locations
Use duty-free websites to shop ahead for things you have your eye on to save the most money and time at the airport
Be sure to purchase travel insurance prior to your trip. That way, if the checked bag carrying your duty-free items is lost or delayed during your trip, you have the option to make a claim for compensation.
Guam, American Samoa, and U.S. Virgin Islands have higher domestic exemption rates than other states
Don't waste your time on electronics or books, because you'll probably find better variety and offers elsewhere
We are sorry that this post was not useful for you!
Let us improve this post!
Tell us how we can improve this post?