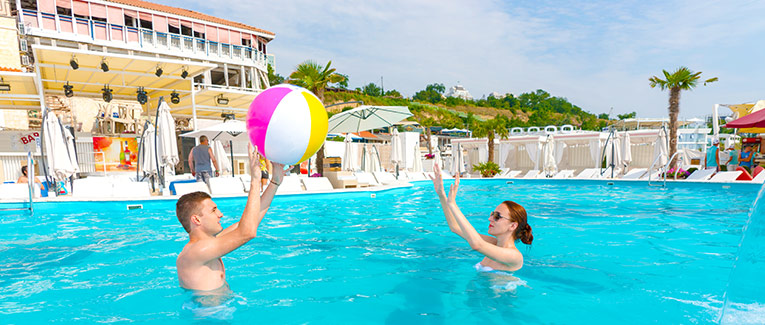 Summer holidays can be tricky. They are all fun and revelry until you stack open all your favorite booking websites and stare at ugly rate cards and 'sold out' banners. The idea of a holiday suddenly resembles that of a stampede in an auction house. Can you beat the crowd?
Though the task may seem extraordinary, it is achievable. Just reset, regroup, and approach the summer vacation planning from a different angle. You can also read this fool-proof guideline for the best summer vacation tips and ideas.
Here are some cheap summer vacation ideas and other summer travel tips.
9 Tips For A Cheap Summer Vacation
1. Go Where the Crowds Are Not
During the summer, everyone is looking for a way to beat the heat. Because of that, cooler destinations are usually jam-packed. Very few people tend to travel the other way though. That is, go to a hot place during the summer.
If you can get your family to agree, then that will make for the perfect summer vacation. Because it isn't crowded, you'll likely notice that the prices are also cheaper. This is an awesome two-in-one way to travel cheap and without crowds.
2. Don't Book High-End Resorts
A resort vacation during peak vacation season will be expensive and crowded. Even if you manage to score a deal, the prices will still be greater than if you travel in the offseason.
The cheapest vacation spots tend to be the ones where you don't have a host of amenities. Outdoor vacations are perfect for the summer. They definitely are cheap summer vacations for families. You can find family camps and ranches for half the price of a resort vacation.
Going to a ranch is a good way to connect with nature and experience farm life. If you and your children are animal lovers, then this is the way to go.
If you decide to go camping, book a campsite that isn't too big. That way, you won't be battling for space and privacy with tons of other families.
3. Take Advantage of Free Admission for a Cheap Summer Vacation
Many museums, and even some zoos, offer free admission for children. If you're going to be traveling with your kids, it is good to go to a place with many museums. It makes for an educational and fun trip.
For example, Washington D.C. has over 17 museums that are free to enter, and London has over 20 free-to-enter museums.
Even if the admission isn't free, museums are typically a very cost-effective entertainment option.
The downside, though, is that it may be crowded. If that isn't an issue for you, then plan to go to museums this summer.
4. Find Secluded Haunts
If you plan to visit Disney World or take a European trip during the summer months, encountering big crowds is inevitable. If that's what you're trying to avoid, then try to find far-off and secluded haunts that no one knows about.
There are cities in northern Europe, Central America, and Africa that remain under the radar of tourists. You can find thousands of other such beautiful locations untouched by crowds.
The downside here is that the location may not be developed for tourists. So, you'll be hard-pressed to find luxury hotels and resorts there. But, there might be homestays and similar arrangements available.
5. Be the First Person Out Of the Hotel
This summer travel tip may not be suitable for night owls. But there will be time to sleep in once you get back home. When you're on vacation, plan to head out of your room at the break of dawn, or as early as possible.
Tourist attractions tend to get more crowded later in the day. So, if you're able to be there just when the place opens, you can manage to dodge most of the crowd.
6. Sign Up For a Rewards Card
Sometimes, you can't avoid surge prices in the summer. But when you're pushed to that, at least try to maximize your savings.
You can do this by getting a rewards card. Make sure you get one before you make your flight and hotel bookings for your summer vacation.
As you spend, you will accumulate points on your account. You can use these points the next time you go on vacation for a free flight ticket or a hotel room upgrade. This is a foolproof way to travel cheap in the summer.
7. Get Travel Insurance
This may come as a shock to you. How is spending money on insurance going to help you save?
The unfortunate fact is that so many things can go wrong when you're on vacation. A mile-long hike might result in a nasty sprain, a walk on vacation in the summer heat may lead to sunstroke, or you may lose your baggage.
In these cases, you need immediate medical attention and your bag and possessions replaced, which isn't cheap.
This is when travel medical insurance or travel insurance can save the day. Head to Insubuy to get yourself and your family insured for your next trip.
Insubuy shows you insurance by activity and by destination. This makes it easy to pick an insurance plan for your exact needs. If the categorization is still confusing for you, Insubuy has a customer support team that is ready to answer any of your questions.
You can compare hundreds of plans and make an informed decision about your insurance.
8. Take A Road Trip
Before you start about the sky-high fuel prices, let us just say this — cheap travel by car is possible. In fact, road trips are one of the cheapest and most fulfilling holidays. You can stop wherever you want, and experience a destination to its fullest.
You just need a couple of hacks, and your road trip can be cheaper than other vacations. Here are some cheap ways to travel by car:
1. Get yourself a gas credit card
You will need to fill up your tank quite often, especially if you're going on a cross-country trip. Having a gas card will save you cents per gallon. When you apply, just verify which gas stations your card will be effective at.
2. Pack travel snacks
Besides fuel, you will probably notice that food eats up most of your budget. That's because rest-stop restaurants often overcharge on meals.
Instead of relying on restaurants for your meals, pack your own snacks. Simple meals like PB&J sandwiches are easy to make on the go. You can also carry fruit snacks, dried fruits, nuts, and other packaged food. This will drastically reduce your expenditure during the trip and make for a more affordable summer vacation.
9. Travel According To the Month
Every vacation spot has peak tourism months. Unfortunately, most of the months are in the summer, because of the summer holiday season.
But, with a bit of research, you can find uncrowded and cheap summer vacation spots to travel to in July and August, the two busiest months.
Cheap places to travel to in July include Indonesia, Vietnam, The Caribbean, and Egypt. Some cheap places to travel to in August include Germany, Jamaica, Lebanon, and Ecuador. These are but some of the destinations that are less expensive. Do a little more digging and you'll find the perfect vacation spot. Start your planning a bit early, and your summer vacation will be a breeze.
We are sorry that this post was not useful for you!
Let us improve this post!
Tell us how we can improve this post?