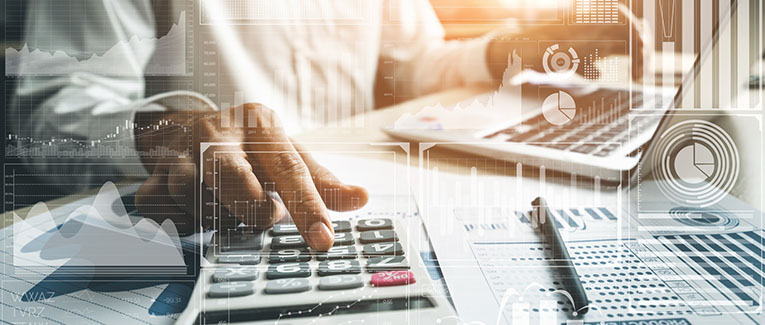 If you've been harboring dreams of a Wall Street job, but are unsure about pursuing a finance degree at a U.S. university, then worry no more.
We've done a complete data-based breakdown of whether a finance degree is worth the sky-high college tuition fees, your precious time, and the years of effort.
To fully understand the value of a finance degree, we judge it against 4 crucial parameters.
The time, money, and effort you need to put in for a finance degree from the U.S.
Your return on investment (ROI) for a finance degree in America
The job opportunities available for finance graduates in the U.S.
Future scope for the finance industry in America
Without any further ado, let's dive right in.
1. How much time, money and effort do you need to put in for a finance degree in America?
Earning any college degree in the U.S. requires time, commitment, and hard work. But, that becomes slightly easier when you already have an inclination towards math and a passion for running numbers.
Apart from getting good grades, you will also need to do one or two internships during college to improve your chances of landing a job.
The Big 4 companies (EY, KPMG, PwC, and Deloitte) show a major preference for candidates with internship experience. Over 80% of employees in these companies had internship experience before being hired.
As for how much money the degree will cost you…
The average tuition fee for an undergraduate finance degree in the U.S. is $27,437 per year.
Most entry-level finance jobs in the U.S. are satisfied with a bachelor's degree in finance or accounting. But, a "Wall Street level" job, or a job at Fortune 100 companies will require you to also have an MBA or additional certifications.
The tuition fee for a master's degree ranges between $30,000 and $120,000 in total.
For some career paths, you might have to earn a certification, like the certified public accountant (CPA), series 7, certified financial planner (CFP), chartered financial analyst (CFA), and personal financial specialist (PFS).
But, is all this time, effort, and money going to pay off? Let's find out.
2. What is the return on investment (ROI) for a finance degree in the U.S.?
The average salary for those with finance degrees is $73,000 a year.
But, if you look a bit deeper, you'll notice a variation in the salaries depending on the career path one chooses in the industry. We've picked some data from the U.S. Bureau of Labor Statistics (BLS) top 20 business and finance jobs to uncover those details.
Personal financial advisors:
They help individuals manage their finances, and advise on strategic financial decisions in regards to budgeting, investing, tax guidance, and more.
Annual median pay in the U.S.: $89,330 per year.
They are responsible for guiding businesses and individuals on making well-informed decisions about expending money to make more profit.
Annual median pay in the U.S.: $83,660 per year
They ensure businesses comply with the financial regulations in all their transactions.
Annual median pay in the U.S.: $81,430 per year
They are key in advising businesses and organizations on how to plan out their finances (everything from spending to investing decisions).
Annual median pay in the U.S.: $78,970 per year
They prepare and analyze financial records for organizations and individuals.
Annual median pay in the U.S.: $73,560 per year
These managers are responsible for keeping a check on the overall financial health of an organization. This isn't usually an entry-level role, though.
Annual median pay in the U.S.: $134,180 per year
This is a high-intensity role that either involves directly selling and trading corporate securities, or providing calculated investment advice to corporations.
Annual median pay in the U.S.: $96,543 per year
Now we will have to give you a disclaimer at this point. All the salaries we've discussed so far are the average salaries for the overall industry or job role. But, when you are a fresh finance graduate, it's unlikely you'll start off with such a high salary.
The average entry-level salary for finance graduates in the U.S. is $58,464 per year. This may seem significantly lower, but it is still about $10,000 higher than the national average entry-level salary for new graduates. As you gain a few years of experience, you will start raking in money soon enough.
Remember to think about the long-term gains, along with short-term wins while making a decision as big as going to college.
3. What is the job market like for finance graduates in the U.S.?
While the finance industry has the reputation for being a highly competitive job market, the unemployment rates are lowest among graduates with a finance degree in the U.S.
A degree in finance gives you core financial and analytical skills that are applicable to a wide variety of job roles in the real world.
Skills like the ability to make budget reports, analyze spending choices, and managing finances are essential skills for all businesses to be successful.
The degree also gives you the flexibility to segue into business, accounting, or consulting roles in the future, should you choose to. As technology advances and the finance industry grows, there will only be more finance jobs opening up.
The degree gives you the freedom to select from all these career paths once you graduate, based on your personal interest and skills, while still being paid an above-average salary!
But, like with all other industries, you will likely not start out at entry-level right after graduation with your dream job. So, be prepared to work your way up the career ladder to get to those juicy, 6-figure, mid-career salaries.
4. What does the future look like for the finance industry and its graduates in America?
A crucial factor in deciding whether a degree will be worth it in the long run is to look at its predicted growth rate for the next few decades.
In this respect, the finance industry and its jobs prospects are golden.
The finance industry in the U.S. has an average projected growth for all occupations at 7%, according to BLS calculations.
Zooming in to look at the BLS predicted employment growth rate for specific career roles in the American finance industry:
Personal financial advisor: 5% growth rate
Financial analyst: 6% growth rate
Financial examiner: 18% growth rate
Budget analyst: 5% growth rate
Accountants and auditors: 7% growth rate
Finance manager: 17% growth rate
Investment banker: 4% growth rate
This means that there will be more and more job roles opening up in the finance industry in the next decade. While finance will continue to be a highly competitive field, it will also have more opportunities that will open up in the coming years. All in all, it looks like pursuing a degree in finance in the U.S. is totally worth it, but ultimately, that is for you to decide.
We are sorry that this post was not useful for you!
Let us improve this post!
Tell us how we can improve this post?