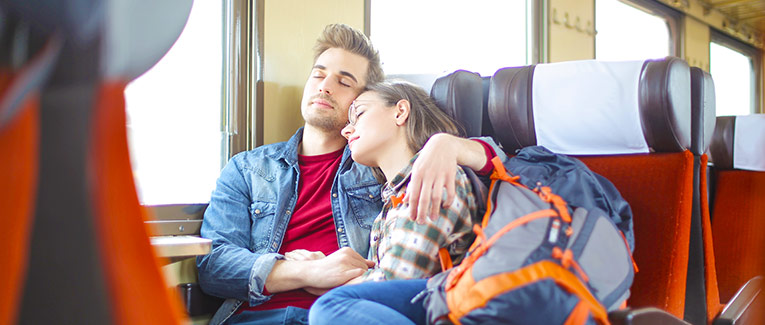 When you are hard-pressed for money and still wish to travel, prepare to save on accommodation expenses. Yes, sleeping on trains is one of them. Is it uncomfortable? Sometimes. However, it can also be extremely inexpensive.
Sleeping on Trains: The Ultimate Money-Saving Guide
Book Overnight Trains
Sleeping on night trains offers dual benefits. With every night spent on a train, you gain an additional day for sightseeing, while saving on hotel expenses.
Book Your Tickets Early
Ticket pricing for high-speed overnight Eurail trains is dynamic. The earlier you book, the lower the cost. Similarly, in the U.S., the budget-priced Amtrak seats sell out first, obviously. So, plan and buy as soon as you can.
Get A Rail Pass
If you plan to travel extensively by train, a rail pass can come in handy. The prices, of course, vary significantly. A Eurail pass offers discounts on ferry transport, as well as free entry to museums and other landmarks across Europe.
Look For Discounts
Do these:
Look up price aggregator sites for the cheapest train tickets.
Sign up for official newsletters to stay abreast of special offers.
Surf the train service's official website to learn about discounts and offers.
Note: In the U.S., Amtrak offers great weekly discounts and flash sales on its website, while the European Union's Eurail offers youth discounts to travelers aged 27 years or less.
Choose From Multi-Ride, Flexible Fare, Or Supersaver Tickets
When you know you'll need a lot of trips within a certain timeframe, multi-ride tickets can be comparatively cheaper than one-way tickets. In some cases, flexible fare tickets, which allow more latitude to change preferred travel dates, may extend additional discounts. Amtrak multi-ride tickets offer nearly 50% cost savings to passengers. In Germany, the BahnCard 25 and BahnCard 50 offer 25% and 50% discounts respectively.
Use Your Travel Points
Check whether your credit card company offers cash back, or travel miles on train bookings. Many train operators also have their own loyalty programs, for example, Amtrak. Use these points to cover the ticket costs.
Ditch The Reservation
The cost to reserve a bed is usually not included in your regular ticket. If you are not inclined to dish out additional cash, ditch the reservation in favor of a coach car. If you are lucky, you may find empty seats to stretch your legs. However, keep in mind that some train operators require cabin reservations, particularly for overnight trains and high-speed trains.
Get A Roomette or a Shared Cabin
Sleeping on non-reclining coach cars may prove to be uncomfortable. If you need space to straighten your legs, consider upgrading to economical cabin options like a roomette or a shared cabin. Seek out the attendant for an upgrade. If there's one available, you will get it.
Buy Insurance
While it might seem counterintuitive to buy something else when you're trying to save money, travel insurance can be worth its weight in gold. If you suffer lost luggage, a travel delay, or another type of unexpected travel-related event, your insurance may be able to compensate you for the loss. Compare several plans that fit your needs, and choose one with the right coverage for you.
How To Be Comfortable Sleeping On a Train
Pack Light
If you are really planning to spend your nights aboard a train and your days sightseeing, travel light, smart, and savvy. Bring multipurpose clothing items that can be recycled and re-worn.
Carry a Bag of Essentials
You don't want to unpack all of your luggage to find your toothbrush, do you? Organize your essentials, including medication, toiletries, earphones, and chargers in a separate pouch that can be retrieved easily. An eye mask can take the edge off traveling long distances, and helps improve the quality of your sleep.
Dress For Comfort
Avoid wearing tight-fitting dresses or pants while traveling. Keep a shawl or sweatshirt handy for when you feel cold. A travel pillow will help you avoid neck pain, especially if you are planning to sleep in a coach car.
Stay Entertained
Long-distance train travel can quickly become monotonous and mind-numbing. Bring your entertainment with you. Download movies or music to your device in advance, since you might not get Wi-Fi onboard, and mobile networks can be spotty.
Consider These Alternatives: Cheap/Free Accommodation Options
Sleeping in trains is not the ideal option, even for the most hardened traveler. Neck cramps, back pain, headaches, and disturbed sleep are all part of the game. A few nights of discomfort might force you to look for other accommodation options. In that case, consider these:
1. Sleep in Train Stations
In some train stations, it may not be allowed to stay overnight. Other terminals close for the night. In case you are lucky to find one that remains open throughout the night, you can park at one of the benches. Carrying a blanket and a pillow may be a good idea.
2. Find a Hostel
Hostels are inexpensive alternatives to hotels. If you are traveling in Europe, a Rail Pass might give you additional discounts in specific hostels. However, you will be sharing your room with strangers, so beware of your belongings.
3. Choose a Home Exchange
House-swapping is a popular idea that's catching on with travelers on a shoestring budget. It is an easy, (almost) free, and safe option to travel internationally, as well as domestically. Sign up on popular home exchange websites, create your listing, and search for available options.
4. Consider Housesitting
A house-sitter is supposed to take care of a house while the owners are away. That means watering the plants, tending to the dog, and dusting and cleaning. It is a fun way to travel cheaply, especially if you don't mind the extra work.
5. Use a Hospitality Network
Look for couch-surfing options to get free accommodation at a stranger's home. It is a great alternative to meet locals and save on your accommodation costs. There are many popular couch-surfing websites where you can search for available options. Keep an open mind and be respectful to your host.
6. Stay In a Monastery
Monasteries can provide relatively cheap or free lodging, even when compared to sleeping on trains. Amenities in a monastery are humble, but that's better than sleeping in a stiff train seat, right? Most monasteries are booked months, and sometimes a full year in advance. Book your spot early to prevent disappointment.
We are sorry that this post was not useful for you!
Let us improve this post!
Tell us how we can improve this post?