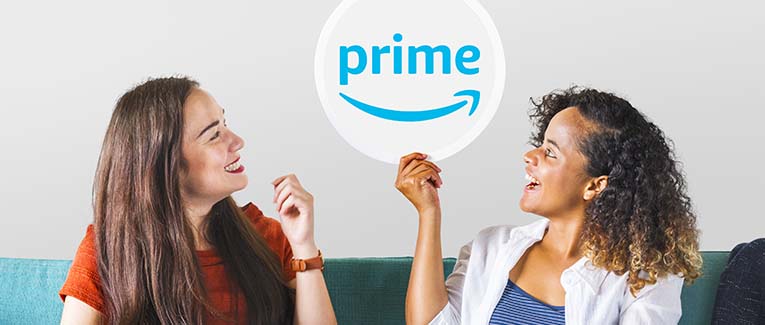 Finding a household without an Amazon Prime subscription is nearly impossible.
Most of us use our Prime account for the two-day delivery promise and Prime videos. But, we have not realized the full potential of Amazon Prime.
We're here to tell you those secrets.
Keep reading to learn about eight Amazon Prime Travel hacks.
Amazon Prime Rewards Credit Card
You can apply for an Amazon Prime Rewards Visa Card if you're a Prime member. If the application is approved, you will get a $100 Amazon Gift Card credited to your Amazon account.
This rewards credit card is only available to Prime members living in the U.S.
As you make purchases with this card, you will get rewards and cashback on your Amazon Prime account. The purchases don't have to be on Amazon. You can use this card at restaurants, gas stations, and even at select grocery stores. This is a great way to save money as you spend.
The rewards card has no annual credit card fee, nor does it have a foreign transaction fee. This makes it perfect to take with you when you travel.
Apply for your card and take advantage of this secret Amazon Prime benefit.
Note, this card is available in 2021, at the time this article was written.
Prime Photo and Prime Drive
If there's one thing universally common about vacations, it's the sheer volume of pictures we tend to take. Going to a new city or country deserves to be memorialized in photos. But, you'll often find yourself low on storage, and be forced to delete some of these precious moments.
Having an Amazon Prime membership will rid you of this problem. Members have unlimited storage space for their pictures. You don't have to stop yourself from clicking away.
Members will also get 5GB of free storage for all other file formats. So, if you've taken videos or have online travel documents, Amazon Drive is a great place to store them.
Prime Pantry and Household Essentials
Bed-and-breakfasts are a popular choice amongst travelers recently. The catch is that you won't have room service. So, you may need to cook for yourself.
Sometimes, pantry goods don't survive the trip to far-off locations, and a grocery store run is the last thing you want to do on vacation. But, that doesn't matter since you can do your shopping on Amazon Pantry.
Food and other essentials will be delivered in a day to Prime members. You won't have to wait to cook your meals, and unless you're staying at an unserviceable location, your household essentials will reach you.
Download Your Entertainment
It is a well-known fact that airport and airplane Wi-Fi is terrible. That's why your best bet is to have your entertainment downloaded before you leave the house.
Kindle
There's no better e-book store than Kindle. You can find every book you're looking for, and the best part is that you can download it offline. You will be set on the entertainment front for your whole trip.
With a Prime account, many books will be available to you for free. But, you can also buy other books at discounted rates.
An Amazon Prime hack that most people aren't aware of is that you can read Kindle books without a Kindle device. So, you don't need to purchase another gadget to enjoy your book. All you need is the Kindle app.
On top of this, every month, Prime members can select two books to read for free.
Prime Videos
You're probably used to watching Amazon Prime videos online. But, did you know you can download your favorite shows to your phone? This will prevent your roaming data charges from piling on while traveling.
There is also a Prime Kids section, which is useful if you are traveling with children. This will have downloadable movies and shows that are age-appropriate for little kids. This way, you won't have to rely on the small selection of children's movies on flights.
Audible
If your children can't read yet, but love being read to, Audible is perfect. It is an audio book store that has thousands of books pre-recorded.
You'll find foreign language books in the store as well. This is an excellent way to learn the native language of the place you're traveling to.
Prime members have a 90-day free trial for Audible.
Music
Even a 30-minute drive without music can be boring. Imagine a whole vacation having to pass by without a single note of music. That, or having to stream music with high-cost roaming data.
It doesn't have to come to that. Amazon Prime members can download Amazon Music for free and listen offline. The music player has songs in over 20 languages. You can also listen commercial-free online.
Same-Day Delivery for Last-Minute Packing
Even the most prepared person forgets things from their packing list. If you're that person, then Amazon Prime's same-day delivery is your best friend.
Amazon has over three million items that qualify for same-day shipping. If your item qualifies for same-day shipping, then all you need to do is to make the purchase by noon. You will then receive your product by 9:00 P.M. on the same day.
This hidden benefit of Amazon Prime has saved so many people from frantic last-minute grocery store runs.
Get Expert Outfit Advice from Stylists
Vacations are the perfect time to spruce up your Instagram profile. Your vacation outfits need to be perfect, so a shopping spree is inevitable.
Thankfully, Amazon Prime members can access Amazon Personal Shoppers. These Personal Shoppers are the experts in all things fashion. You can have a quick chat with them to discuss your preferred style and the type of clothes you'll need for your vacation. Prime members can also access exclusive in-house fashion brands by Amazon.
Your style box will be curated to your exact likings, and you can preview it before it ships. But, if you aren't 100% satisfied with the style box, you have seven days to return the products you don't like.
This is the perfect Amazon Prime travel hack for those who don't find joy in clothes shopping.
Book Your Flights with Prime Cashback
Did you know that you can save big if you use Amazon Pay to book your flight tickets? If you're a Prime member, then you can receive additional cashback.
This makes for the perfect Amazon Prime travel deal. You can book your flight, and then use the cashback to buy travel essentials on Amazon.
If you need to cancel the booking, you will pay a lower cancellation fee than if you booked through other websites.
No-Rush Rewards
If you order something on vacation, but don't need it to arrive until you get back, then the No-Rush service is perfect.
Selecting No-Rush delivery on your order will earn you additional cashback. This will automatically get credited to your account when the order ships. You can immediately use this money for other purchases.
As is apparent, Amazon Prime is a traveler's best friend. It is the best tool you can use to save cash as you spend.
One thing that Amazon does not offer, though, is travel medical insurance or travel insurance. What would you do if there was an accident or emergency while you were abroad? How would you deal with that financial loss? With travel insurance or travel insurance, you can purchase a plan that can cover you in case of unexpected travel mishaps. Visit Insubuy to find the perfect travel insurance plan for your trip today.
We are sorry that this post was not useful for you!
Let us improve this post!
Tell us how we can improve this post?