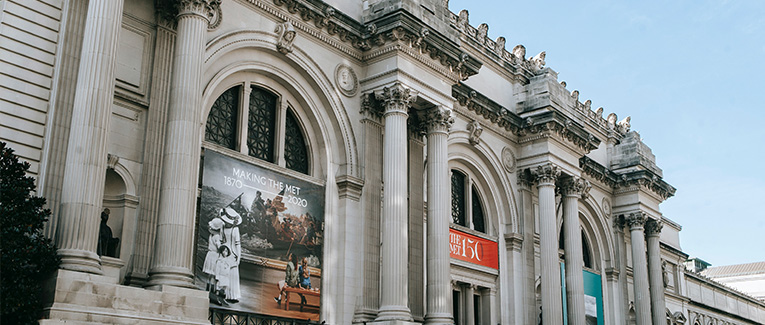 The best way to know more about a new country is by understanding its history and culture. A good way to do this is by visiting a museum, and immersing yourself in all it has to offer.
America is no exception to this rule. In fact, the U.S. has long been judged for not having any culture, but a visit to a good American museum will prove this thought process wrong.
With over 35,000 museums in America, we've taken the responsibility of shortening the list down to the top 12 for you to check out.
Some of these are famous around the world, while others are hidden American gems, but all are worth a visit. Don't worry, while some museums might be known to bore people to tears, all the ones on this list offer great experiences.
So, if you're a newcomer to the U.S, be sure to soak in some history, art, and culture at one of these top American museums.
1. National Museum of American History (Washington D.C.)
Disclaimer: Your friends and family will probably be impressed with the spike in your knowledge of history and culture after a visit to one of these.
The NMAH is the first place to start for those looking to get a glimpse of American history. This museum has managed to fit the entire social, political, military, cultural, and scientific heritage of the U.S into a series of exhibits.
Head there for a masterclass on U.S. history and the country's evolution. It covers everything from the life of indigenous communities before the arrival of Europeans, all the way to today's modern era. But, its star exhibit is probably the original American Star-Spangled Banner Flag.
2. Greenfield Village (Dearborn, Michigan)
This is a highly underrated 80-acre outdoor living history museum that was founded in 1929. It has a collection of almost 100 historic buildings that take visitors through different times in America's history.
These buildings offer you immersive experiences of the lives of the people who shaped America, and is made more real with dressed-up actors, acting out daily tasks from those eras.
It also has several artifacts from important times in American history. Some of which include the bus where Rosa Parks refused to give up her seat, and the Wright Brothers' bicycle shop.
3. Asian Art Museum (San Francisco, California)
America truly is a melting pot of cultures, and this museum reflects that. It honors the history, culture, and heritage of the many millions of Asian Americans in the U.S.
The museum has historic pieces from all major Asian cultures, some of which are thousands of years old. Ranging from ancient samurai armor to Hindu deities from Cambodia, you can find them all.
It also hosts many events to celebrate and elevate Asian American artists in the country.
4. National Museum of African American History and Culture (Washington D.C.)
This young Smithsonian museum, which opened its doors in 2016, is quickly gaining popularity. With its incomparable collections and extensive research, it is soon to be filled with bustling crowds.
It is the only museum that exclusively documents African American history, culture, and life. Its immersive storytelling experience educates visitors on the history of slavery, segregation, and the Civil Rights Movement of America.
Head here to check out the photographs, stories, and songs that give you a glimpse into the rich and extensive culture behind it.
5. The National WWII Museum (New Orleans, Louisiana)
World War II significantly shaped the history and culture of America. This museum attempts to do justice to its stories of sacrifice, valor, loss, and victories.
It houses a vast collection of war artifacts like boats and tanks for you to view and admire. But the real experience lies in the curated first-person oral histories of the war.
The museum takes you back in time even before you enter, by bringing in visitors to the building on a train car. Elements like the wartime-themed canteen add to its immersive experience.
6. The National 9/11 Memorial & Museum (New York, New York)
An understanding of American history would be incomplete without paying our respects to its most recent tragedy, the 9/11 terrorist attacks.
The memorial, located in the footprints of the destroyed Twin Towers, honors the thousands of lives lost during the tragedy.
The museum covers the events that happened during, before, and after the attacks. It has a moving narrative that focuses on the lives of people lost, and the families devastated. A well-curated experience, it conveys the real impact of the tragedy.
7. The Getty Center (Los Angeles, California)
This museum is one of the few not-so-interactive ones on the list. But, is still one of the best art museums in the country, and offers the additional benefit of free entry.
The museum has a wide collection of European paintings, sculptures, manuscripts, decorative arts, and photography. You will find the works of Van Gogh, Monet, Rembrandt, and Gauguin in its halls.
With names like that, it is a paradise for medieval and renaissance art lovers. But, if you don't appreciate the style, you can still enjoy the museum building, which is a piece of art in itself. You can also take a walk in its beautifully landscaped gardens, which are worth admiring.
8. The Museum of Modern Art / MoMA (New York, New York)
This internationally renowned art museum is home to 200,000 modern and contemporary artworks. It houses some of the world's greatest contemporary paintings, sculptures, films, and multimedia art.
You can view famous works like Van Gogh's Starry Night, Kahlo's Self Portrait with Cropped Hair, Dali's The Persistence of Memory, and more.
This museum is a must-visit for anyone looking to experience and learn more about modern art. If you're looking to get in for free, be sure to head there on a Friday evening, when they offer free entry for all.
9. The Metropolitan Museum of Art (New York, New York)
This iconic museum, spanning four city blocks, is the largest museum in the United States. Although it's famous for its elaborate art collection, it houses much, much more.
Its vast collection includes porcelain sculptures, musical instruments, historical artifacts, costumes, and even armaments from civilizations around the world.
Because it's home to more than two million pieces, it's impossible to see everything in this museum in a single visit. But even so, head there at least to check out its popular exhibits.
10. Kennedy Space Centre Visitor's Complex (Titusville, Florida)
This exciting museum is not to be missed by anyone even remotely interested in space travel. The museum has impressive displays of astronaut artifacts, including rockets you can step inside. It also offers you the chance to meet with former NASA launch directors and astronauts.
If you time your visit right, you might even be able to see an actual rocket launch into space!
11. Smithsonian National Air and Space Museum (Washington, D.C.)
While you're still flying high on that gravity-defying experience, you might as well plan a visit to this next one.
This free-to-enter museum houses everything related to human forays into air travel. Examples include a sample of the Wright Brothers' early airplane, the Apollo 11 Command Module, and a real lunar rock sample you can actually touch.
With exciting activities and virtual reality simulators, it's sure to be a fun day for everyone.
12. American Museum of Natural History (New York, New York)
If you prefer to stay grounded and explore more of this beautiful blue planet, then the AMNH is for you.
Here, you can see everything from fully reconstructed dinosaur fossils, to hundreds of animal displays, and ocean life around the world. A walk through this museum will leave you in awe of the world we live in.
We are sorry that this post was not useful for you!
Let us improve this post!
Tell us how we can improve this post?