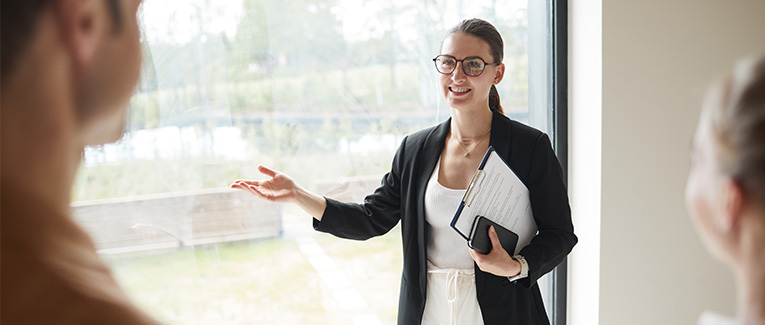 Whether you're buying or selling a property, hiring a real estate agent to help you with the process is usually a good choice. Their industry experience can save you a ton of effort, reduce time spent staring at legalese, and also find you a great deal.
But, all these benefits can seem insignificant if things don't work out. Not having the right working dynamic with your agent can make the entire process a nightmare. Even worse, you could hire the wrong agent and get scammed along the way!
To help you avoid these situations, we've compiled a few tips on how to deal with real estate agents in the U.S., so you have a great experience.
A Good Deal Starts with Hiring the Right Agent
An enjoyable relationship with your real estate agent begins before you start working with them. It's all about hiring the right agent for your needs, so they can get you the right deal.
Before you go online to search Google for a real estate agent, try to ask your network of friends and family if they can refer someone. The best way to get quality assurance is through a referral from someone who's worked with them in the past.
But, if you're new to a city and don't have a network, then go ahead and look online for local real estate agents.
Here are a few tips on finding the right real estate agent for you:
Ensure they have a valid license for that area, and are a member of the National Association of Realtors (NAR) in the U.S.
Talk to a few agents before you finalize one. Get a sense of their style, experience, and how well they seem to understand your needs.
Avoid signing on a Realtor after speaking to them just once. Do a thorough background check on them. Check out their website, social media presence, and any online reviews they may have.
Be sure to ask them for referrals of other clients you can talk to. Ask those clients how their experience was, and if they'd hire them again.
Be clear about your needs, goals, and timelines when you talk to them so they know if they're a good fit for you, too.
While you're on the hunt, also keep in mind that it's not always the best agent in the city that will work best for you. Find a Realtor or agent that specializes in the niche you're looking at, and understands your budget and needs.
The more experience they have in your area, the better they'll be able to help you get the deal you're after.
Be Thorough Before You Sign the Contract
Traditionally, the seller of a property pays the brokerage fees for both the seller's and buyer's agents. These fees usually come up to around 6% of the sale price, split between the two agents.
Ideally, you should be clear about your agent's exact asking rate before you move to the contract stage. Either way, before you sign the dotted line, take the time to take a close look at your contract. (Yes, the entire document!)
Go through the terms and conditions, so you aren't caught unaware by hidden fees or clauses.
Additionally, be sure of the duration of the contract. It is generally advised to have a contract that lasts six months at most. In most active and competitive markets, houses are sold in around 30 days. A shorter contract allows you to switch agents if you haven't made progress after a couple of months.
Avoid paying a deposit fee. Some agents will try to charge you a registration fee upfront for hiring them. While it may sound sensible to have such a clause, if it isn't specified well, it can be used against you. Sometimes, scammers refuse to return this deposit at the end of the contract, even if they have been unable to find a suitable property or buyer. In general, it's advisable to not pay your agent a commission fee until you've found the deal you're looking for.
Once you check off all these details, go ahead and sign that contract to get going.
For visitors, travel, student and other international travel medical insurance.
Visit insubuy.com or call 1 (866) INSUBUY or +1 (972) 985-4400

What to Expect (And Do) After Signing a Contract
Whether you're selling or buying, the first thing to do once you start working with a real estate agent is to establish your communication lines. Let them know how prefer to stay in touch, and at what times you'll be available for them to contact you for a showing.
After that, depending on what side of the transaction you're on, the guidelines vary slightly.
Buyers' Best Practices
How smooth your house-buying experience goes depends on your agent's skills just as much as it depends on you.
As a buyer, you need to be clear with your agent about your budget, your ideal locations, your absolute needs, and your flexible wants.
When you're viewing properties, remember it's your agent's job to help you inspect the property and negotiate on your behalf. They work with the seller's agent to negotiate for the property price, and for any repairs to be done from their end.
You should trust them to do their job, and not micro-manage them, but it's still wise for you to be aware of what the negotiations are.
After the deal has been finalized, be sure to inspect the property again for yourself, and read the sale deeds carefully.
Your agent will go through the deeds, and ideally, you should as well. Be vigilant and read through the documents to look for any unwanted surprises hidden in them.
Smart Sellers' Practices
If you're looking to sell your house, you probably already have a price in mind. We know it can be tempting to stick to it, but real estate agents have real expertise in pricing properties. When you've put in the effort to hire an agent, why not take their advice into consideration?
While it's important to trust the experts and let them do their job, it's also important to be aware, so that you avoid settling for a less-than-okay deal.
Stay updated on what's going on at the property showings. Ask your agent to inform you of the progress being made throughout the sale period.
A great agent will automatically keep you in the loop, but if they don't, feel free to prompt them. This open line of communication will keep you from being frustrated, waiting in the dark until the day before the sale.
All of these basic 'best practices' should keep you safe, and the ship sailing smoothly. But, this article would not be complete without a quick guide on avoiding the dreaded territory of scams.
The Two Most Common Scams (And How to Avoid Them)
1. Real Estate Broker Fraud: Failure to Disclose Details
Shady agents sometimes attempt to scam their clients through hidden fees or added loans that they sneak into contracts.
A red flag to look for is if your agent seems to be trying to stop you from reviewing the paperwork before signing.
Avoid this fraud, and many others too, by reading and being aware of every paper you sign.
If at any point you are unsure of what a document is for, ask your agent for clarification on what it is, and why it's needed. If it still feels shady, do a quick search online, or check with friends or family to see if they've signed similar deeds.
Also, do not let a broker or agent add any other parties to your transaction apart from the buyer or seller involved.
As a buyer, do not agree to make any additional payments to the seller 'outside of escrow' just to close a deal. Agreements like that usually are a part of a loan fraud or 'short sell' scam, and might make you party to it.
Also, never give your broker the money or legal permission to seek a loan or mortgage on your behalf.
For visitors, travel, student and other international travel medical insurance.
Visit insubuy.com or call 1 (866) INSUBUY or +1 (972) 985-4400

2. Cyber Security Fraud:
More than 11,000 buyers fell for this scam in 2017 alone, and the numbers have been rising since.
This is a more recent type of scam where hackers gain access to real estate agent's email addresses and details of the attached contracts. They then send the buyer fake wiring details for the down-payment amount or the closing cost from an email address very similar to the agent's.
The fraudsters even go to the extent of studying the agent's writing style, so it sounds like the same person.
The best way to avoid such scams is to carefully check the email address of the sender asking for a wire transfer, and follow that up by always cross-verifying the wire transfer details with your agent by phone or in-person, before you make the transfer.
If you've fell victim to any of these scams, immediately inform your bank and alert local police.
In any scam involving money transferred, time is of the essence. The quicker the bank and the police are informed, the higher the chances are of recovering your money.
Keep these simple tips and practices in mind to have a glitch-free experience with your real estate agent, and to avoid falling for any scams.
We are sorry that this post was not useful for you!
Let us improve this post!
Tell us how we can improve this post?