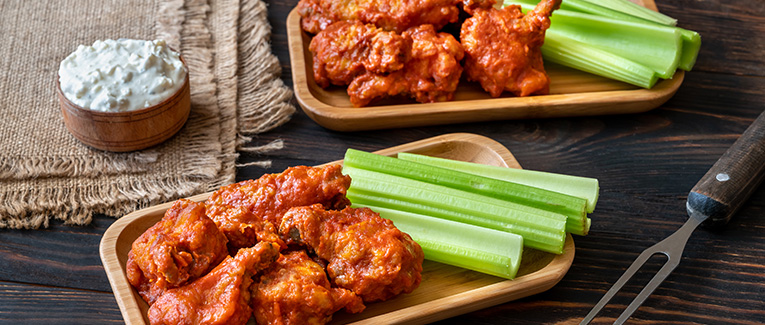 American cuisine is as varied as the many cultures that make up this melting pot of a country. Some dishes can trace their origins back to the home nations of the immigrants that settled in certain regions, while others came about more recently.
History aside, what makes up American food largely depends on where you are in the U.S. Let's explore some of the signature traditional dishes you can find in the States.
1. New York Buffalo wings
These are crispy chicken wings tossed in a fiery Buffalo sauce, mellowed with butter, and paired with a cooling ranch or blue cheese dip. The zing gets the taste buds to sing.
The inventor of the dish has been contested, but it was created in the region of Buffalo, New York. That's where the sauce gets its name. Even now, that's one place you'll find finger-licking wild wings.
2. Illinois Deep-dish Pizza
Think of this pizza as a pie rather than a pizza. Deep-dish is also famously known as Chicago-style pizza, courtesy of its origins in Chi-town's Pizzeria Uno.
The ingredients are the same as a regular pizza, but the assembly is flipped. The sauce is layered on after the cheese. Being baked in a cake or pie tin gives it two to three inches of depth, and a weighty crust to hold toppings. One piece can feed several people.
3. New England Clam Chowder
"Creamy, savory, transports you to the midst of the sea." Anyone who's had a New England clam chowder would describe it this way.
The hearty soup gets its richness from dairy and potatoes, and its briny essence from clams and salted pork. Other cherished versions are the acidic tomato-based Manhattan chowder, and the light, brothy Hatteras Island-style chowder.
4. Minnesota Tater Tot Hot dish
Throw starch, protein, and veggies into a baking pan, pop it in the oven, and serve it straight from the pan. This is a hot dish.
Minnesotans love to sneak in tater tots (potato nuggets) as the starchy top tier of their beloved hot dish. Shredded cheddar is piled on for good measure, too. This classic casserole equals the ultimate comfort food.
5. South Carolina Grits
If you're the kind that believes in having the same thing for breakfast, lunch, and dinner, this one's for you. Southerners, who adopted grits from Native Americans, will tell you so, too.
Hominy, a form of ground alkalized corn, is cooked to a porridge-like consistency to make grits. Don't be deceived by the plain beige exterior. Sweet or salty, every buttery bowl of grits leaves the devourer with a full and happy belly.
6. Texas Barbecue
Barbecue is synonymous with the Lone Star State. Brisket, ribs, sausages, and other meats are wood fire-roasted to extract maximum smokiness.
East, West, Central, and South Texas each boast a distinctive style of barbecue. Variations in spices, sauces, wood, and technique lend unique flavor profiles. The rest of the plate is kept simple to allow the meat to shine. Bread, onions, and pickles are all you need. A pint of beer to wash it down won't hurt.
7. Pennsylvania Philly Cheesesteak
The mighty Philly cheesesteak packs a flavorful punch. The credit for this fully loaded Philadelphian sandwich goes to hot dog stand vendors Pat and Harry Olivieri.
This American favorite proves that a soft hoagie roll is a perfect boat to carry seared beef and onions. A slathering of provolone or white American cheese completes it.
8. Florida Key Lime Pie
Imagine how tantalizing Key West's limes are that they had to be put in a pie – enough to create the official Florida state pie.
The tang of the lime cuts through a luscious filling and soft crust. It is best served cold to beat the Southeastern heat.
9. Mississippi Mud Pie
The mud pie is a chocolate-lover's dream come true. Its name is dredged from the muddy Mississippi riverbed. Ironically, the decadent dessert stars on most menus and dinner tables.
Combinations of chocolate, butter, and sugar in different ratios form the pie's core. Typically, a crumbly graham cracker crust is topped with custard or ganache, and finished with a lush layer of whipped cream. What's not to love?
You've probably worked up a massive appetite going through these treasures of American cuisine.
But hold on; we've saved the best for last.
Here are the special mentions from the most wonderful times of the year:
1. Food for the Fourth of July
Millions of Americans gather in their backyards and on beaches for an Independence Day cookout. Hot dogs, burgers, and corn on the cob are popular items to serve up.
Chilled beer in iconic red Solo cups amps up the celebration. Snacks are dyed red, white, and blue to match the theme of the day. A gooey s'more (chocolate and roasted marshmallow sandwiched between graham crackers) is enjoyed as a sweet treat.
However, nothing's as American as apple pie on the Fourth of July. This quintessential confection was around as early as 1864, as part of an army officers' feast during the Siege of Petersburg. Recipes have traversed generations, sometimes even guarded as family secrets. But, the fond sentiment of biting into deliciously warm apples blanketed in a flaky crust remains unchanged.
2. Food for Thanksgiving
Turkey is the showstopper on Thanksgiving. Brined, rubbed, or stuffed; the roasted bird unites families from prep to gobble. A zesty cranberry sauce or velvety gravy keeps the turkey succulent throughout the meal, and there's always room for a slice of spiced pumpkin pie at the end.
Besides the staples, a plethora of sides are laid out. Some are partial to green bean casserole, while others indulge in a nectarous sweet potato or yam casserole with marshmallows broiled to golden perfection.
Mashed potatoes, creamed corn, and mac and cheese are popular picks as well. Salads make a meek appearance on some tables.
3. Food for Christmas
Christmas dinner is similar to Thanksgiving, with a roast as the centerpiece. If not poultry, ham or beef are favored substitutes. Ancillaries like gravy and mashed potatoes are consistent too, while baked root vegetables are added on.
The roast dinner custom comes from Europe, as does fruitcake. The cake is densely studded with candied fruits and nuts, and occasionally soaked in booze, increasing its shelf life. It's one of the longest-lasting foods; one Michigan family has preserved a fruitcake for 141 years and counting.
Some may argue that all American dishes are adaptations of Native and immigrant cuisines. Regardless of that being true, one thing is certain: they're absolutely satisfying.
We are sorry that this post was not useful for you!
Let us improve this post!
Tell us how we can improve this post?