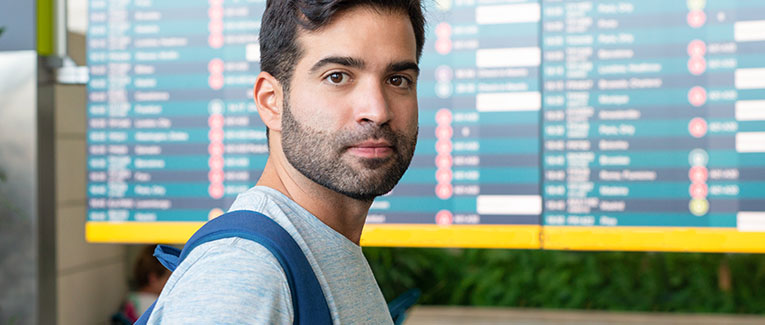 Arriving in the USA for your first semester as a new international student is an incredibly exciting time. For the next four years, you will be spending the majority of your time in a new country, with its own culture, meeting new friends, and expanding your horizons.
This article deals specifically with the time after you first arrive in the US, yet before your classes begin. It will assume you've already chosen a school and were accepted, have been approved for your student visa, and are getting ready to step off the plane in the US for the first time as an international student.
How Early Can You Arrive in the US?
International students on F-1 and J-1 visas are permitted to travel to the US up to 30 days before their academic program starts. How early should you arrive? We would recommend at least two weeks in advance, but even farther ahead of time if you can.
Why? Well, first off, you will be dealing with some jet lag if your home country is on a vastly different time zone. It will take at least a few days, and maybe as much as a week for your body's internal clock to adjust to time in the USA. Plus, you'll have a lot you'll need to do, and want to do before your classes begin. We will get into all of that below.
At the Airport
When you arrive at the international airport in the US, you will have to pass through a port of entry staffed by US Customs and Border Protection (CBP) officers. Simply take all of your hand luggage and belongings with you from the plane, and follow the signs for the immigration checkpoint. There may be signs for different people depending upon their visa status, or even whether or not they have checked luggage to pick up. Just follow the signs as best you can to get in the correct line, and don't worry if you accidentally make a mistake.
Have all of your entry documents ready and in order for easy processing, and wait to be called to the immigration desk.
At the Immigration Checkpoint
Though it may seem intimidating, immigration processing is really quite straightforward, so long as you have all of your paperwork in order. The CBP officer will ask you questions to verify your identify and determine the purpose of your visit. Simply answer them honestly, and keep your answers short and simple.
As a non-US citizen, you will be photographed and fingerprinted as part of a program called OBIM.
After processing, the CBP officer will stamp your passport with the appropriate information, including a date which signifies the last day you are allowed to be present in the U.S. Do not lose it. Before leaving the processing area, be sure to review the class of admission on the stamp (F-1 or J-1 in your case), and the period of admission on the stamp. If you see a mistake, be sure to bring it to the officer's attention to get it corrected immediately.
Through Immigration
Once you are cleared through immigration, you will need to proceed to the international baggage claim area for your flight to collect your checked luggage. However, if you are connecting to a domestic flight to travel to a different US city, you would most likely not need to do this, as your luggage will be loaded onto your connecting flight. Simply take your hand luggage with you to the gate for your connecting flight, and wait to board.
Leaving the Airport
Once you've arrived at your final destination airport in the US and have collected all of your checked luggage, you're free to travel and do as you wish domestically before classes begin. If you plan to live on-campus in a dorm and are permitted to move in immediately, you will likely want to travel to campus straight away to unload your heavy luggage.
If the campus is in the same city as the airport, you can hail a cab, or take a ride-sharing service like Uber or Lyft to get there. Some larger universities may even have airport shuttles that can take you to campus. Similarly, if you are in a sponsored program, you will likely have premade transportation arrangements to get you to campus or your accommodations. There will also likely be a city bus service that can take you where you need to go.
If you need to travel farther, you will need to make bus or rail transportation arrangements ahead of time. Many larger cities have regional rail networks, and the national rail network in the US is known as Amtrak. The most popular intercity bus service is known as Greyhound, and most airports will have city bus service that will take you to both Amtrak and Greyhound stations.
Short-Term Accommodations
If you've arrived before you're allowed to move into your dorm, or you plan to live off-campus and need to rent an apartment (which you should begin researching well before you arrive in the US), you may need to find short-term accommodations. You have two main options here: hotels and hostels.
Hotels (and more basic motels) will offer you more space and privacy, but they will be more expensive. Some popular national chain motels include Motel 6, Super 8, and Days Inn, but the choices will vary greatly by city.
A better option, if available, is a youth hostel. These will allow you to stay in a shared room with other young people for an extremely cheap rate. If all you need is a place to relax and lay your head at night for a few days or a week, they can be an excellent option.
Regardless of your choice, you will want to have a plan in place before you arrive in the US. If you can book the hotel or hostel ahead of time, this is the best choice. You don't want to arrive in your new city, only to find all of your options booked up.
Opening a Bank Account
It's not a smart idea to carry loads of cash with you. You could be mugged or lose your wallet. Also, your parents might periodically send you money to help support you. Opening a bank account makes things much safer and easier.
When choosing a bank, look for one that has a branch close to your campus and/or the place you'll be living. Make sure it offers reasonable fees, and has plenty of ATMs located throughout the area. Many banks offer checking accounts specifically for students, so this could be a good option for you to ask about. Look for large banks such as Bank of America, US Bank, and Wells Fargo for these features.
Take Care of Business on Campus
Once you have moved into your accommodations and opened your bank account, it's time to get everything squared away on campus. Attend orientation, stop by your international student services office, purchase all of your textbooks, and tour around the campus to get an idea of where things are. You'll want to be sure of where all of your classes are located well ahead of your first day. You will also want to locate the dining hall, the student health center, and other campus amenities.
Explore Your New City
With your obligations out of the way, take at least a few days to explore the area around campus. Most college towns are full of cafés, bookstores, record stores, and restaurants.
Find a restaurant that serves a dish you've always wanted to try. Look for flyers promoting festivals and social events around town. Find a local park where you might want to exercise or study on nice days. The next four years of your life will be packed with academic challenges. Finding a place that serves a favorite meal or provides a relaxing atmosphere can be a welcome distraction from the stresses of international student life.
Take a Breath
Though the few weeks leading up to your first day of classes as an international student can be a stressful whirlwind, this is only the beginning. Take time to relax and breathe. Remember that every mistake is a learning experience, and no one expects you to adjust to life in the USA overnight. Soon enough, your first day of college will be here, and you will be as prepared as possible.
We are sorry that this post was not useful for you!
Let us improve this post!
Tell us how we can improve this post?