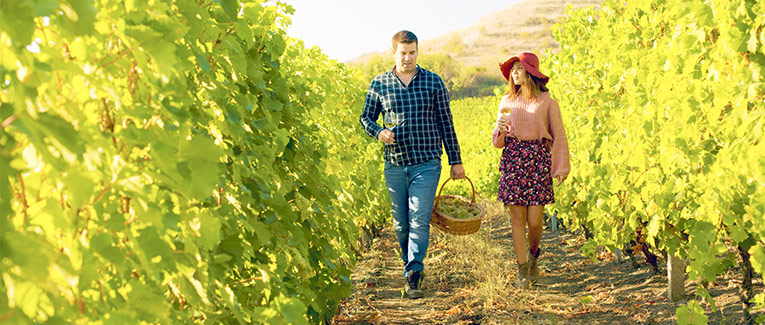 Wine been an integral part of civilization and cultures for generations. From rice wines to fruit wines, all cultures have their version of the beverage. The earliest known wineries date back to 4100 BC in Armenia. Even King Tut's tomb had 36 containers of wine.
Wonders of Wine Tours
The tour of a vineyard will heighten your wine sampling experience even more. A wine tour indulges all of your senses.
Your eyes will behold the wonder of rows upon rows of grapes waiting in the sun until they can create the perfect wine. It tantalizes your nose by the woody scent of the barrels that age the wine, and the layers of flavor that accompany the final product.
Then, your taste buds are indulged in the ambrosial warmth that drinking a good glass of wine guarantees. You aren't just a passive tourist, but an active participant.
It is this indulgent escapade that has shot wine tourism to instant popularity amongst wine enthusiasts.
Wine tourism isn't just a way for wine amateurs to dive deep into the world of Chiantis and Merlots, but also an enormous source of revenue for the wine industry.
The wine capital of the world, France's Bordeaux region, is said to attract six million tourists annually, more than half of which arrive for wine tours.
Best Places in the World for Wine Tours
While many locales around the world now boast scenic vineyards and stellar wines, what are some of the best-known places that MUST be on your list of wine tours?
Here are some of the finest wine-connoisseur-approved vineyards around the world:
Bordeaux, France
Rightly called the wine capital of the world, France is considered to have the finest wine in the world, and Bordeaux to have the finest wine in France. With some of the oldest and best vineyards, and a wine art museum, it is every wine lover's dream come true.
Home to all kinds of wine, the Douro Valley is a UNESCO World Heritage Site. The region has the winding Douro River, which is lined with white-and-yellow wineries called 'Quintas'. It is the perfect spot for a wine tour.
Home of the celebrated city of Florence and the famed Chianti, you might visit Tuscany for the marvelous architecture and scenic beauty, but you will stay for the wine and the accompanying gastronomy.
Napa Valley, USA
After winning the 'Judgement of Paris' in 1976, the vineyards of this Californian County have never looked back. With Cabernet Sauvignons and Chardonnays that are rumored to best even their French counterparts, you can't have a gastronomical tour around the world and not visit Napa. Hop on the Napa Valley Wine Train for an all-around experience.
Tips To Enjoy Your Wine Tour
Now that you know the destinations, you can make sure to enjoy your wine tour to the fullest.
1. Choose your Outfit Carefully
One of the first questions that always pops up for any tour or travel is: what to wear? For a wine tour, dress in dark colors, as they hide spills better. Comfy clothes are a must, and so are sturdy shoes. Don't waste those suede stilettos on the dusty grounds of a vineyard. Also, grab a hat or a pair of sunglasses for when you are stuck in the sun.
2. Fragrance Is Your Enemy
Scent is a very significant part of your wine tasting experience. As said before, the beauty of a wine tour lies in the way it indulges almost all of your senses. You enjoy not just the burst of flavor on your tongue, but the layers of undertones to a wine's smell.
This makes it imperative to keep your sense of smell 'pure' before a wine tour. Stay far away from perfumes, fruits, candies, or any strong-smelling food item on tour day.
3. The Spit Bucket Is There For YOU
You will notice a spit bucket in all wine tours, the location of which your guide will inform you before the tour begins. It is there for a reason, so use it.
The purpose of spitting out your wine is so that you can enjoy your wine tour as soberly as possible.
It is not always necessary to swallow wine in order to know its taste. A tilt of the glass to see if the color holds till the rim, a sniff to take in that glorious smell, and a swish around your mouth to discern the flavor undertones is often enough. So, make use of that spit bucket to keep your faculties intact.
4. Wine Tasting and Gastronomy Go Hand-In-Hand
You can't really enjoy a good glass of wine without an aptly paired plate of food to go with it. A rack of lamb with a glass of Pinot Noir, or good blue cheese with a lip-smacking glass of Riesling are little slices of heaven on Earth.
If you're especially lucky, your wine tour might include regional food tastings as well. If not, you have many options.
You can ask your winery's guide which local eateries they supply their wines to, so that you can enjoy their wines with delectable food.
If you are the kind who enjoys creating your own platters, buy a bottle for yourself, then hit the farmer's market and have yourself a picnic.
5. Be a Diligent Student
This is especially important if you're a wine novice on your first wine tour.
Don't be afraid to ask questions, because the guides are more than happy to answer. Also, remember to take notes. This might seem like an absurd thing to do on a vacation, but writing down the specifics of wines that caught your attention will only heighten your consumption experience in the future.
From the wood used in the barrel, to the specimen of grapes, right down to the harvesting season, every factor plays a crucial role in the flavor structure of a wine.
6. Not Tipsy, But Just a Tip
Excellent wine and an unforgettable wine tour are some of the finer luxuries in life that come with a price.
Since you've already paid for your tour, know that you're not at all obligated to purchase a bottle from the winery unless you want to.
But tipping your host/guide is good tasting room etiquette. So don't be a pinchpenny!
7. Insurance is Important
There are myriad reasons you'll want to make sure you have travel medical insurance or travel insurance in place before your next wine tour vacation.
Consider the possibility that you might be allergic to one of the ingredients of the food being paired with that delectable Pinot. Would you want to be stuck paying an entire emergency room bill in a foreign country yourself? Or, perhaps, you're interested in packing a few bottles of pricey Château d'Yquem in your luggage to enjoy at home. What if your luggage got lost? Would you be comfortable absorbing that cost alone?
A comprehensive international insurance plan can be of assistance in these and other travel situations. It is recommended that you visit Insubuy to compare a variety of insurance plans that could suit your needs. Read through the policies carefully so you have a thorough understanding of what is covered, and enjoy your wine tour vacation with additional peace of mind.
We are sorry that this post was not useful for you!
Let us improve this post!
Tell us how we can improve this post?