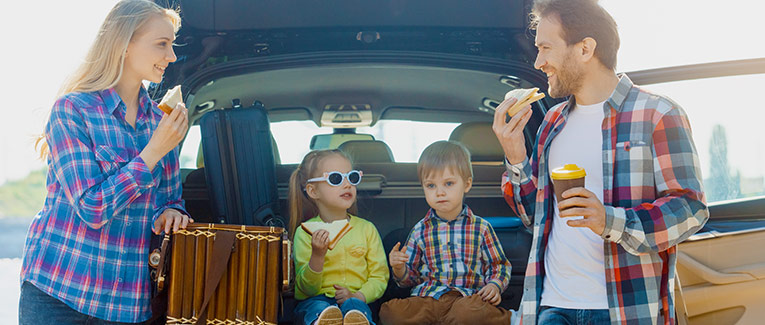 Anybody who has been on a road trip knows the challenge of driving for hours, and the boredom that can come with it. So, to stay entertained, you whip out a packet of chips and munch your way to the destination.
However, there is more to snacks than chips.
Find out all the possible snacking and drinking options for your next road trip, both store-bought and homemade.
The Extended List of Road-Worthy Snacks
We have tried to keep a fair balance between healthy snacks and guilty pleasures. You need both, after all. Keep your heart contented, but also take care of your body. Check out the following list and pick your favorites:
Store-Bought
Dry Fruits – These are a great source of antioxidants, dietary fiber, and nutrients. Dry fruits and nuts like cashews, raisins, almonds, walnuts, pistachios, dates, and apricots are healthy options.
Fruits and Vegetables – Always take heat-resistant fruits and vegetables that won't spoil easily. Grapes, pomegranates, berries, radishes, oranges, sweet potatoes, baby carrots, apples, cucumbers, and figs are some examples.
Processed Meat – Beef jerky and pork rinds are some delicious, savory options for meat lovers. These are high in protein and sodium, so they won't go bad as quickly.
Protein Bars – A convenient and scrumptious source of nutrition, protein bars contain a high protein to carbohydrate content. Be careful though, since many protein bars are full of sugars and additives. Go for protein bars with natural ingredients.
Popcorn – An all-time favorite of both children and adults, popcorn is easily available in a variety of flavors and pre-popped, so you will never get bored.
Cheese Sticks – String cheese is an easy option for a road trip snack. You can keep it in a cooler with other snacks and drinks, so it doesn't get warm.
Lunchables – First introduced in the U.S., Lunchables are a compartmentalized snack box marketed to children as a fun alternative to lunch. You get 26 varieties of meal combinations with Lunchables. It's not the healthiest snack, but it sure is convenient.
Seeds – Edible seeds replenish your body with vitamins and minerals. Chia, sunflower, pumpkin, cacao nibs, flax, hemp, wild rice, quinoa, and sesame seeds are some versatile choices.
Chips – There are the obvious popular options like Lays, Doritos, Pringles, Cheetos, and Funyuns. Then, there are the healthier options like baked fruit and vegetable chips. These can be made out of coconut, apples, sweet potatoes, bananas, radishes, carrots, cucumbers, rosemary, and kale.
Candy and Chocolates – These are perfect for those with a sweet tooth. You can purchase some fun candies like Gummy Worms, chocolate bars, Skittles, M&M's, Reese's Peanut Butter Cups, candy corn, Snickers, and Tootsie Pops. You might even be able to find a variety bag at the supermarket that contains several different kinds of candy.
Desserts – Brownies, snack cakes, cookies, pretzels, muffins, and anything else you can get in packaged form. However, be sure not to eat too many of these to avoid a sugar crash.
Homemade
PB and J – Nothing beats the classic peanut butter and jelly sandwich. Make some for the entire family, and have a sort of picnic in the car.
Trail Mix – Make your own trail mix with granola, dried fruits, roasted nuts, seeds, and candy. It is one of the healthiest snacking options. If you make it at home, you can vary the combination each time. It will also be free of the sugar and preservatives present in the store-bought version.
Eggs – Hard-boiled eggs are an easy snack for those on the move. You can have it with some salt and pepper, along with some fruit. It is a healthy breakfast on the go.
Pita Sandwiches – You can make an array of mouthwatering sandwiches with pita bread. Greek, falafel, chicken and avocado, Middle Eastern, and sabich pita sandwiches are among the most popular.
Celery with Dips – Celery has high water content and low calories. It is a perfect accompaniment to a range of homemade dips like nut butter, ranch, or hummus.
Guacamole – A delightful way of consuming the nutrients of avocado. Have it with toasted bread or bell peppers. Your body will thank you for it.
The No-Nonsense List of Road-Worthy Beverages
Whether it's a hot or cold day, there are drinks for every occasion. You won't be thirsty on your road trip again.
Store-Bought
Soda – Cold drinks or carbonated drinks are hugely popular. Brands like Coca-Cola, Sprite, Pepsi, and Mountain Dew are everywhere. But, stay cautious since these drinks contain a high degree of caffeine and sugar. Maybe even go for the diet version if available.
Drinkable Soups – Brands like Züpa Noma, Fawen, Tio Gazpacho, and Splendid Spoon have come out with a range of drinkable Soups. They come in a range of innovative flavor combinations. Drinkable soups don't require refrigeration, and they are not only delectable, but also organic and gluten-free.
Fruit Drinks – Taste your favorite fruit in a bottle. Lots of supermarkets sell these kinds of drinks. The only downside to these is the artificial flavors and high sugar content.
Squeezable Fruit – This one is a far better option to taste real fruit. Squeezable fruit is sold in pouches that contain 100% authentic fruit puree. This is especially advisable for babies and small children.
Energy Drinks – Get your mind and body stimulated for action with this caffeinated drink. Scan your local market for options, but be aware not to consume too much, since that much caffeine isn't good for you.
Flavored Milk – You can easily get your hands on one of these flavorsome packaged milk drinks. They come in a variety of flavors like chocolate, matcha, mocha, caramel, strawberry, banana, and vanilla.
Homemade
Fruit Juice – You get all the benefits of fruits minus the chewing. Whip out your juicer and make some fresh fruit juice. Flavor it any way you want, or just keep it natural. This is way better than drinking from a pre-packaged container.
Lemonade – The perfect refresher for a road trip. Just combine some lemon juice, sugar, and cold water according to taste, and you're good to go.
Slushies and Smoothies – All you need is a blender and some sugar. Smoothies are awesome for fruit enthusiasts, and slushies are going to keep you cool in the heat of the road. Carry it in an insulated cup so that it stays cold for a long time.
Tea/Coffee – Make it with milk or without, and explore different types of flavor combos. Have it warm, or go for ice tea or cold coffee.
Don't Forget the Essentials
Snacks and beverages are all good, but they can't substitute the basics of any road trip. Adequate water, proper meals, and medicines are all necessary. Without these, your body will suffer and snacking won't feel so good anymore.
So, eat cautiously, keeping your health in mind, and be sure to have travel insurance or travel medical insurance in place before you begin your trip. It can provide a measure of financial protection in case you get sick, injured, or encounter a travel mishap. Also, don't consume anything that can get you sick, and don't overeat just because you have a lot of snacks at hand.
We are sorry that this post was not useful for you!
Let us improve this post!
Tell us how we can improve this post?