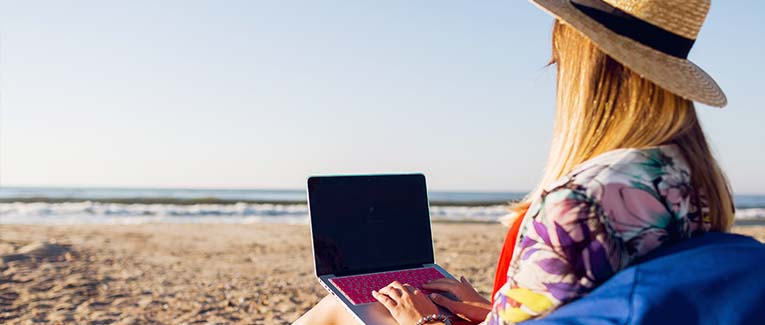 "Never mix business and pleasure."
Those words have been applied to countless situations over the decades. But, they no longer apply to travel in the 21st century.
Mixing business and leisure trips (a.k.a bleisure travel) is the solution.
Weaving between sightseeing and lunch meetings in NYC.
Tacking on a weekend extension to a four-day European conference.
Bleisure travel opportunities are aplenty, and they are here to stay. But, what does it mean for your travel insurance plan?
As it is, middlemen and fine print don't make it easy to narrow down a plan for either purpose. How do you find a safety net that can catch you if you land in a tight spot between blurred lines?
Let's tackle the questions flooding your brain one at a time:
1. Do I need separate bleisure travel insurance plans?
Short answer: no. You wouldn't want to be managing several plans, you'd rather have one, or a combination of a couple that work best.
But then come the big questions.
"What insurance plan should I choose then?"
"How much travel insurance do I need?"

For this, you will need to consider all the details of your trip. Like:
Whether you're flying solo or with family members
Whether you or your companions have special requirements
Where you're traveling to (domestic or international)
Activities you plan to undertake
The frequency of your bleisure trips
Build on this list until you're satisfied; even err on the side of being a perfectionist. The ambiguity of bleisure travel warrants having all of your bases covered. The exercise will also help you form a clear picture of the type of travel insurance necessary for your trip.
If it's just you traveling domestically to the American capital for a consulting appointment followed by a dose of culture – your organization's Business Travel Accident policy may be sufficient. Ensure that your business travel insurance plan has nationwide coverage if you plan to set off on stints regularly.
If your oldest child decides to tag along during your business trip to California with their own desire to skateboard and shoot time-lapses on the Santa Monica Pier, a multi-trip annual plan can have both your backs. The more trips you intend to take, the cheaper it is to secure an annual travel insurance package.
If the whole family is making its way to Disneyland Paris after your fortnight teaching abroad, it's wise to get a family travel insurance plan with international coverage. Check for plans that include free coverage for kids aged 18 and younger.
2. What should my bleisure travel insurance cover?
Read your policy. We repeat, read your policy.
You'd be surprised at how often this fundamental step gets neglected, and how frequently it comes back to bite the neglecter.
The good news is that if you begin your insurance search in advance, you can take a few days to review the fine print of your travel insurance plan prior to making your purchase. Most plans offer a free look period as well, so you can assess its suitability.
While maximizing your use of this time, prioritize coverage of:
Concerning these, your keen eyes should pick up on:
Coverage for nonrefundable aspects of your travel
Ability to "cancel for any reason" (aka CFAR coverage)
Car rental collision coverage (if you plan to navigate roads on rented wheels)
Terms of evacuation (whether it implies getting admitted to the nearest hospital or being transported back home)
The value you receive for hospitalization (it's pointless to have $4,000 coverage if you're likely to get charged $6,000)
Inclusion of 24×7 hotline assistance
Beware that the free look period will be short-lived if you begin traveling before it runs its course.
3. Who pays for the bleisure travel insurance?
Speaking of insurance, never brush money matters under the rug. The more doubtful you are about whose pockets open for what, the more imperative it is for you to gain clarity – be it with your employer, insurance provider, or agent.
Barring extenuating events, you'll experience one of three possibilities:
Scenario A: Your employer foots the total. Organizations typically budget for business travel insurance, whether abiding by state law, or sense of duty.
Scenario B: You pay for your ideal travel insurance plan; in the case that either your employer doesn't provide travel insurance, or it's unsatisfactory for bleisure travel.
Scenario C: Both parties split the bill. Similar to how you would handle business and personal expenses on the trip, insurance can be divided. Weekdays are on the company; weekends are on you. It's no industry standard though, so iron out the details with your employer in advance.
Keep in mind that Scenario A could entail a group insurance policy with fixed coverage, so you can't call the shots. The other two present more flexibility. It goes without saying that they're fit for specifications and policy customization.
4. How can I find the perfect plan?
You've decided you don't want to be the employee that places their fate entirely in their firm's insurance. Yet, there are only so many hours and dollars you can spend hunting for the best and least expensive travel insurance plan.
Why not allow an online marketplace like Insubuy to do the digging and matching for you?
Insubuy can help you explore bleisure travel insurance plans from a variety of different providers. Along with finding answers to particular inquiries from thousands of fellow travel insurance seekers, you'll have specialists at your disposal to answer all of your questions.
These specialists will also help answer your next big question of, "I've found some great options. Now how to choose the right travel insurance plan?"

They haven't been awarded an A+ rating by the Better Business Bureau for nothing, after all.
Besides finding insurance the traditional way, look for coverage through other service providers.
Did you know that your credit card or domestic insurance could potentially do the trick? Even if they don't serve as primary coverage, they can be your backup options for certain secondary or tertiary coverage.
The canceled flight tickets that you paid for via your credit card could get reimbursed. Your rental car insurance could take care of lost or stolen belongings. If you're lucky, that can be covered by your credit card as well.
With an infallible travel insurance plan and reinforcements in your back pocket, bleisure traveling is yours to conquer.
We are sorry that this post was not useful for you!
Let us improve this post!
Tell us how we can improve this post?