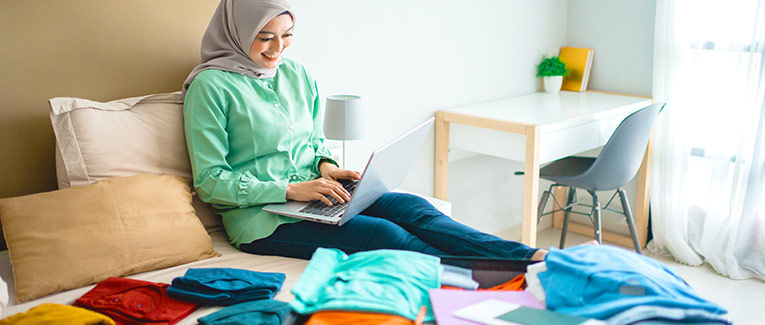 So you have planned the perfect trip for the summer, where you sip pina coladas while soaking in the warm sunlight on an exotic beach. Seems like quite the summertime fantasy, right? But what happens when you go back to the hotel covered in sand and find there is no running water in the bathroom? What do you do if the staff declines to cooperate, and at the end of your stay your hotel bill far exceeds your budget because you were charged separately for using the air conditioner?
A bad hotel experience can dampen the whole experience of a vacation. Your hotel serves as your second home in an unfamiliar place – a space you return to at the end of the day. It is imperative that you mindfully consider some crucial factors and learn the precise craft of booking the right hotel. Let us take a look at some of the fundamental questions you should ask before you book a hotel for your upcoming trip.
Where Is Your Hotel Located?
Convenience and safety are the two paramount factors in deciding the location of your hotel. Do not trust what the hotel website or tourist agency promises. Research the location yourself.
You want to stay in an area where grocery stores, dining options, pharmacies, and public transport are easily accessible. Find a decent hotel located where the major tourist attractions are within walking distance. You do not want to spend the majority of your time, energy, and money on commuting and looking at maps during your vacation.
Another major factor is safety. If your hotel is located in a questionable neighborhood, there could be greater risk of having your hotel room broken into while you are away, and increased chances of being followed or harassed by uncouth locals.
What Do the Reviews Say?
There are a lot of issues hotel websites won't tell you about, and neither will the star review system (which can be flawed in many regions). Factors like the level of cleanliness, staff behavior, quality of service, and value for money are just some examples which can only be discovered from people who have stayed in those hotels previously. This is why reading customer reviews can save you from deceptive hotels with shiny pictures and boastful claims.
Read hotel reviews on trusted travel blogs and other review sites. You can even start chat threads to find out about a particular hotel in detail. It is also important to know how to suss out valuable information from reviews. Do not trust one-off reviews from exceptionally angry customers, as those can be quite unreliable. Instead, go with what the majority of reviews say, and trace common patterns of problems people usually face. Then you can reach a well-informed decision.
Are There Any Hidden Charges?
No one enjoys accidentally exceeding their hotel budget, and having to sacrifice other parts of the trip to make up for it. Hidden hotel costs can really put a damper on your vacation if you're traveling on a budget. Hotels will have all the details they want you to know about them advertised in bold letters. However, the unpleasant details of hidden charges are often buried in the fine print. Take the time to find this fine print on the hotel's website, and read it carefully. Doing so can save you a lot of money.
Hidden charges come in many forms: additional taxes, resort fees, housekeeping charges, parking fees, concierge payment, and tipping policy are some examples. Sometimes, hotels do not provide these details on their website. In such cases, calling them and specifically enquiring about each of these charges is a good idea. Third-party information is not reliable here, since hotel policies can change, and there might be specifics that only the hotel staff can inform you about.
Does the Room Have All the Important Features?
Any decent hotel will provide you with the usual spread: a bed, chairs, a table, air conditioner, TV, fridge/minibar, closet space, and bathroom facilities, with a few variations here and there. Practically, these features do the bare minimum and are not always enough for a comfortable stay. Your room should have some specific features to ensure a worthwhile hotel experience. Let's see what they are.
One bedside power outlet + at least two separate power outlets
Free high-speed WiFi
Coffeemaker or espresso machine
Centralized heating (for cold countries)
Free water bottles
Comfortable mattress
Easily navigable roomservice system
Adequate lighting
Blackout drapes
Fresh and clean bedspread
Spacious closet and luggage rack
Shower with decent water pressure
No transparent or open bathroom doors
Basic toiletries (toilet paper, bidet, shampoo, toothpaste, tampons/pads, etc.)
Doors and windows with secure locks
A decent view
You can ask someone who has stayed at the hotel previously, or simply call up the front desk to enquire about each of these features. It is often the lack of attention lent to these minuscule details that makes for an unsatisfactory hotel stay.
What Are the Check-in/Check-out Timings?
Check-in and check-out timings are like a guard dog waiting at the door. If you are not careful, you might get bitten during your entry and exit. If you take an early flight, you might arrive at the hotel before the check-in time. Then you'll either have to pay an extra fee to access your room early, or wait in the lobby. Similarly, if the check-out time doesn't coincide with your departing flight, you will have to vacate your room way too early. This means you have to roam the streets with all your luggage, or wait at the airport. Both of these experiences are equally distressful.
To avoid such inconveniences, always confirm the check-in/check-out timings first. Try to book a hotel that will allow early check-ins and late check-outs without any hassle. Otherwise, choose a hotel with timings that correspond with your flight arrival/departure schedule. You can also call them up to find out more about their policy.
What Is Their Cancellation Policy?
If someone in your family passes away or you get into an accident one day before leaving, cancelling your vacation could be your only option. But what would you do if your hotel doesn't allow cancellations 24 hours prior to the booking date? This means they could charge you for a night's stay, or maybe even more, depending on their policy. You are already in a miserable state from cancelling your trip due to an unfortunate event. You do not need a substantial financial loss to add to that.
Familiarizing yourself with the hotel's cancellation policy is your top priority here. Although some hotels will have a longer grace period, it is unlikely that you will find a hotel that doesn't charge a cancellation fee these days. Trip cancellation insurance is your best bet in this situation. If you get insured before your trip, you can be covered for nonrefundable deposits and pre-payments, including hotel charges. So, buy travel insurance to protect your finances in the event of a cancellation. If you get insured, you won't have to worry so much about your hotel's cancellation policy.
Have a Nice Stay
The primary reason most tourist have a bad hotel stay is because they didn't do enough research, or ask the right questions when booking their hotel. Instead of looking into hotel policies and essential services, they enquire about free breakfast and swimming pool availability. It is important to sort out your priorities, and the six questions above can help you do that. Now that you have learned the craft of booking the right hotel for your trip, we hope you have a nice stay and a safe trip ahead.
We are sorry that this post was not useful for you!
Let us improve this post!
Tell us how we can improve this post?