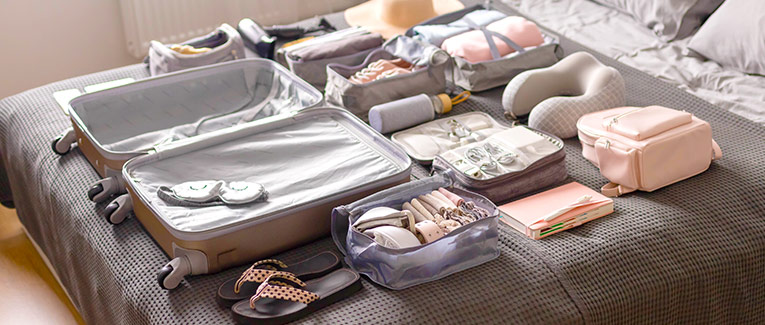 If your next trip is around the corner, and you're looking to gear up without breaking the bank, these cheap travel accessories could be just what you're looking for.
Top 10 Cheap Travel Accessories Every Smart Traveler Must Buy
1. Collapsible Water Bottles
Water bottles, especially those made of metal, add a lot of weight to your luggage. They also consume unnecessary space. Why carry one when you can buy a collapsible water bottle instead? Collapsible bottles fit in your pocket, and weigh next to nothing. They cost $2-$3 apiece.
2. Handheld Scale
Have you ever had to discard items from your luggage because they exceeded the airline's weight limit? You can avoid this by investing in a handheld scale. Always bring along this affordable travel accessory to ensure you can fit those souvenirs. Once you have one, keeping track of the weight of your baggage will be a breeze. These beauties only cost $4-$6.
3. Money Belt
This is an essential travel accessory every traveler needs before heading off to unknown destinations. If you are going on a trip, chances are you will spend a lot of time in crowded touristy places. The bad news is, these places are the favorite hunting grounds for pickpockets. Stay one step ahead of them. Invest in a money belt, and carry your cash and cards around your waist where they are hidden and secure. They cost about $2.
4. Inflatable Pillows
A pillow is a welcome comfort when traveling, but they take up a lot space. If you don't want to lug a regular pillow around, inflatable pillows designed for camping are a great option. They come in different shapes and sizes and are on top of every list of cheap travel essentials. They can cost anything from $2-$10. You can choose one depending on your budget and taste.
5. Hanging Toiletry Bags
Toiletries may look little and innocent, but are capable of occupying huge amounts of space. You do not have to worry about that if you invest in a hanging toiletry bag. You can stash away your belongings in different chambers and fold the bag up. Once you have reached your destination, you can unfold the bag and hang it on a wall for easy access. Hanging toiletry bags are super portable and fun to use. They usually cost $4-$6.
6. Universal Travel Plug Adapters
We all want to travel with our devices, but plugging them in to charge in another country can be a little nerve-racking, as the sockets are always different. Universal travel adapters are a great way to ensure that you don't have any problems during your holiday. They allow you to seamlessly charge your phone, laptop, or tablet in any country around the world. Universal travel plug adapters cost around $10.
7. Suitcase Locks
Whether you're taking a flight or driving across the country, you'll need to secure your luggage. Why risk having anything stolen? Security is important for any traveler. You never know who might be lurking around. But what's the best way to keep your stuff safe on your next trip? This is where suitcase locks can help. Suitcase locks only cost a dollar or two apiece. It is a wise idea to buy about five or six depending on how much luggage you have.
8. Waterproof Phone Case
A tiny investment in this low cost travel accessory can help protect your expensive smartphone. A waterproof phone case is a must-buy, especially if you are going to a seaside destination. Even if you are not, you should invest in one. Many holiday destinations have amusement parks where you might get splashed, or you may decide to visit the pool. You want your phone, as one of your most valued possessions, to be safe all the time. A waterproof phone case will enable you to enjoy your time at a beach or by the pool without worrying about getting water on your phone. These cost about $5 apiece.
9. Bag Organizer
Let's face it: the perfect travel bag does not exist. No matter how many sections and pockets your bag has, it will turn into a veritable black hole after you have stuffed it with your belongings. The inside of your bag is bound to turn into a complete mess. It's not only difficult to find things, but it's also very unorganized. Wallets, keys, phones, and all sorts of other small items are thrown haphazardly into your bag. You end up rummaging around for minutes trying to find something that you need.
You can avoid this if you invest in a bag organizer. Bag organizers come with neatly organized pockets where you can place your little knickknacks and travel organized. The best part about bag organizers is that they are darn cheap, only costing about $5.
10. Earplugs
If you are going to a place where there will be a lot of noise, then you might want to have earplugs with you. They can help you avoid hearing problems in the future. Earplugs are helpful if you are going to a concert or anywhere else where there will be a lot of noise for long periods. If you are a frequent flier, you should keep a few pairs of earplugs handy. Earplugs are something that you do not realize that you need until you use them. The price of earplugs starts from as little as $4.
Travel Insurance – the Cheap Travel Accessory You Can't Do Without
If you invest in only a few things from this list, traveling is going to be a lot easier. Before you pack your bags, make sure you have adequate travel medical insurance or travel insurance. Investing in these cheap travel accessories will be completely futile if you have to spend a fortune due to an emergency. The right insurance can protect you from that.
We are sorry that this post was not useful for you!
Let us improve this post!
Tell us how we can improve this post?