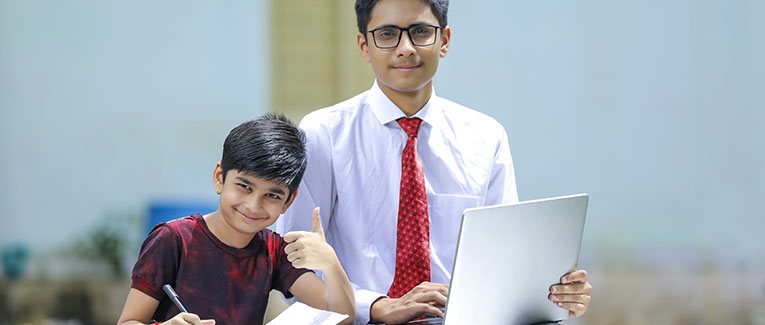 Going abroad is exciting, but settling down is tough—especially when you have a kid. It is easy to find an apartment or open a bank account. Even a driver's license does not take much time. But how do you handle education?
College-aged children rarely have parents migrating abroad for the first time. Further, college students can safely be left at a hostel or with relatives. It is incredibly hard to decide about a child who is just transitioning from infancy to childhood or from childhood to their teenage years.
Why does a problem arise?
Consider the issues at hand. In India, the child was most probably studying at CBSE, ICSE, or state board. Though there are differences between these boards, the difference begins to show at the Class 11-12 level. Until Class 8, more or less, all boards have the same standard of education, though there is a difference in choice of first and second language (English and vernacular).
A young student going abroad to Germany would, first of all, have to adjust to the language. European nations are fiercely parochial about the use of language. They can accommodate tourists speaking English, but not someone living there permanently.
Further, even in England, the language has a very different accent, and a student might have difficulty grasping it.
U.S. schools are different from those in the rest of the world – without uniforms, very little discipline, a lot of sports and other extracurriculars, and flexible education curricula. And, to top it off, for three months of the year—from June to Labor Day (first Monday in September)—there is no school.
What is the solution?
IB Diploma
The best solution is to go for the International Baccalaureate program. IB is a global, not-for-profit education system that evolved out of the need for diplomats' kids to get the same education regardless of where they are in the world.
IB schools offer instruction in all languages, with the most common medium being English.
The course is divided as Primary, Middle, Diploma (equivalent to Class 12), and Vocational. There are 4,460 schools spread across 151 nations.
The U.S. has 500 Primary, 618 Middle School, and 893 Diploma-level IB schools.
When the child returns to India, they can migrate back to an Indian board or continue studying at the nearest IB school. Bangalore, for example, has 16 IB schools; Mumbai, at least 30.
An IB diploma is also better suited for migrating from India to abroad for higher education.
International General Certificate of Secondary Education
IGCSE does not work equally because it is only prevalent in Commonwealth nations such as Canada, the UK, India, and Australia.
However, should you be migrating to these nations, it is excellent. Basically, it is the international version of the UK-based GCSE board offered across the world by Edexcel, Cambridge, and OxfordAQA. There are strong similarities between the ICSE/CBSE and GCSE course structure.
For visitors, travel, student and other international travel medical insurance.
Visit insubuy.com or call 1 (866) INSUBUY or +1 (972) 985-4400

Is local schooling an option?
Yes, it is, despite cultural difficulties. Unlike India, public school education is free abroad. Therefore, you would save the tuition fee that you would pay at IB or IGCSE schools.
However, your child would definitely need supplemental education and home tutoring to learn the local language.
Moreover, in some areas (the UK and Hong Kong among them), the standard of analytical questions is very high.
Conversely, in the U.S., school education is much easier for the average Indian student. Most Indian students in the U.S. get AP credits quite smoothly.
If you are in the UAE or Kuwait, your child can easily attend CBSE schools.
How to arrive at a fair decision?
This is a really tough question, especially if you are being temporarily posted abroad and will be back after 5 years.
The easiest path for the child would be to complete tenure in IB schools in the same academic environment.
If you choose to send your child to local schools, your best avenue is to have a thorough discussion with local NRI parents and take advantage of their input.
The main point is that the human psyche is more or less molded by the time it reaches age 16. Any sudden jarring of the environment, or any bullying or sudden dramatic cultural shift, can cause the child to develop a complex.
On the other hand, a considerable amount of extracurricular work in U.S. schools may have the reverse effect. Your child may excel at gymnastics and return back to India to find no one appreciates the talent she has developed.
While international culture is broadly the same, with everyone watching Netflix and listening to Taylor Swift, you have to understand the sub-culture(s).
Being an Indian parent, you would have trouble understanding why your cherubic daughter who loved strawberry ice cream back in Pune suddenly wants to wear dark eyeliner, black nail polish, and chunky jewelry in Seattle.
She is going through the "goth teen" phase alongside her friends, and if she did not join in, she would be shunned. Education is essential, but avoiding a "Bend It Like Beckham" scenario is equally crucial.
It is a complex maze of the schooling system, curricula, and attendant environments that you have to carefully sort out and manage.
For visitors, travel, student and other international travel medical insurance.
Visit insubuy.com or call 1 (866) INSUBUY or +1 (972) 985-4400

We are sorry that this post was not useful for you!
Let us improve this post!
Tell us how we can improve this post?