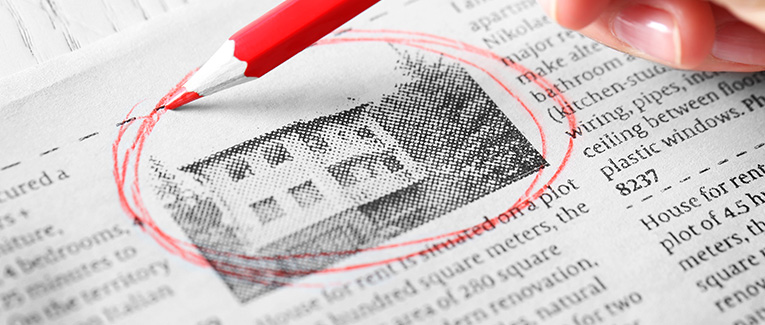 A crucial part of moving to the U.S. is deciding where you'll be living. This will have a massive impact, because it controls who your neighbors are, how you get to work, and how you plan out your day.
Renting has several benefits over buying a house outright, especially for new U.S. residents who are yet to be granted their Green Card. The main benefits are:
If your Green Card Application is rejected and you need to return to your home country after your work visa expires, you won't be tied down with payments on a property.
Renter's agreements require landlords to provide certain otherwise paid services for free to the renter.
No worries regarding maintenance or taxes on the property.
Now that you've settled on renting a house in the U.S., there are a few ways to go about it, but scanning classified ads remains the most viable option. There are three main types of classified ads in use today:
1. Classified Advertisements
Yes, classified ads are still a thing in 2021. What's more, their business is booming. Classified ads have figured out a way to stay relevant and it's rather nifty.
You see, there isn't any guarantee that the classified ad you find in the Yellow Pages will be listed on other rental websites or publications.
In fact, many paid classified services offer a discount to the lister if they agree to notpost their property somewhere else.
This holds particularly true in prime property areas because, as we know, the key to real estate is location, location, location.
Many larger cities will have multiple classifieds: websites, newspaper sections, radio and television broadcasts, and sometimes even dedicated magazines.
If you want to cover the maximum number of options available to you, buy classifieds magazines, newspapers, and booklets. Go through them, and then phone a real estate agency.
Use this line: "Hi, I was looking to rent a property in [area], and the median price seems to be [state what you learned from the classified ads]. Do you have any lower-priced listings?"
Also, in a sizable number of cases, the property section of the newspaper is released on the weekend, so even if you miss buying the paper on Saturday, you can grab it on Sunday.
A good example of this is the New York Sunday Times. A newsletter with a property section is available for purchase from Saturday evening onwards.
Keep an eye out: prices tend to fluctuate. It may have just been bad luck that you signed the contract when prices were peaking. At a minimum, you should take a couple of weeks to survey the pricing environment in your target area.
The main reason why people still use classified ads these days is that it puts them in direct contact with the landlord.
People tend to feel reassured when they speak to the genuine owner or manager of a place. They are secure in the knowledge that they can put a face to a name, should any problems arise.
2. Real Estate Agency Publications (can be weekly, monthly, or quarterly)
They're reliable, but tend to be the most expensive option on account of the transaction fee that most of them charge.
The upside of going through a real estate agent or rental agent will be that they know of properties that are unlisted.
That basically means that an agent may be able to get you the location you want, where classified ads or local papers fail.
You can usually find a reliable local agent by looking them up online ("real estate agent near me") or by simply asking around.
Real estate agents should be a last resort when renting, as they will always try to push the prices as high as possible. This is because they earn on commission.
3. Rental Websites
The one thing that sets rental websites apart from classified ads is that rental websites may sometimes charge a fee for their services.
For example, if a customer wants to promote their rental property in a particular area, they can do so for a small fee.
This makes the customer more likely to choose the highlighted property, because it gives the impression that the place has been thoroughly vetted and verified.
There are thousands of property rental websites out there, and choosing the one that best suits your needs can be tricky.
Generally, most decent websites will meet at least three of these criteria:
Has a physical publication (monthly or quarterly)
Has physical offices
Has a grievance redressal officer
Is managed by licensed real estate agents and developers
Has frequent partnerships with builders and housing societies
Has glowing online reviews
Has a decent history of customer service
Is insured
Rental insurance (commonly called renter's insurance) is of the utmost importance, because it covers theft, water damage, natural disasters, bodily injuries (on the premises), and much more.
This can be a lifesaver if you find yourself in such a situation, seeing as how healthcare and repairs are so expensive in the U.S.
It is a wise move to compare a few insurance policies before speaking to the agent you'll buy from. There are loads of websites where you can do this, similar to how people compare cars on the internet.
One thing's for sure: insurance is not an option, it is a necessity.
Pros and Cons of Renting Through Classifieds
| | |
| --- | --- |
| Pros | Cons |
| Shows you the most current pricing. | The printed ones are updated weekly (at best). |
| Gives you a very good idea of what the market is like, allowing you room to negotiate. | If the landlord knows that they are offering the lowest price on the market, you'll have no room to maneuver. |
| Prices are usually flexible, depending on your negotiation skills (as much as ±10%). | You sometimes have to pay extra to see "prime" properties. |
| Can accommodate all budgets. | |
| Low or no brokerage fees for getting you the property, even in prime locations. | |
Renting Hacks
Grab a partner. Whether just to back you up, or to find out pricing by posing as another interested party in the same property, they always come in handy. Also, having a friend means that you'll cover twice as much ground when scanning the many listings.
Split the bill. If you're going to be living alone, there isn't any point in renting the whole house just for yourself (unless that's your thing). Try to find a roommate who will split the rent with you. Pay attention to the "subletting" part of your agreement; you don't want to get in trouble.
List your own ad. What? Yes, that's an option. If you've hunted around for days on end and have gotten nowhere, it may help to place your own inexpensive (and sometimes free) blurb in the local classifieds.
These usually look like this: "College student, 24, M, looking for a rental property in Victorville CA, preferably near Nisqualli." If you want a roommate, it's worth mentioning that too.
Ask your employer. If you've been hired by a company, chances are that they have an existing contact with a housing society or landlord. If they do, you should always try and rent with them, because it's secure, and you'll be within your own work community.
Ask the right questions. Never jump blindly into a rental agreement. Ask open-ended questions like "why is the house vacant?", "what happened to the previous tenants?", and "how long have you owned the place?"
This lets the landlord know that you aren't just going to be a lay about, and are actually interested in being a part of the community.
The most important thing to remember is that the place you settle on will be your home for an extended period of time, so make sure you're happy with the decision. If you have even a smidgen of doubt, it's not the place for you. Your home is supposed to be your sanctuary; therefore, it has to be just right.
We are sorry that this post was not useful for you!
Let us improve this post!
Tell us how we can improve this post?