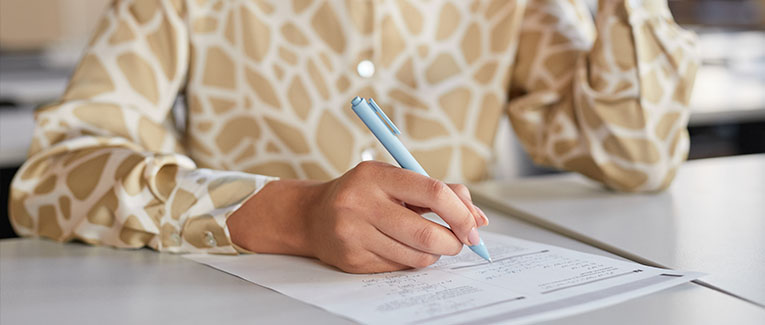 Most universities in the U.S. require students to take standardized tests such as the SAT, ACT or TOEFL for admission. These tests not only measure your aptitude, but they also make you eligible for many scholarships.
There are two main types of college entrance exams in the U.S for undergraduate programs:
1. American College Test (ACT)
The American College Test measures the critical thinking abilities and the aptitude of the student. It's a critical exam if you want to apply to undergraduate programs in the U.S. The minimum score depends upon the university to which you are applying. However, it's usually close to 22 in the U.S.
2. Scholastic Aptitude Test (SAT)
If you are applying for undergraduate programs in the U.S., the SAT or Scholastic Aptitude Test is mandatory for you to take. Most of the universities in the U.S. require SAT scores for admission. The minimum Scholastic Aptitude Test score is 1300 in the U.S. But, it can vary depending upon the university or the course you choose. Harvard, for instance, accepts SAT scores above 1520/1600.
Some universities or technical colleges require ACTas well as SAT scores to prepare students to transfer to a four-year school.
Here's how to prepare for both these tests:
ACT:
You will get challenging questions asked in a straightforward format in 4 sections.
Mathematics: There'll be more complex questions in the section designated for math, for which you can also use a calculator (with prior approval). There will be questions based on pre-algebra, algebra, coordinate geometry, trigonometry, etc.
Education & Career Planning: You will be asked questions related to career planning and education. Passages will include topics like natural sciences, social sciences, prose fiction, etc.
Science: There will be a science reasoning section that includes multiple-choice questions and reading passages. You will get 2-3 charts and graphs passages, and 2-3 science experiment passages.
English: It consists of five passages comprising 15 questions. Most of the questions will be based on basic grammar, writing style, and identifying the tone of the passages.
Each of these sections is scored for up to 36 points in the ACT.
SAT:
The SAT will give you simpler questions, phrased in a more complex manner, in three main sections.
Mathematics: There will be a section on mathematics that focuses on particular segments of the subject. You won't get any questions on advanced math, so you probably won't need a calculator. Subjects like geometry, probability, data analysis, and algebra are covered.
Evidence-Based Reading: It's also called the Critical Reading Section, and is divided into three subsections: Reading comprehension, sentence completion, and paragraph-length critical reading.
Writing: You will be given 25 minutes to write an essay, and an additional 25 minutes to solve multiple-choice questions.
The scoring for this test is evaluated out of 2400. Subject-wise, division ranges from 200 to 800.
It should be noted that starting in 2023, the SAT test will be switching to a digital format for international students. By 2024, all students will be taking digital SATs. The digital test will differ somewhat in format and length from the paper-based test.
These two tests are important for your enrollment in an undergraduate program at a college in the U.S. However, for international students, the trouble is double. You will also have to take English proficiency tests to prove your merit before you go on to take the ACT or SAT.
English Proficiency College Entrance Exams in the U.S.
There are three common types of English proficiency tests accepted in the U.S. for international students.
1. IELTS
Universities in the U.S. judge the applicants' English language proficiency with the help of their IELTS scores. More than 3,000 universities in the U.S. accept IELTS scores. The minimum score required is between 6.5 and 9, but that depends upon the university you choose.
We'd suggest that while you are applying for a student visa for studying abroad, you should also check if the university you are applying to accepts the IELTS score or not.
2. TOEFL
This is the most commonly accepted English proficiency test in the U.S. The minimum TOEFL score that is accepted in most U.S. universities is 80 iBT.
One important point to note here is that the TOEFL doesn't necessarily play a significant role in your admission process unless you are applying for a Ph.D. program in the U.S. The importance of this exam depends upon the course for which you are applying.
3. PTE
The Pearson Test of English (PTE) is not popular in the U.S. quite yet. But, it has started gaining acceptance in more than 750 universities in the U.S. The commonly accepted minimum score is 70.
College Entrance Exams for Graduated Students
If you are planning to pursue your postgraduate degree or Ph.D., you'll have to consider the following college entrance exams in the U.S.
1. GRE (Graduate Record Examination)
The minimum GRE score expected of you is 160. But, that depends on the university you are applying for. Along with the GRE exam, you can also appear for other subject-specific tests to get better chances of getting admission to your favorite university.
2. GMAT (Graduate Management Admission Test)
To apply to a business school in the U.S., you have to take the GMAT exam. The average GMAT score expected of you at B-schools is 700. If you have a high GMAT score and a good GPA, then you can easily enroll at your desired B-school in the U.S.
3. MCAT (Medical College Admission Test)
The Medical College Admission Test helps students enroll in medical schools in the U.S. The average expected score is 510.
4. LSAT (Law School Admission Test)
The LSATs are the most important college entrance tests for law students. It's a necessary entrance exam for admission to Law schools in the U.S. The average score expected of you is 150. But if you are aspiring to apply to Harvard or other top law schools, then you should be able to attain 160. This is because during your selection process, your application form and GPA would only account for 30% and your LSAT score would account for the rest 70%.
5. OAT (Optometry Admission Test)/ DAT (Dental Admission Test)
If you are a specialist and planning to pursue higher studies abroad, then taking exams like OAT and DAT will help you gain admission to a good college.
The OAT is meant for optometry students. It's a primary exam accepted at most universities in the U.S. The average score expected of you is 310.
The DAT is meant for students seeking admission in a dentistry course in the U.S. The DAT is accepted at around 66 dental schools with the average score being 12-28.
Practice Tests / General Tests
There are some practice tests for the students enrolling in high schools in the U.S. They are called preliminary scholastic aptitude tests. Check below for more information.
Preliminary Scholastic Aptitude Test
The PSATs are for high school students. This test basically helps the students get ready for the ACT and SAT. Since it's a practice test, the scores don't have an impact on your college admissions. But taking this test can make you eligible for National Merit Scholarship.
40% of the preparation that you'll do for the PSATs will help you for SAT and ACT.
You can register for the PSATs through your high school itself. Consult your school counselor or administration office for more information. If your school does not offer this test, then you can take the PSATs from a local school with the help of the College Board's PSAT High School Search Tool. Get more information about the PSATs by tapping www.collegeboard.com/psat.
For those of you who haven't graduated from high school but are looking to apply for higher education, there's a General Education Development test.
General Development Test
Taking this test will help you earn a certificate that's equivalent to a high school degree. The test will measure your general knowledge under six main sections. It'll be divided into sections like Mathematics, Science, Language Arts, Writing, Reading and Social Science. You have to create an account on GED.com to register.
Advanced Placement Test
Once you have cleared the General Development Test, you can go for the Advanced Placement Test to measure your skills with regard to a subject matter. Not all schools in the U.S. offer AP courses that would prepare you for this test. But you don't have to worry about it because students can take the test without having completed the course. There's no online registration facility available for the AP tests, so you'll have to visit the school administration department to apply.
We hope you have all the details you need for your college entrance exams. Wish you the best!
We are sorry that this post was not useful for you!
Let us improve this post!
Tell us how we can improve this post?