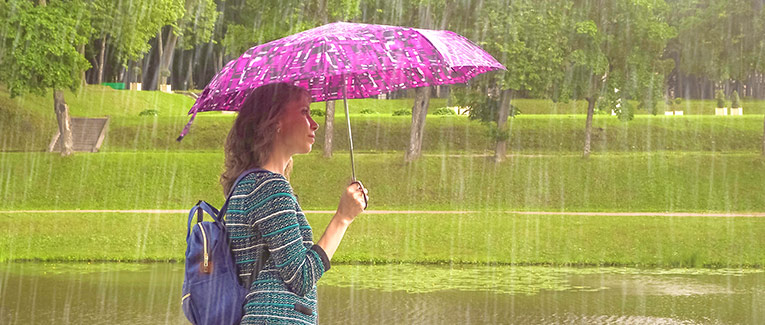 You tuck yourself into your pillowy hotel bed in the Caribbean and slip away into the dream world. You dream of the yacht trip to Paradise Island that you have planned for the next day. You wake up to the pitter-patter of rain. You check your phone and there is a message from the yacht company that says your trip has been canceled due to the risk of storms at sea. Just like that, your plans for the day are washed away.
But don't curse the rainfall just yet. Although it is frustrating to lose a day's worth of much-anticipated fun and adventure, there is always some alternative that can save your day. Rainfall during vacation doesn't need to ruin everything if you have some creative ideas up your sleeve.
We have done the hard work so you don't have to. Read on to discover a list of amusing activities you can do, whether you choose to stay put, or head out on a rainy day.
If You Stay Inside
If you are like most people who don't so much enjoy wet clothes and muddy shoes, you will probably stay inside your hotel room. But that doesn't mean you are doomed to get bored and despondent. Take a look at these 15 fun indoor activities that can keep you entertained all day.
Take advantage of hotel facilities – If you are staying in one of those fancy hotels with a spa, private swimming pool, fitness center, and private garden, now is the time to take full advantage of it. You won't get to enjoy these amenities on a normal jam-packed vacation day.
Spend time with family – If you are traveling with family, now is the time to enjoy their company. Ask your children if they are enjoying the trip so far. Share your experiences with your spouse. Make sure your parents are comfortable and happy. Having a family game day is a good idea if you have young kids, since they can get restless sitting around in a room all day.
Organize luggage – Unless you are a very organized person, chances are, your clothes are all over the place a few days into the trip. Soon you may find yourself wearing the same shirt every day, while 50% of the clothes you packed remain untouched. A day to organize your luggage can solve this problem. Also, if the time to return is near, you'll be doing yourself a favor by packing your luggage beforehand.
Do laundry – When you separate worn and dirty clothes from fresh ones, you can put the former in the laundry. It's great if your hotel offers a laundry service. Otherwise, you can just hand-wash them in the bathroom sink or tub. Using a local laundromat is also a great idea.
Sort through pictures – If you have been on the holiday for a few days, chances are, you have already clicked hundreds of pictures. This is the chance to sort through them and discard the unsalvageable ones. Even looking through those photos can be a great reminder of all the happy times you've had. A rainy day cannot measure up in comparison.
Update social media – If you are an avid social media user, posting some updates on Facebook or checking out some pictures on Instagram is a great way to spend some time.
Watch a movie – A good movie, some popcorn, a cozy blanket, and the rain outside. It is the recipe for a day well-spent. Check if your hotel TV has Netflix or another streaming service. Otherwise, you can always watch on your personal devices.
Read a book/magazine – A cool, rainy day is ideal for picking up the book or magazine you always wanted to read but didn't have time for it. You can always read digitally if you don't have the physical copy.
Talk to friends and family – This is a nice opportunity to call up friends and family back at home. Tell them about your trip experience, and ask them about their day. It's important to keep in touch with the people in our lives.
Enjoy a meal or snack – Nothing is more pleasurable than enjoying your favorite food or drink while it's pouring outside. Order room service, or dine at the hotel buffet/restaurant if you have the option.
Workout/yoga/meditation – The rainy weather is ideal for burning some calories after all that holiday food. Hit the gym, or do simple yoga and meditation exercises in your room. Your mind needs it as much as your body.
Have a drink – Vacations and cocktails are a match made in heaven. You have no work or responsibilities here, so feel free to indulge. However, remember that you don't want to spend the next day in bed, so be responsible with your consumption.
Do something creative – Once you put your creative cap on, time will fly by. There is so much you can do – journaling, painting, playing musical instruments, dancing, writing, learning a new language, knitting, or photography/videography. The list is endless.
Play indoor games – If you are traveling with others, gather in one room and play indoor games. You can play cards, chess, charades, and so much more. Or you can simply sit and chat. This is a perfect chance to bond.
Take a nap – Hands-down, the best way to spend a rainy day. Monsoons are known for making people drowsy. It's understandable if you want to sleep the day away. Besides, trips can be quite physically taxing. This is going to rejuvenate you for all your upcoming adventures.
If You Go Outdoors
Now you might be an energetic, outgoing person who does not want to stay indoors. Or you might simply be reluctant to let a little rain ruin your plans for the day. Whatever the reason might be, there are outdoor activities for you as well. You can safely enjoy those, given you take some necessary precautions against the rain.
Precautions
Fun is important, but safety comes first. Follow these precautions to stay safe on a rainy vacation day:
Check the weather report/news beforehand. Don't leave the hotel if there's a storm brewing or the forecast is extremely ominous. Remember that torrential rain can cause landslides in hilly areas and flooding in low-lying areas.
Use proper rain gear (umbrellas, raincoats, rain boots).
Put your gadgets (mobile, tablets, earphones) in a waterproof case. Do the same with your wallet.
Wear synthetic clothes that dry faster and won't be ruined by the water. Only wear rubber loafers, floaters, or sandals on your feet.
Don't carry any valuables that can get ruined (passport, expensive camera, watches, leather items).
Avoid street food and drinks. Carry bottled drinking water.
Make sure you have medicines for cold, fever, and other common ailments. Use repellants to ward off any mosquitoes or other insects.
Purchase travel medical insurance or travel insurance to protect your finances from medical expenses in case you get into an accident or fall sick during your trip.
Activities
Now for the fun part. Buckle your seatbelts for these 10 amazing outdoor activities for when it rains on a vacation abroad.
Bus tour – Most cities will have a sightseeing bus that can give you a tour of the city without getting wet. You can just stay inside the bus and look out the window. This gives you a good idea of the places you want to visit once the weather clears up.
Rain photography – For those with a knack for photography, this is an ideal opportunity. You can choose how far you want to go for that perfect shot. Be it on the drenched streets or in the groves of nature, the world is yours to explore and capture in your frame.
Go shopping – You can visit shopping malls or stores in the market. Since these are enclosed spaces, you will be well-protected from the downpour. You can buy local products for yourself, as well as souvenirs for loved ones back home. On normal adventure-packed days, you won't have time for this.
Swim – Swimming in the rain is an extraordinary experience. If your hotel has an outdoor swimming pool, or you have access to a private beach, you must try it. Don't do it under heavy rainfall or if you are prone to cold and fever. If you hear thunder or see lightning, go indoors immediately.
Romantic date – The cliché of rainfall and romance can feel quite ethereal on a vacation. Wine and dine at a fancy restaurant with your significant other.
Daytime club/bar – If you are a connoisseur of day drinking and club-hopping, your time has come. It should be easy to find daytime bars and clubs in metropolitan cities and tourist destinations. It's even more fun with familiar people. But do it responsibly, since your safety is in your hands here.
Movies/shows – When people go on vacation, they hardly have time to explore the local movie theatres, comedy shows, or music scene. You can ask the hotel staff for recommendations, or look them up online. Catching a movie or a show is a great way to spend a few hours.
Museums – Visiting museums is another great way of spending a day fruitfully. You get a glimpse of the artistic and cultural heritage of the place. If you have the habit of visiting museums, you know how fast time flies once you get immersed into a piece of art or sculpture.
Hiking – Some people prefer going on a hike when it rains. Apart from the adventure aspect of it, the cool atmosphere is soothing to a sweaty hiker. But this comes with its risks, and hence you must be extra cautious.
Dance in the rain – The best way to utilize a rainy day is to embrace the rain. You can go out just to witness the rainfall and take in its sweet earthy smell. Whether you choose to dance or not, make sure you take in this unexpected turn of events as another unique experience, and not a hurdle in the path.
Let it Fall
With the array of exciting activities suggested here, your chances of getting bored are slim. Remember that rain is a natural phenomenon, and you should plan any trip with this possibility in mind. All you can do is make the most out of what you cannot control. So, let the raindrops fall and live a little. Relish this gift of nature.
We are sorry that this post was not useful for you!
Let us improve this post!
Tell us how we can improve this post?