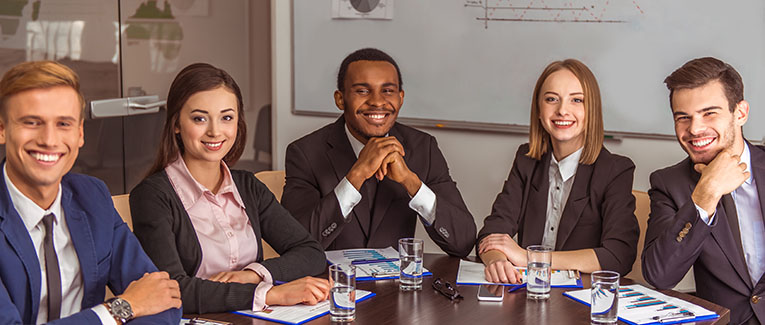 International students who want to study business in the U.S. often face a tricky choice. Should you pursue a Doctor of Business Administration (DBA), or a Master of Business Administration (MBA)? The question of DBA or MBA is common for many business students.
At face value, both are quite similar. They are research-based academic degrees with excellent career opportunities. But, there are some huge distinctions.
What are the differences between these degrees? What are the entry requirements? Which of these degrees is the best for you? Let's find the answers…
Differences between Master of Business Administration (MBA) and Doctor of Business Administration (DBA)
The differences between DBA or MBA degrees can be best understood by comparing their value in relation to these areas:
1. The student profile
MBA is the ideal academic program for individuals interested in enhancing their management skills and furthering their career in the business sector.
DBA is best suited for individuals who –
Have a good deal of experience working in a managerial role.
Wish to prepare themselves for a leadership position.
Want to transition to a career in teaching or consulting.
2. Career path
An MBA degree equips you for executive and managerial roles in your preferred field. MBAs can channel your learning to grow within your current organization, as well as find superior roles in other organizations.
MBA is also a good choice for individuals who want to start their own business in the U.S.
A DBA doctorate degree leads to promising careers in the fields of academia, consulting, and executive leadership. If you're interested in tenure-track teaching positions in U.S. educational institutions, a DBA is perfect for you.
3. The goals of the program
MBA takes a practical approach to learning. The program's primary goal is to make the students better managers.
MBA degrees teach how to use existing knowledge and techniques for analytics and problem-solving. You'll learn how to build a business development plan and devise ways to generate profit.
DBA is research-oriented. The program is designed to hone writing, research, and presentation skills. Its primary focus is on making the students better researchers.
You'll learn how to analyze the challenges prevalent in the business world, and find solutions. A notable aspect of DBA studies is that it introduces the new-found knowledge into both academic and business scenes.
4. The nature of study
MBA studies lean heavily towards practice, with little emphasis on research. The courseware is industry-centric, but also focuses on leadership.
Learning is achieved by means of lectures, case studies, discussions with teachers and fellow students, and studying existing literature.
DBA involves interdisciplinary research and the application of theoretical knowledge for solving the existing problems in the business sector. The courseware focuses on analyzing real-world business and management-related challenges.
DBA students study academic journals and the theories behind the literature that's taught to MBA students.
5. Residency
Most MBA programs in the U.S. require students to attend the classes on a part-time basis.
DBA programs typically require students to attend the classes one weekend per month.
6. The duration of study
Completing an MBA in the U.S. typically takes two years, with 10 to 30 hours of study time every week.
Completing a DBA takes 3 years. Students will need to devote 40 to 60 hours a week to studying the courseware.
Entry requirements for MBA and DBA in the U.S.
MBA
International students interested in doing an MBA in the U.S. are required to meet these requirements:
Bachelor's degree from an accredited institute in the U.S., or a comparable degree.
Two to three years of work experience.
Their Graduate Management Admission Test (GMAT) score must be above 600.
Proof of proficiency in English.
DBA
Here are the requirements for DBA in the U.S.
An MBA from an accredited U.S. university, or a comparable degree. Individuals with a terminal degree in a different field are also eligible for a DBA.
Individuals who have passed Certified Public Accountant (CPA) can also enroll for DBA. CPA-certified individuals, however, must possess a minimum of five years of experience in the business sector.
Students who hold an undergraduate degree from an accredited institution, as well as a minimum of five years of work experience, can also enroll in DBA.
Excellent written and verbal skills, and a high proficiency in English. Applicants may be required to submit a writing assignment or take the GMAT to demonstrate writing proficiency.
DBA or MBA: Which degree is right for you?
The decision comes down to your qualifications and the direction that you want your career to take. If you haven't finished a post-baccalaureate program and aim for a leadership position, MBA is the clear winner.
Aspiring entrepreneurs and graduates who want to enhance their managerial skills, too, should opt for an MBA degree.
If, on the other hand, you aspire to be recognized as an expert in your niche, you should pursue a DBA. MBAs who are leaning towards advanced learning and research can also further their careers by enrolling in a DBA program.
Tips for getting into the best MBA program
Identify the ideal program length
Most full-time MBA programs in the U.S. take two years for completion. Some institutes, however, have accelerated MBA programs that can be completed in one year. If you have studied business in the past, an accelerated program may seem like a good, time-saving option.
A possible drawback of accelerated MBA programs is their lack of specialization. These programs are focused on covering the course in a shorter span. As such, they often forego in-depth reviews, which are necessary to gain expert-level subject knowledge.
Find the right business school
Once you've decided on the length of the MBA program you want to pursue, it's time to find the right school. When searching for the best business schools in the U.S., be wary of misleading business school rankings. A large number of online rankings are poorly researched, and are therefore inaccurate.
Reputed publications such as Forbes, Financial Times, and The Economist release annual business school rankings that you can trust. Rankings from these publications are typically based on the school's accreditation, the graduates' income, and review of the program.
Build a strong application
Once you've chosen the business schools you want to apply to, determine their application deadlines.
Some schools divide the admission process into rounds by setting 3 different deadlines. These deadlines dictate admission requirements such as the time of completing GMAT and submission of recommendation letters. Make sure you abide by these deadlines.
Your resume, GMAT score, recommendations, and admission essay are all crucial to your application's success. Devote due time and effort to ensure all of these are as good as possible.
Tips for getting into the best DBA program in the U.S.
Identify DBA programs that have the relevant accreditation
DBA programs offered by different business schools can vary significantly in terms of quality. Search programs that have received accreditation from an American professional association, such as International Accreditation Council for Business Education.
It's recommended that you choose business schools that are members of the Executive Doctorate in Business Administration Council (EDBAC).
Favor personal research over rankings
Most of the existing DBA ranking sources are unreliable. As such, it's essential you thoroughly research the accredited DBA programs you're interested in.
Contacting the school's faculty and checking out alumni feedback can help you ascertain a program's suitability to your needs.
Bolster your application with detail
Most business schools take a holistic approach to review DBA applications. An application that showcases your work experiences and skills in detail will improve your chances of getting accepted.
If you have work experience in an unrelated field, don't shy away from mentioning it in your resume. Also, make sure your Statement of Purpose (SOP) clearly demonstrates how the particular school and program coincides with your goals. Following these tips will help you identify the best business learning program in the U.S (be it DBA or MBA) and set you up for a successful, satisfying career.
We are sorry that this post was not useful for you!
Let us improve this post!
Tell us how we can improve this post?