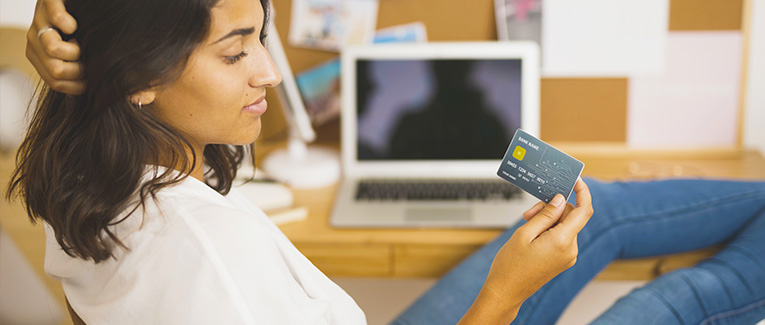 Should you get a credit card, or a debit card? What about the fees credit cards charge when you withdraw money from the ATM? If you're a newcomer to the U.S., you might wonder which one is the best choice.
However, don't lose hope. In the next five minutes, learn the pros and cons of both cards so that you can decide.
Pros of using credit cards
1. Helps to build a credit history
A key difference between debit and credit cards is that credit cards help you build a credit history.
Each time you use your credit card, it shows up on your credit report. The entries include both on-time payments and late payments. The credit card issuer sends the report to credit bureaus including Equifax, Experian, and TransUnion. The bureaus use the information to build your credit score.
A credit score upwards of 670 is considered good. The better your credit score, the sooner banks approve your loans. You will also be able to pay lower interest rates than someone with a lower credit score. Banks may choose to lend you more money as well.
A good credit score means you won't have to pay deposits for utility services.
Landlords check credit scores when screening potential tenants. Build a credit score upwards of 800 and no landlord will reject you based upon your credit score.
2. Offers purchase and extended warranty protection
Dropped your phone and shattered the screen? File a claim with your credit card issuer. If you have purchase protection, the issuer can pay for the repair or replacement.
The purchase protection benefit covers theft of the item as well, as long as you file a claim with the credit card issuer within the mentioned timeline. You'll find the timeline and list of eligible items on the credit card issuer's website.
American Express offers up to $10,000 per claim. You must have purchased the item no more than 90 days before the claim, and you need to file the claim within 30 days after you lost or damaged the item. For more details, check their website.
If you broke or damaged a product after the warranty period has ended, extended warranty protection offers a solution. Under extended warranty protection, your credit card issuer can pay for the repair or replacement of the product, or they can reimburse the original purchase cost.
Credit cards offering extended warranty protection include the Chase Sapphire Preferred card, American Express Green card, and Citi Premier Card.
3. Protects you against fraud
One of the best advantages of a credit card is the fraud protection.
The Federal Trade Commission (FTC) confirms that there were 388,532 reported cases of credit card fraud in the U.S. in 2020. With credit card fraud protection, you can sleep better without worrying about your money.
Under the Fair Credit Billing Act (FCBA), no matter how much shopping a criminal does with your card, you can only be charged a maximum of $50. Credit card issuers including Visa, American Express, and Discover offer zero liability protection. The benefit means you are less likely to be responsible for paying for an unauthorized purchase.
When a criminal spends from your credit card, they spend the card issuer's money. You can report the fraud to the police and your credit card issuer before you need to pay. The credit card issuer can waive the charges from unauthorized use, so you don't lose your money.
4. Offers rewards and cashback
Some credit cards offer rewards or miles on each eligible purchase. You can redeem the miles or points for hotel bookings, flight tickets, and upgrading hotel rooms or flight seats, among other things. Credit cards including the Chase Sapphire Preferred Card offer 2x points on dining and travel.
You receive up to 5% cashback as statement credits as well. Credit cards including the Chase Freedom Unlimited card offer cashback.
You receive sign-up bonuses when signing up for credit cards as well. The Chase Sapphire Preferred Card offers 10,000 points as a sign-up bonus. You must spend $4,000 within the first three months to get the bonus.
Cons of using credit cards
1. Unlimited spending leads to debt
The primary difference between a credit and debit card is that a credit card allows you to borrow money to make purchases. However, you must return it within the mentioned timeline with interest. An average 16% interest rate means you pay a hefty sum.
2. Impacts your credit score
If you fail to pay your credit card bills on time, it affects your credit score. If you max out your cards, your credit score lowers as well.
If you have a credit score lower than 580, you'll have a tough time getting loans and mortgages. You'll have to pay deposits to use utilities, and keep in mind that landlords prefer tenants with a good credit score (upwards of 670).
3. Charges high interest and fees
Credit card issuers charge interest based on the card's annual percentage rate (APR). If the card's APR is high, you pay more interest. The average interest rate is 16%.
You may also have to pay fees including an annual fee, a late payment fee, and a foreign transaction fee. Check if your card issuer charges these fees.
The more benefits and rewards a card offers, the higher the annual fee.
Pros of using debit cards
1. Helps to avoid debt
A debit card only allows you to spend the money that you have. The feature is best suited if you binge-shop on a whim. When you never borrow money from your bank, you won't need to pay interest.
However, if you opt for overdraft protection, you can borrow money with your debit card. Here's an example:
You must pay $500 to buy a camera, but you only have $350 in your account. If you have overdraft protection, the bank pays the $150. The bank charges a fee of up to $35 for the service, so you'll have to pay back $185 to the bank.
2. You won't have to pay annual fees
Debit card issuers typically do not charge annual fees. If you withdraw money from the bank's ATM, you never pay withdrawal fees either.
However, if you withdraw money from a different bank's ATM, you'll likely have to pay a transaction fee.
3. Protects you against fraud
Debit card fraud comes under the Electronic Fund Transfer Act (EFTA). The act allows you to challenge unauthorized transactions. However, you must report the fraud or theft within the mentioned timeline.
If you report an unauthorized transaction within two business days, you could lose up to $50. However, report after two business days, and you could lose $500. If you report the unauthorized transaction after sixty days, you stand to lose the entire amount that the criminals took.
4. You pay lower fees for tax payments than with a credit card
One of the advantages of debit cards is low fees on tax payments. For debit card payments, the three payment processors of IRS — ACI Payments, Inc., PayUSAtax, and Pay 1040 — charge a flat fee of $2.25 – $3.95.
However, for credit card payments, you pay 1.87% to 2% of the total payment. So, if you pay $5,000 in taxes, you'll pay an additional $100 fee as well.
Cons of using debit cards
1. Overdraft charges and maintenance fees
With Overdraft Protection, banks lend you money to make purchases. However, the bank charges up to a $35 fee for the service.
Some banks charge monthly maintenance fees as well. These fees only apply if your account balance falls below the minimum allowed by the bank. The fee ranges from $5 to $20. If you always maintain the minimum balance, you won't have to pay the maintenance fee. Banks including Ally and Capital One 360 never charge maintenance fees.
2. Doesn't build a credit history
When you pay a credit card bill on time, you build a good credit history. A good credit history helps in getting loans and mortgages. You'll find rental homes, and you will not need to pay deposits for utilities.
However, you cannot build a credit history with debit cards. When you pay with a debit card, you spend the money that you have in your bank account. So, you have no way to show lenders that you can repay the money within the time limit.
3. Offers no rewards without a reward checking account
When you buy items with a debit card, you do not earn rewards including miles, points, or cashback. These rewards allow you to save money.
If you only use a debit card, you lose out on money you could have saved. However, you can get a rewards checking account to solve the issue.
A credit card or a debit card — which one should you get?
The answer varies. If you love to shop online and get rewards, choose a credit card. However, if you want to stop overspending and want cash withdrawal facilities, a debit card is the best option for you. For many people, the best answer is to have both types of cards, and use them in the situations that suit each one best.
We are sorry that this post was not useful for you!
Let us improve this post!
Tell us how we can improve this post?