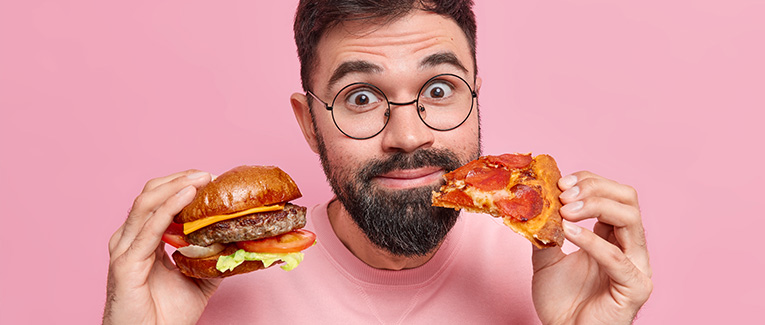 Living abroad can be tricky, especially in terms of adapting to the culture of an unknown place. If you are an international student who has gotten the chance to study in America, you should know that delicious American cuisine is one of the best perks of staying in the U.S. Another perk is the fact that none of America's staple foods are too expensive.
Going out to eat is a significant social activity in America. Much of the world has already tried and tested American cuisine, which is why most of us have eaten at least one variation or the other. We have all heard of the grand American breakfast, the turkey on Thanksgiving, and of course, the cheeseburger. If you have the chance to study in the U.S., make sure you don't miss out on any authentic American food.
We've curated a list of 10 delicious food items that you cannot miss.
Corndogs
If you've watched Hollywood movies, you might already be familiar with this food item. Like a lot of international students, there is a possibility that you may have never eaten a corndog. A corndog is a hotdog on a stick which is then fried in corn batter. This street food has a slightly sweet flavor that can be attributed to the corn batter. You can find corndogs at most roadside eateries in the U.S.
You can understand the significance of corndogs in America, as they even have their own holiday. National Corndog Day occurs on the first Saturday of March Madness, a basketball championship, each year.
Although there is nothing healthy about deep-fried food consisting of processed meat on a stick dipped in corn batter, it is widely popular. If you're studying in the U.S., be sure to try it out.
Thanksgiving Dinner
Thanksgiving is a major American holiday that is celebrated on the fourth Thursday of November. It commemorates the Pilgrims' first feast after arriving in the "New World."
During your stay in the U.S., you may experience Thanksgiving, and you might even get to try the classic all-American thanksgiving dinner. This often includes turkey, mashed potatoes with gravy, and cranberry sauce. Once you go to study in the U.S., you may hear the Thanksgiving holiday informally referred to as "Tukey Day."
Burrito
Although originally Mexican in origin, the Americanized version of the burrito is unquestionably delicious. The burrito can suffice for a full meal because it consists of meat, beans, rice, salsa, and veggies, all wrapped up inside of a tortilla.
There's almost no corner in the United States where you won't find a place that sells burritos!
Cheeseburgers
It seems difficult to imagine a world without the cheeseburger. However, it's said that the first person to make the cheeseburger did so by mistake. As per folktales, a young chef accidentally burnt a hamburger and added some cheese to cover his mistake.
The cheeseburger is one of America's favorite food items. Food chains like McDonald's and Burger King are popular for their cheeseburgers, but most every city and town in America will have local restaurants and burger stands to visit. Note that the American cheeseburger has beef or pork, unlike the versions you'd find in other countries such as India.
Tater Tots
Tater tots are an American variation of French fries. They are widely popular all over America and you can find them almost everywhere.
Ever since tater tots came to the market in 1956, the public has loved consuming them. More than 50 years later, America consumes about 32 million kilos of tater tots annually.
Macaroni and Cheese
We know that there are fancy variations of macaroni and cheese that are popular. However, the classic mac-and-cheese with only macaroni noodles and melted cheese is still as good as any of these variations. Mac and cheese remains a major comfort food of America.
The best thing about this food item is that you can eat a gourmet variation of it in a lavish restaurant, or go to the supermarket and get a box of it to make at home. It will taste amazing either way.
Fortune Cookies
Fortune cookies are a primary symbol of American Chinese food. The buttery-sweet crescents are extremely popular in America, as many Hollywood films have testified.
Fortune cookies are served as desserts in American Chinese restaurants, with a piece of paper inside each one of them. Each cookie might contain a vague prophecy, a Chinese phrase with translation, or a list of lucky numbers. Initially, fortune cookies were made using chopsticks.
Chicago-Style Pizza
According to legend, Ike Sewell opened up Uno's Pizzeria in Chicago in 1943. He aimed to make a pizza that was hearty enough that people could consume it as a meal, not just a snack. From this, Chicago-style, deep-dish pizza was created.
We don't know if the legend is true or not. But we do know that the Chicago-style pizza is popular all over America, and should surely be tried out.
Apple Pie
As per the American Pie Council, the Apple Pie is the United States' favorite pie. Although it originated in England, it is an extremely popular food in America.
The saying "as American as apple pie," establishes that the country transformed something that was brought from England into an American experience. Most diners in America will serve apple pie, and it is worth trying.
S'mores
S'mores are one of the simplest and most common American desserts that you can enjoy. They are handmade and you can cook them outdoors.
The flavor of roasted marshmallows squished between chocolate and graham crackers might not sound very magnificent, but s'mores are the go-to dessert if you're going camping with your friends, or it's just another bonfire night.
S'mores are warm, gooey and sweet desserts that also have a day dedicated to them – August 10th is National S'mores Day.
Even though American cuisine can be irresistible, you should remember to take care of your health. An increased consumption of fast food can lead to diseases like obesity, which is something that about 40% of Americans struggle with. Make sure that you eat a balanced diet consisting not only of these American delicacies, but also of more healthy options.
We are sorry that this post was not useful for you!
Let us improve this post!
Tell us how we can improve this post?