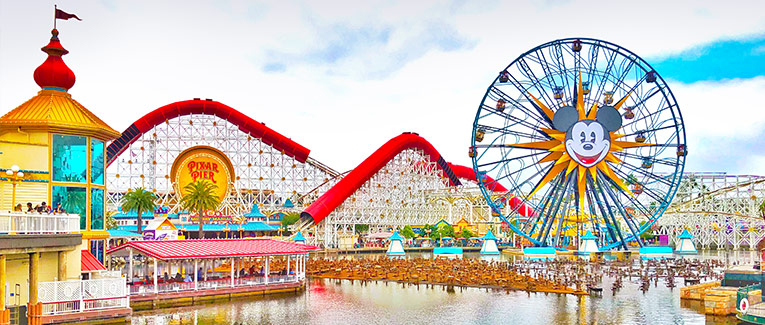 Disneyland vs. Disney World, which is better? This is an age-old question that has been asked ever since the parks were opened. But, the first thing to understand in this epic battle is that there is no definitive winner. You'll find people passionately defending both parks, and no one is wrong.
You will find striking differences between the two parks. One is almost 50 times larger than the other. So if you have a lot of time to spare, the obvious choice would be to go on a trip to Disney World. But, if you only have a day at your disposal, Disneyland is the place to go.
The differences go beyond all this. Keep reading to get more insight into the Disneyland vs. Disney World debate, and decide for yourself which is the better one.
The Number of Parks
• Disneyland
Disneyland has two theme parks in it – Disneyland Park, and Disney California Adventure Park.
The smaller size makes it a manageable two-day vacation. You won't leave the park regretting not getting to some of the highlights.
• Disney World
Disney World has a whopping four parks to its name. This includes Magic Kingdom, Animal Kingdom, Hollywood Studios, and Epcot. It also has two water parks named Typhoon Lagoon, and Blizzard Beach.
Even if the water parks aren't your priority, you will need at least six days dedicated to the other four parks. Owing to the sheer size, you'll spend half your time just navigating the parks.
Transportation Within the Parks
• Disneyland
This smaller, 500-acre theme park has three methods of travel between the parks. You can take a bus from one park to another, or from the parking lots.
You can also use the tram or monorail service to navigate between the parks. But walking will be your main mode of transport inside the parks.
• Disney World
Being 43 square miles, Disney World has a much more dedicated system of navigation both between the parks, and within the parks.
This wide transportation system includes bus systems, monorail systems, water transportation, and Skyline transport. You can also take trams inside the park to get from one side to another.
Depending on the resort you're staying in, Disney World also offers transport from Orlando Airport to your resort.
The Location
• Where is Disneyland?
This park is located in Anaheim, California. The park lies amidst a working city, and is surrounded by hotels and resorts.
If you're a non-Californian, then the best way to get to Anaheim is by flying to John Wayne Airport, then taking a shuttle to Disneyland.
• Where is Disney World?
Disney World is in Orlando, Florida. The best way to get here is by flying to Orlando Airport, and then taking a shuttle to your hotel.
Besides Disney World, Orlando is also home to Sea World. So, if you have time to spare, you can take a side trip there.
The Shopping Experience
Yes, both Disney World and Disneyland have their own shopping districts. These districts also house multiple restaurants with international cuisines. You can also experience a character meal here.
• Disney Springs
Walt Disney World's Disney Springs is split into four parts, and each part is uniquely themed. They all have a variety of shopping, dining, and entertainment options. The four areas are called West Side, The Landing, Town Center, and Marketplace.
Disney Springs is three times larger than its Californian counterpart. So, you will have a variety of cuisines to try out. Disney experts recommend that you reserve half a day for exploring Disney Springs.
• Downtown Disney
Downtown Disney connects the two theme parks with the three Disneyland resorts. It is a free-to-enter shopping center with over 30 shops in the complex. You can also indulge in a variety of food at Downtown Disney.
Cost and Planning
A vacation to Disney is a pretty costly affair. If you're going to include the food and other park expenses, then you'll definitely need to budget ahead.
• Disneyland
The Californian park is slightly cheaper than the one in Florida. The prices decrease for both if you buy a seasonal pass or a multi-day pass.
Disneyland also doesn't have an advanced FastPass system. You can only book your FastPasses on the day of your trip either through the Disney App, or at the FastPass kiosk. Because of this, you have to plan to get to the park early in the morning to get the best passes.
• Disney World
Disney World prices are higher than Disneyland, and it is also the park that needs more dedicated days to experience. So at the end of the trip, you will have spent at least twice the amount required to visit Disneyland to see it all.
The total cost may decrease if you stay at an Airbnb or other hotel close to Disney World.
It is much easier to pre-plan a trip to Disney World. You can book your FastPass reservations up to 60 days in advance.
The Rides and Attractions
If you're going to Disney for the rides, then this may be the deciding factor for you.
• Disneyland
Disneyland's Matterhorn Bobsled and the Indiana Jones rides are the two most iconic rides. The Indiana Jones ride is the perfect amalgamation of dramatics and thrill. Matterhorn Bobsled has a surprise at the end with the splashdown pool.
Both of these rides are unique to Disneyland, and are must-experience rides.
• Disney World
Disney World has at least two iconic rides per park. But, the best of them all is probably Expedition: Everest, which is located at Animal Kingdom.
Incidentally, Animal Kingdom also houses Avatar Flight of Passage. This is a ride experience that will transform roller coasters for you.
You'll find many rides repeated between Disneyland and Disney World. But according to patrons, they're not quite the same.
Disneyland's It's a Small World ride is the original ride developed by the genius Walt Disney himself. It was invented for the 1964 World's Fair and is much longer and more musical than its Disney World counterpart.
Experiencing the magical world of Disney is a privilege no matter which location you visit. If you have a lot of time on your hands, then the obvious pick between these two options is Walt Disney World. But, if you only have a day or two to spare, then head on over to Disneyland to experience the happiest place on Earth.
For Additional Peace of Mind
In order to enjoy a stress-free Disney trip, you need to do your part to protect yourself, and your family. A key component of this is to purchase travel insurance or travel medical insurance before you go. A suitable international insurance policy can protect your finances against the costs associated with emergency medical care, baggage loss, trip cancellations, flight delays, and more, depending on the type of plan you choose. Visit Insubuy to find the perfect insurance plan for your Disney vacation.
We are sorry that this post was not useful for you!
Let us improve this post!
Tell us how we can improve this post?