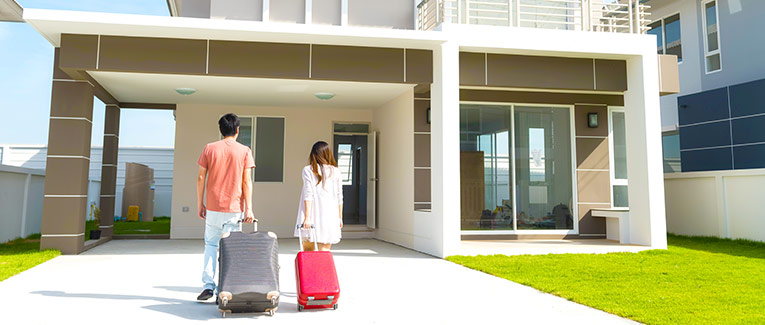 Americans, on average, spend 21% of their international travel budget on accommodations. For European travelers, this percentage goes up to 38%. The figures are not very different for travelers from other regions of the world either.
Accommodations take up such a large share of your international travel budget in part due to pricey hotel stays.
However, it doesn't have to be that way for your next international trip. Here are several affordable – or even free – options for you to consider.
Housesitting
If you would like to explore a destination like a local, housesitting abroad can help you find living accommodations for a longer period of time.
Housesitting is a temporary arrangement where you look after another person's house, and maybe their pets, while they are away. That means you benefit from the accommodation, as well as a possible side income.
Before accepting housesitting opportunities abroad, be sure to check if your visa allows you to engage in this activity.
Stay and Work at Hostels
Hostels are essentially hotels that only offer the basics. You will get a bed (dorm-style or private) and a bathroom, typically shared. Because they offer you just the basics, they are usually extremely affordable.
You can also work at hostels and get that bed for free, along with some other perks. You can work in the front office, clean, offer bartending or cooking services, host, promote, manage events and gatherings, or assist other guests.
The arrangement is simple. Because you are only working for your room-and-board, and not receiving any pay, you don't usually need a work visa. Your tourist visa should suffice.
Find Friends Abroad
If you have friends abroad who can offer accommodation, it will likely be the cheapest and most hassle-free option.
You can also use Facebook or other social networking sites to find acquaintances abroad. With a bit of luck, you will be able to find someone who is willing to let you stay at their home during your international trip.
Swap Your House
If you are comfortable with letting other globetrotters stay at your place while you are away, you can stay at theirs in return. This way, both parties get free accommodations and housesitting services. All you need to do is find vacationers with plans that coordinate with yours.
Home Exchange, Love Home Swap, Home Link, Switch, and Home for Swap are some of the top websites that will help you connect with others looking to swap their house.
Try Couch-Surfing or Homestays
Couch-surfing is a simple arrangement where people let tourists sleep on their couches for a couple of nights, usually for free. Homestays are similar, but are typically not free.
Along with a place to rest your head at night, couch-surfing and homestays can give you the opportunity to interact with the locals. You will also get some guidance about fun things to do in the city where you're staying. You might even be able to create friendships that will last a lifetime.
Look For Vacation Rentals
If you plan to stay at your holiday destination for more than a month, it could be beneficial for you to rent a house or condo. This is often cheaper than paying for a hotel room for 30+ nights, and vacation rentals give you more privacy and comfort than a hotel room would. You can live like you are in your own home, and still enjoy exploring a new destination.
Camp or Sleep in Your Car
If you have a tent, or can rent one, it can be the perfect free accommodation. Start by finding places at your destination where it is legal to set up a tent – campgrounds, for example. Once you know where you can do it, you can set up a base there.
When you are on a road trip, you can sleep in your car itself. Just remove or put down the back seats. You can also invest in sleeping bags and comfy blankets to help keep you cozy. Possible places to park include campgrounds, business parking lots, and even neighborhoods and backstreets in areas where you are sure there are no laws against sleeping in cars.
If you have friends abroad who don't have enough room or bedding for you, you can ask them if they would allow you to park your car on their premises and sleep in your car.
Explore Work-for-Stay Options
World Wide Opportunities for Organic Farming, or WWOOFing as it is popularly called, is a work-for-stay program that is great for nature-loving tourists. You can work on an organic farm, and your accommodations are provided by your employer. The program lets you interact with other likeminded travelers, and opens up opportunities for information exchange and creating new friendships.
Sign Up For Au Pairing
If you like exploring your destination like a local and plan to stay there for a while (six months to a year), consider au pairing. You are paired with local families abroad, and work as a nanny to the children of the household.
You are free to explore the city on weekends and in the evening when one of the parents is back home. The working hours don't extend beyond 35-40 hours per week in most cases.
You typically get accommodations, food, and an allowance. Plus, you'll have the opportunity to develop familial bonds. Sometimes, hosts take au pairing partners along on international trips too. This way, you can explore another destination at no additional cost to you.
Au Pair, Au Pair World, International Exchange, and Go Au Pair are popular platforms where you can find these opportunities.
Churches, Monasteries, Temples or Synagogues
Many houses of worship are happy to allow travelers to spend a night under their roof. You won't be asked to attend sermons or religious events if you stay, and you don't even have to be a follower of that particular religion.
The rules for staying in a house of worship will vary depending on the particular location. Some will be happy to put you up for a night, while others might allow for longer stays. Be sure to verify how long you're allowed to stay before you make your plans. Also, remember that houses of worship are sacred places to their parishioners. Conduct yourself respectfully and follow all the rules put in place.
Redeem Your Travel Points
If you are a regular vacationer and often stay at hotels, you can make loyalty programs work for you. Keep collecting points on your hotel stays abroad, and redeem those points to get extremely low-priced, or even free, stays every once in a while.
If you are ready to ditch hotels for any of these options, you can stretch your travel dollars further. Use the money you save on hotels to travel to other places, or even buy yourself some souvenirs from your overseas vacation.
Note: If you do not wish to give up on the nice feeling of fresh bedsheets and towels, and would rather enjoy the luxury of a hotel room than save cash, consider getting trip cancellation insurance. If you have to cancel your trip, insurance can save you from having to bear that financial loss.
We are sorry that this post was not useful for you!
Let us improve this post!
Tell us how we can improve this post?