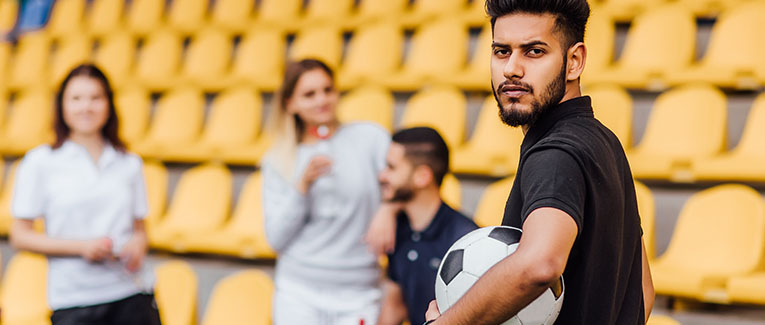 Classes are done for the day. You're back in your dorm wondering "What's next?"
There's only so much Netflix and video games you can consume. Besides, you didn't come all the way to the United States to wallow in boredom and solitude alone in your room.
You can combat this by engaging in extracurricular activities on your college campus.
Give one or all of these extracurricular activities a shot:
1. Sports
If you haven't heard it before, the U.S. takes its sports very seriously, and that passion is infectious.
You might begin with watching a football game with your friends at the bar, and before you know it, you're shooting hoops on a court, or you are a member of your college track team.
Beyond its obvious health benefits, sports are a great bonding experience. Plus, the better you become at one, the higher the chances that you can reap recognition by competing within and outside your school.
Basketball and baseball are not your cups of tea? Then check out less conventional, but equally exciting activities like rowing, fencing, rock-climbing, or kickboxing. If you're a Potterhead, you might be interested to know that some universities even host Quidditch matches (the muggle kind).
2. Student Government
The U.S. fosters democracy, as do most educational institutions in it.
From a high school's student council to a university's graduate student association, students take matters into their own hands. They enhance student experiences, detect issues, and find ways to resolve them or convey them to school officials.
Some universities value student governments to the point of funding them and considering their suggestions for policy changes.
Being a member of such a body will allow you to showcase your leadership position on your resume, and help you feel like an integrated member of the student body.
While your peers will have the final vote on who gets elected, you can apply for any of these roles that play to your strengths:
President
Vice President
Secretary
Treasurer
Director of University Affairs
Director of Public Relations
University Senate Representative
Graduate Council Representative
Resident Hall Representative
Multicultural Representative
The type and scope of roles are specific to the institution, so you might discover others that speak to your strengths at your college.
3. Model United Nations
Does the student government seem like too big an obligation to sign up for? Dip your toes into diplomacy by participating in the Model United Nations (MUN).
Led by the National Model United Nations (NMUN), the first and biggest entity to replicate UN assemblies at an intercollegiate level, MUN encourages students to tackle real-world problems and cultivate international relations.
The event is conducted over 1-4 days, drawing in hundreds to thousands of students. Each team will be assigned a country to represent. The team will have to form a committee, understand the given topic, formulate arguments, and present solutions based on their designated country's policy. The conference typically culminates in the issuing of a record named the Resolution.
Your university might already have a student community that regularly attends MUN conferences that you can join. If not, you can float the idea of MUN by your faculty, since any educational organization can register for a conference.
4. Societies/Clubs
You can't think "extracurricular activities" without student clubs crossing your brain.
Does birdwatching catch your fancy? Cheese tasting? Ballroom dancing? Debate? Photography? You name it, there probably is a club for it.
For ones that you can't find, just start your own. That's the beauty of a society run by and for students.
To enroll in a club, you'll need to:
Go to your college's student union building, or seek out seniors who can guide you.
Identify the club(s) you want to be involved in.
Attend an introductory session if possible.
Enlist yourself officially.
Pay a small membership fee to help cover the club's expenses.
Participate in icebreakers and dive into the activities that follow.
5. Fraternities or Sororities
Get a taste of Greek life in America by joining a sorority or fraternity.
This cultural association comes from the age-old practice of these groups denoting themselves using Greek letters and engaging in discourse.
There are five types of fraternities and sororities to choose from:
Social – These are closest to the picture Hollywood paints of keg stand-crazy teens crammed into a party house. Competitive games, drunken shindigs, and entertainment galore.
Professional – Common areas of study and goals unite potential engineers, lawyers, artists, doctors, and business graduates to complete coursework and undertake relevant projects collectively.
Honors – In recognition of their achievements, academically-inclined students (in terms of GPA) and award-winners are recruited to honor fraternities and sororities.
Service – The noble deed of putting others before the self is promoted by these organizations through community service, volunteering, etc.
Religious – For those drawn to devotion and culture, religious and ethnic houses are grounds to gather. Some are specific to one belief, while most welcome all faiths.
If you are planning to indulge your fantasy of being in a fraternity or sorority, beware that the process to enter isn't easy. The rush and pledge challenges to get in are infamous for being extreme enough to scar even the most adventurous.
Once you have a foot in the door though, there's no stopping the fun.
6. Volunteering
Service fraternities and societies are not the only way to give back to society.
From serving food to the homeless to spending time with the elderly at a nursing home, or finding a furry friend their forever home, you'll have plenty of opportunities to dedicate your energy within the university, as well as at local associations and nonprofits.
A lot of colleges also nurture Raising and Giving (RAG) efforts. Similar to clubs, RAG initiatives are led by students, and attempt to secure monetary support for charitable causes.
Since pulling together and managing philanthropic events is a big part of RAG, you get to assume leadership roles and make friends from many walks of life along the way.
Don't forget that volunteering work also makes you look good on paper; highlight it under the 'Social Engagement' section on your CV.
7. Pet Projects
Didn't come across any activities that spark your enthusiasm? Devote time to your hobbies or a personal mission. This can include:
Enrolling and getting a Zumba certification
Mastering the ukulele
Organizing a bake sale or yard sale
Setting up a fundraiser
Offering to meal prep for your roommates
Coding a mobile app for campus bus timings and routes
Designing your digital portfolio
Nothing can give you as much satisfaction as accomplishing a task that you've had at the back of your mind. The other bonus: a majority of these, if not all, can be turned into money-making schemes.
8. Part-Time jobs
Kill three birds with one stone by taking up part-time work. Be productive with your hours, cumulate work experience, and earn cash.
Odd jobs will be readily available all around you; just keep your eyes peeled and ears sharp. Plus, most of them don't expect specialized skills or expertise.
Look for a "help wanted" sign in your on-campus coffee shop. Ask the librarian if they need an assistant. Let your buddy who struggles in accounting class know that you'll be happy to tutor them.
You may want to craft your career path as you study, in which case an internship will tick many boxes. While they could be trickier to get and not all of them are paid, the knowledge and connections you gain through an internship pertaining to your degree will be priceless.
The Importance of Being Engaged
The college experience goes far beyond just books and classrooms. Participating in extracurricular activities will give your brain a welcome break from the academic grind, help you develop valuable soft skills, and foster friendships that can last a lifetime. Who knows? One of the clubs or extracurricular activities you participate in could inspire your career path, or help you finally decide on a major. You'll never know unless you turn off Netflix and get out there.
We are sorry that this post was not useful for you!
Let us improve this post!
Tell us how we can improve this post?