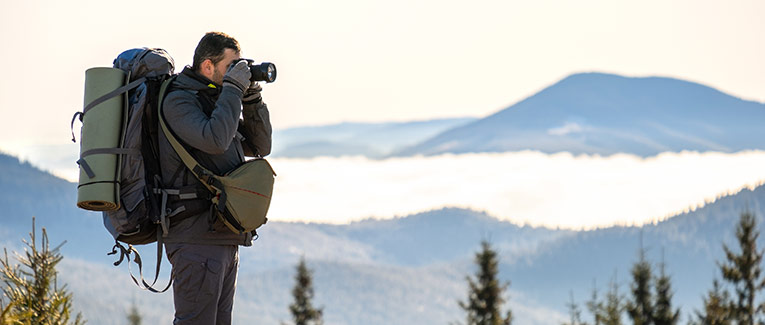 There are many different reasons that people go on hikes. Some people do it for the exercise, while others hike to get closer to nature.
Whatever the reason, a hike can consist of more activities than just walking. Read on to discover more ways to enjoy your hike.
3 Things to Do On a Hike (Besides Hike)
1. Photography
Taking good photos is not required; the point is to enjoy yourself. For example, you could click a photo of a leaf that reminded you of the biscuit you ate with lunch, and this would make sense to no one but you.
It is also very satisfying to watch a time-lapse of your entire hike.
This is usually achieved by strapping on a GoPro, or similar action camera that would allow you to record your entire hike, beginning to end.
Whilst you're taking photographs, do not forget to make memories either. Do not get so caught up in taking photos that you forget to experience the hike itself.
2. Geocaching
The only thing that the public hates about this particular activity is that it isn't available in a lot of countries.
Geocaching is basically a global treasure hunt, with the most random and inexpensive items.
Anyone with a GPS-enabled device is eligible to participate, via the free Geocaching app, which is available for both Android and iOS devices.
There are millions of geocaches hidden around the world. Each geocache is hidden way off the beaten track, or at the very least, out of normal sight. The geocaching app will give you the directions, but it is up to you and your sense of direction to actually seek it out.
Once found, you are asked to log your experience in the logbook, and now you are free to take or swap an item in the geocache box. These items can be anything from action figures to notebooks.
Geocaching is a fun way to explore new places, or even head out to a part of your city that you've never been to before.
If there is no geocache near you, and you're feeling left out, you could always start your own. Just remember to follow the geocache hiding guidelines to make the experience as fun as possible for the next person who comes along.
The account creation process is 100% free and very streamlined. Sign up to add a fun twist to your hike. You never know, there might be a few caches already lying in wait on your planned routes.
3. Foraging and Fishing
The most important thing here is education about identifying and differentiating between edible and poisonous plant species.
Berries are usually found in the autumn season, but the ones that grow close to populated areas will soon vanish. You can usually find a collection of them growing in some lost corner of the forest if you know how to look for them.
Berries can be tricky, as the poisonous kinds often look very similar to their edible siblings. The best way to avoid a visit to the ER is to take a plant identification resource along. This resource could come in the form of an app, book, or even a knowledgeable person. If none of those are available to you, there is always the internet, local nature and survival schools, and friendly neighbors.
Berries are not the only edible items to be found in a forest though. There are myriad others. These include seeds, nuts, various seasonal fruits, and certain types of flowers.
The same logic applies to these delicacies. Proper education is needed, so that you don't consume something that would put you in a hospital.
A handy rule of thumb is: when in doubt, don't. If you are unsure about whether a certain item is edible or not, play it safe and avoid eating it.
Also, just because you are off the trail doesn't mean that the streams, rivers, lakes, and ponds here will be barren of life. These hidden pools are usually brimming with fish, so pack your gear and catch your own lunch.
Know the lay of the land before you start fishing though. Sometimes, local area laws prohibit fishing in certain areas, or you may be on a reserve for endangered species of animals and fish where catch-and-release is the only option.
It is best to do your research than to wind up on the wrong side of the law.
Whether you're meditating, forest bathing, following that pretty butterfly around, or making art, it is decidedly fun to not plan everything down to a T.
Hiking is one of those few things where it is actually advisable to take things as they come, instead of having half a dozen backup plans in place. The important thing is to enjoy yourself. So, pack you backpack, plan a route, get travel insurance with coverage for the activities you plan to take part in, and get out there.
We are sorry that this post was not useful for you!
Let us improve this post!
Tell us how we can improve this post?