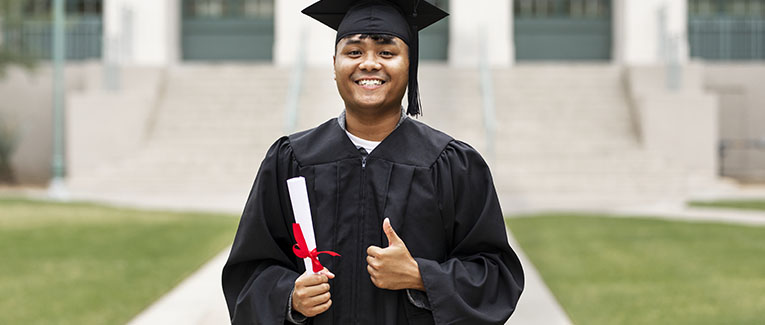 Every year, well over one million students drop out of high school. According to the US Department of Education, in 2019, this touched an all-time high of two million.
The long-term effect of this is reduced lifetime income, which leads to poverty. Without a high school diploma, one is condemned to low-income jobs, where the median income is considerably lower than college graduates.
However, it need not be a life sentence. There is no need to assume that your life has fallen apart just because you don't have a high school diploma.
If you are industrious and determined, you can increase your earning potential and attend college without a diploma.
How to receive a GED
The most obvious path to college for those who have dropped out is through a GED diploma.
GED stands for General Educational Development. It is an alternative to the high school diploma, and is administered by the American Council on Education.
The program began in 1943 and was intended to give a second chance to those who, for financial or family issues, could never complete school. To date, about 17 million people have taken the test.
At present, an applicant has to be at least 18 years of age to take the test. Sometimes, an exception is made for those who are 16 and 17 if they can show valid documentation of having attended school and withdrawing.
Of course, the test cannot be taken by anyone who is currently a student at a school.
GED test format
There are four parts, and you can take them simultaneously, or at different times.
Language Arts: This section is 150 minutes long and tests the student's ability to read and write. Questions test the knowledge of English vocabulary, grammar, and comprehension. Apart from multiple-choice questions, the students have to write several hundred-word essays in 45 minutes.
Mathematical Reasoning: The GED math test is not as difficult as the actual Grade 12 curricula that comprise calculus and advanced trigonometry. The student has to comprehend probability, elementary statistics, data analysis, geometry, measurements, and algebra. You can use a calculator, and have to complete this part in 115 minutes.
Science: The science test lasts 90 minutes and comprises questions on physical, life, and earth sciences.
Social Studies: This part lasts 70 minutes and evaluates understanding of the history and government of the United States. It also assesses the student's knowledge of geography.
GED scores – a breakdown
A student has to receive a score of at least 145 to pass the exam.
A score between 145 and 165 is considered equivalent to high school-level knowledge. Any higher, and a student is considered ready for college.
Those who receive more than 175 are eligible for credits, the same as Advanced Placement (AP) classes in high school.
If a candidate fails to pass overall or in a particular section, they can retake the test wholly or partially. For two subsequent attempts, the $20 fee per section is waived off.
Each student can appear in each part thrice every year.
GED alternatives worth considering
Those states that do not accept GED results have similar tests, such as High School Equivalency Test (HiSET) and Test Assessing Secondary Completion (TASC). The state of New York, for example, has replaced GED with TASC.
The tests are more or less similar and cover the same curriculum.
Life after GED – do colleges accept it?
In theory, a GED is meant to provide a level playing field, but in actuality, that is not always true. The reason is the GED test lasts 7.5 hours, whereas high school lasts 4 years.
There is a difference in assessment methods, as high schools use GPA, and GED results do not translate to GPA.
What are your options?
Let's examine them one by one.
1. Community Colleges
A community college is also known as a junior college. They offer simplified two-year programs with an associate degree upon completion of the program. Compared to normal undergraduate courses that have four semesters of general study, community colleges have none to reduce the course length.
They are quite popular, and at this moment, there are over 1,100 campuses spread across the 20 states.
Many community colleges receive funding from the federal or state government and can offer education at a significantly lower cost.
Upon completing your associate degree at a community college, you can transfer to a four-year college to complete your bachelor's degree in two more years. This is known as the 2+2 arrangement.
2. Traditional Colleges
Some colleges do not distinguish between a GED and a high school diploma. They may, however, require all candidates to sit for the SAT (Scholastic Assessment Test) and prove their academic credentials on a level playing field.
Arizona State University, the University of Florida, Penn State University, University of Illinois, University of Colorado, and the University of Texas are some of the more well-known campuses that allow GED students to enroll.
3. Online Colleges
The internet has changed the way we approach education. Except for subjects that deal with science and require laboratory work, most topics can be learned over the computer if one has an internet connection.
The University of Phoenix, Kaplan University, Grand Canyon University, and Thomas Edison State College are among the many that admit undergraduate students based on GED scores.
Online schools are far less expensive, and allow you to study on your own time. This makes it feasible to work during the day and study at night and on weekends.
4. Night Colleges
If you are not proficient at using a computer or don't own one, and would like a more flexible learning schedule, you can sign up for night classes. These courses have existed for almost a century to allow adults to further their education. They accept GED readily, and many are open admission, meaning they do not require a test score at all.
5. Learning at trade schools
The median income of a carpenter as of 2019 is $48,330. That does not compare too badly with professions such as school teachers who earn, on average, $60,000 and often have a graduate degree.
Trade schools offer vocational training in fields such as:
Electrical repair
Auto repair
Welding
Fitter
Lathe operator
Aircraft repair and maintenance
Nursing
Radiologist technician
Lab technician
International students who wish to study at a vocational or trade school in the US will need to apply for an M1 visa.
To summarize
You need to have a plan and then you need to prioritize. More often than not, the rest will fall into place.
Set Goals: This is the most important part of getting into college without going to high school. Be it GED, a similar exam, or even a night school that offers open enrollment, you need to have crystal clear goals.
Practice: You might find it difficult to learn after leaving high school and working odd jobs for many years. That does not matter. There is plenty of material available online that teaches you Grade 9-12 level math and English. The oldest and most reliable continues to be Khan Academy.
Pace yourself: Rome was not built in a day. You need time to study for your GED or equivalent test. Pace yourself and build a routine that stresses consistent work and continual progress. You should to allocate at least six months to the process.
We are sorry that this post was not useful for you!
Let us improve this post!
Tell us how we can improve this post?