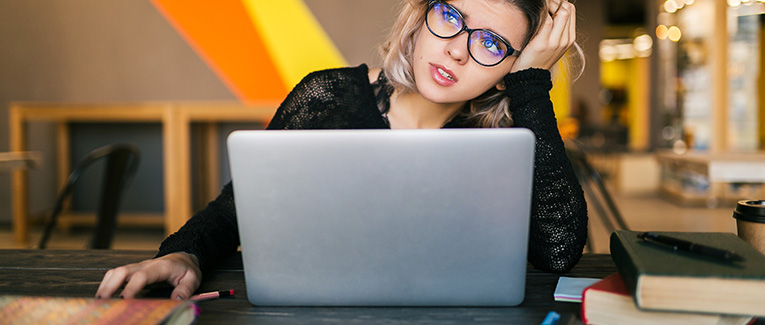 Are you an international student thinking of dropping out of college in the USA? This move is bound to affect virtually every aspect of your life for the immediate future. It can also have an overarching impact on your entire career. But, it's not the end of the world.
International students dropping out of U.S. colleges is not a rare occurrence. The most common reasons students take this step are:
Personal health issues.
Emergencies such as a death, illness, or injury to family members.
A financial crisis affecting the student's ability to bear college fees and living expenses.
Loss of interest or dissatisfaction with the course that they've enrolled in.
Difficulty in coping with a different language, lifestyle, culture, or weather.
What happens immediately after you drop out of college?
If you're an F-1 student dropping out of college, you will immediately lose your student status. The F-1 visa requires you to be enrolled as a full-time student in a U.S. college. Once you drop out, your Designated School Official (DSO) will update your status from "active" to "withdrawn."
This status change process typically takes 21 days. Following the loss of F-1 status, you're required to leave the U.S. immediately.
Failure to leave the U.S. within 180 days of dropping out can have the following consequences:
You can be disqualified from applying for any type of U.S. visa for up to three years.
The period of disqualification depends on the length of your illegal stay in the U.S. If you overstay for a longer duration, the disqualification period will increase accordingly.
In some cases, international dropout students can be denied U.S. visas even after the three-year disqualification period.
What to do after dropping out of college?
Your options as a college dropout depend on the reasons and circumstances of leaving the college. Here are your top choices:
1. Take a break
Did you drop out of college due to health problems or a family emergency? Well, then your first step should be to deal with those issues. If you've lost the academic drive or couldn't acclimate to life in a different country, take a break.
A few weeks' break can help you relax and rejuvenate before deciding on a future course of action.
2. Continue your education in your home country
If your decision to drop out was based on geographical or financial issues, you can continue your education at home. Look for affordable colleges that meet your preferences.
Many students drop out because they've lost interest in the course or major they're studying. If this was your reason, you should reanalyze your strengths and interests. Don't forget to consider the career opportunities when choosing a new course or field.
Seek guidance from your family, friends, teachers, and mentors. Their input can be valuable in helping you chart your academic future.
3. Find employment
College isn't for everyone. Unfortunately, a lot of students don't realize that until they've already enrolled. If your heart's not into pursuing higher education, there are still plenty of ways to have a successful career. You can start by looking into jobs in your area.
Unless you've had some technical training, you're unlikely to find too many specialized job opportunities. Focus on acquiring some work experience and becoming accustomed to the working lifestyle. You can then start looking for a job in the field you want to make a career in.
4. Prepare to resume your education in the U.S.
Is dropping out an involuntary decision for you? If you're forced by health, financial or family-related troubles, dropping out of college isn't your only option. You can instead opt for a withdrawal or Leave of Absence (LOA) instead. You can do this by relaying your issues to the International Students Services (ISS) office, and the proper college authorities.
Withdrawal
If you're facing any serious medical issues, you can withdraw from all the courses while the semester is underway. Another option is to finish your ongoing semester and then take a break.
Every college has a fixed withdrawal deadline for each semester. Dropping out after the withdrawal deadline requires special permission from the college authorities.
After withdrawal, the ISS will terminate your immigration record. You will have to leave the U.S. within 15 days. ISS-approved withdrawals don't reflect negatively on students' immigration records.
Withdrawals due to non-medical reasons are typically only allowed prior to the withdrawal deadline after the semester has started. Your withdrawal needs to be approved by the ISS office. At most U.S. colleges, international students opting for withdrawal are allowed a five to 12-month absence.
To return to the U.S. and rejoin the college, you'll require the following:
A valid passport
A valid F-1 visa
Your current form I-20
In addition, you'll be required to contact the Student and Exchange Visitor Program (SEVP) for reactivation of your immigration status.
Leave of Absence
Leave of Absence is another way that F-1 students can take a break from their academic course. LOA for F-1 students is similar to withdrawal. The students' have their Student and Exchange Visitor Information System (SEVIS) record terminated at the start of their leave.
Students awarded an LOA must leave the U.S. Also, their SEVIS record needs to be reactivated before they can return to resume their academic program.
Difference between Withdrawal and Leave of Absence
The major difference between withdrawal and LOA is that LOA involves a predetermined return date. The typical duration of an LOA is one to six quarters. In most colleges, an F-1 student must have completed two semesters to become eligible for LOA.
When the LOA is less than five months, F-1 status is reactivated by SEVP at the behest of ISS. The students can maintain their Optional Practical Training (OPT) and Curricular Practical Training (CPT) eligibilities. They can also use their existing active visa and form I-20 to return to the U.S.
Students with an LOA exceeding five months need to reapply for a visa and form I-20 before resuming college. They are only allowed to reenter the U.S. 30 days before the beginning of the new semester. Also, all returning international students require a valid travel signature on the second page of their form I-20.
Once you're back home, use the time at hand to remedy the issues that forced you to take the time off. Tend to your family, personal health, or financial matters. If you sought a break due to psychological issues, consider consulting a mental health professional.
If you experienced a language barrier during your stay in the U.S., use the break to work on your linguistic proficiency. But, don't stop at that. Learn additional languages and skills that you feel will help with your academic goals when you return to the U.S.
Advice for International Students Who Are Considering Dropping Out of College
Don't make the decision to drop out on impulse.
Consider how far you are into your course and whether or not your reasons are justified.
If you only have a couple of semesters left in the program, it's best to push ahead. Think of all the time and resources you've already devoted to your major. A little more, and you'll have a degree to show for all that hard work.
Are you thinking of dropping out because you failed a test or got poor grades? Think again.
Take the test again instead of simply quitting.
Make sure to give a long, hard thought to your priorities and future prospects before deciding to drop out of college.
We are sorry that this post was not useful for you!
Let us improve this post!
Tell us how we can improve this post?