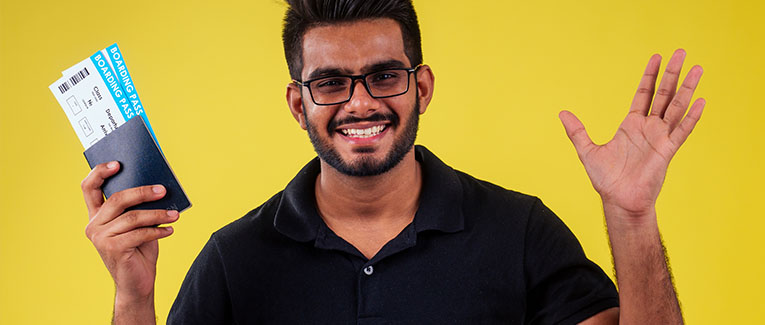 As per the Emigration Act, 1983, certain categories of Indian passport holders require to obtain "Emigration Clearance" from the office of Protector of Emigrants (POE) for going to certain countries.
As per the Emigration Act, "emigration" means the leaving of India of any Indian citizen with the intent of taking up employment in a foreign country.
All Indian passports are divided into two categories as follows:
Passports with endorsement – Emigration Check Required (ECR).
Passports with endorsement – Emigration Check Not Required (ECNR).
For passports issued before January 2007, no notation in the passport means ECR.
For passports issued in or after January 2007, no notation in the passport means ECNR. If Emigration Check is Required, there will be an endorsement in the passport regarding ECR.
The idea behind ECR is for the safety of Indian citizens due to the legal conditions of other countries and is based on various situations/conditions.
ECR Countries
If you are subject to ECR, emigration clearance from POE to enter any of the following countries for employment is required:
Afghanistan
Bahrain
Brunei
Kuwait
Indonesia
Iraq (emigration banned)
Jordan
Lebanon
Libya
Malaysia
Oman
Qatar
Sudan
Syria
The Kingdom of Saudi Arabia (KSA)
Thailand
United Arab Emirates (UAE)
Yemen
Effective October 1, 2007, if you are traveling to any of the above countries for purposes other than employment, you don't require emigration clearance.
If you are traveling to any country other than those mentioned above, you don't require emigration clearance, irrespective of whether you are eligible for ECNR (as described below) or not.
Emigration Check Not Required (ECNR)

If you are traveling to any country other than those mentioned above, emigration clearance is not required. Even if you are traveling to any of the above-mentioned 18 countries, the following categories of persons are exempt from the emigration clearance requirement while going abroad:
All holders of Diplomatic/Official Passports.
All Gazetted Government servants.
All income taxpayers (including agricultural income tax payees) in their individual capacity. Proof of assessment to income tax and actual payment of income tax for the last three years is insisted upon, and not merely payment of advance tax. However, in most cases, as an assessment order is not issued separately by the Income Tax Dept., income tax returns that are stamped by income tax authorities are accepted. Salaried people may submit the income tax deduction statement in Form 16 for three years from their employers. Businessmen and others should submit income tax clearance certificates for three years, as issued by the Income Tax Department, in the prescribed format with tax paid challans. Alternatively, a copy of the PAN card should be submitted.
All professional degree holders, such as doctors holding an M.B.B.S. degree in Ayurved or homeopathy, accredited journalists, engineers, chartered accountants, cost accountants, lecturers, teachers, scientists, etc.
Spouses and dependent children up to the age of 24 of persons listed from categories 2 to 4.
All persons having educational qualification of 10th standard (SSC, Matriculation) and above.
Seamen who are in possession of CDC or Sea Cadets.
Seamen who are in possession of CDC or Sea Cadets, Desk Cadets (i) who have passed final examination of three years B.Sc. Nautical Sciences Courses at T.S. Chanakya, T.S. Rehman, T.S. Jawahar, MTI (SCI) and NIPM, Chennai, after production of identity cards issued by the Shipping Master, Mumbai/Kolkata/Chennai.
Persons holding permanent immigration visas, such as the visa of UK, USA (such as a green card), and Australia.
Persons possessing two years' diploma from any institute recognized by the National Council for Vocational Training (NCVT) or State Council of Vocational Training (SCVT) or persons holding three years' diploma/equivalent degree from institutions like Polytechnics, as recognized by Central/State Governments.
Nurses possessing qualifications recognized under the Indian Nursing Council Act., 1947.
All persons above the age of 50 years.
All persons who have been staying abroad for more than three years (the period of three years could be either in one stretch or broken) and their spouses.
All children below 18 years of age, provided they are accompanied by any or both of their parents. (At the time of reissue at the age of 18 years, ECR stamping shall be done, if applicable.)
If the passport of a person has been wrongly categorized as ECR, while he was entitled for ECNR category, it must be rectified from the issuing Regional Passport Office (RPO) before he undertakes a journey to the countries for which emigration clearance is required.
ECNR Application
To apply for an ECNR stamp in the passport, the applicant is required to fill a Miscellaneous Application form (EAP-2). The application form may be submitted personally or through a representative (having an authority letter duly signed by the applicant as per Annexure 'L') or by registered post.
An all-inclusive fee of Rs.300/- is to be paid along with submission of the application form either in cash or by bank draft drawn in favor of Regional Passport Officer of your city. In case of a bank draft, the full name of the applicant and application number should be written on the reverse of the bank draft.
Valid passport in original.
Attested two photocopies of the proof that the applicant is entitled for ECNR, as per the list mentioned above. Also, carry the original along with you.
Proof of address. A ration card is NOT a sufficient address. You must use something like a utility bill or bank statement.
Two photocopies of the first four and last four pages of the passport.
Indian passport holders who have the stamp of ECNR do not require emigration clearance from POE for going to any country.
Emigration Check Required (ECR)
Workers going abroad for employment are required to obtain an Emigration Check Stamp before leaving India.
A specially printed adhesive stamp will be pasted in the passport of workers going out for employment. Entries necessary for grant of emigration clearance will be made in these adhesive stamps.
This will be signed by Protector of Emigrants.
Emigration clearance to individuals shall be granted on the same day on which the application is made.
Even where the clearance is required for groups, it is given on the same day.
Emigration clearance will be granted to certain categories of skilled/semi-skilled workers for a period of 6 months when applying through authorized recruiting agents with a passport containing a valid employment visa.
If the person concerned is leaving the country for non-employment purposes, he can obtain suspension from emigration clearance for the specified country and for the specified period from the Protector of Emigrants.
This clearance is temporary and valid only for one journey.

ECR Suspension
In order to receive the ECR suspension, you need to submit following documents:
ECR Suspension Application Form.
Application fee of Rs. 400.
Your current passport, original and one copy.
Photocopy of visa.
Photocopy of your confirmed return travel tickets.
For Middle-East countries, sponsorship declaration attested by Indian Mission/Consulate.
For countries other than Middle-East countries, FTS.
Proof of address.
Emigration suspension is given only for visits and not for employment. For employment purposes, you need to contact the Office of Protector General of Emigrants (Department of Labor) at Chennai/Mumbai.
Emergency ECNR
The immigration officers at airports are empowered to grant exemption only in emergency cases. In such cases, you can seek a one-time exemption on the production of relevant eligibility documents, such as an attested copy of the educational qualifications of matriculation and above, attested copy of the latest income tax return, etc., to the immigration officer at the airport.
Immigration officers posted at international airports may allow the following categories of persons with ECR endorsement on their passports to travel to the ECR countries in emergent circumstances:
VIPs like Central and State Ministers, MPs, MLAs, etc., and family members accompanying them.


Central and State Government Officers traveling on diplomatic/official passports or passports with an ECNR endorsement and their family members accompanying them.


Students going abroad for higher studies, provided they furnish documentary proof in support of their admission in the foreign country.


Persons going abroad due to the sudden death of any of their relatives in a foreign country.


Persons going abroad for medical treatment of any injury due to accident, or any acute health problem of self or any of their relatives in a foreign country.


Sportspersons representing the country in international competitions/training/coaching program provided their foreign visit is duly approved by the Ministry of Youth Affairs and Sports.
We are sorry that this post was not useful for you!
Let us improve this post!
Tell us how we can improve this post?