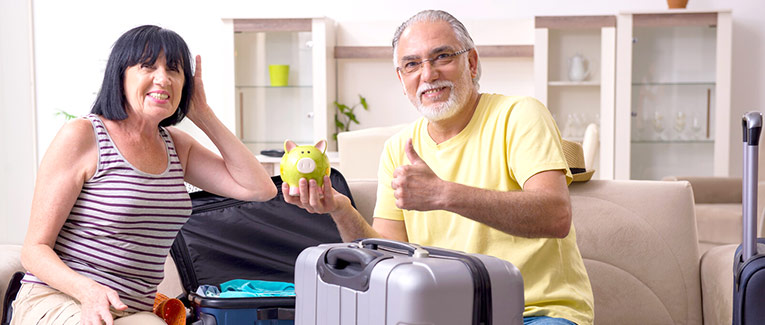 An AARP survey stated that senior citizens expect to take up to two foreign trips a year.
This might not be the reality for many senior citizens, as international travel can be very costly.
However, with this list, you'll learn eight money-saving tips for senior travelers.
1. Book Flights at the Right Time
Ticket prices go up when the date of travel comes closer. Thus, you'll pay more if you wait until the last moment.
A Cheapair.com study suggests that you should book your flight tickets at least 70 days before your trip.
Check Google Flights to compare different ticket prices. Furthermore, sites such as Skyscanner and Momondo also allow you to compare ticket prices.
Airlines such as American Airlines, British Airways, and Air France offer senior citizen discounts at the time of writing. However, airlines change their policies at regular intervals.
Check the airline's website before you book your ticket, and read the terms and conditions so you never pay hidden charges. Additionally, pack light to save on your baggage fees.

For visitors, travel, student and other international travel medical insurance.
Visit insubuy.com or call +1 (866) INSUBUY or +1 (972) 985-4400

2. Choose Alternative Accommodations
The idea of booking a hostel might make senior citizens cringe. They imagine hostels as dirty places full of young adults getting into mischief.
Hostel chains like Youth Hostel Association offer quiet and clean rooms. In addition, check websites such as Hostelworld.com to search for hostels.
Hostels offer private rooms as well, so you can spend time with other boarders when you wish.
Hostels in Paris charge $25 for a night on average. Hotels in the city charge over $150 for the same duration.
Book a hostel close to the city's famous sights and you'll save on transport as well.
In addition, Airbnb often offers cheaper accommodations than hotels. Choose an apartment, a cabin, or even a condo — whatever you like.
As far as safety goes, Airbnb assesses risks and performs background checks on the hosts. Check the reviews of the accommodation. You'll get a better sense of the host and accommodation.
If you're not interested in a hostel or Airbnb, you could look into a housesitting arrangement, or numerous other accommodation options.
3. Cook and Eat Locally
Buy groceries before you arrive at your destination. Spot nearby stores or supermarkets from your accommodation so that you can purchase groceries during your stay, instead of eating at expensive restaurants.
Furthermore, choose meals that you can cook in a single pot or pan. This way, you won't have to clean utensils for hours on your vacation.
However, if you choose to avoid cooking on your vacation, then you should eat local.
Restaurants buy their ingredients from local vendors. They never pay transit and custom taxes as they do for foreign food. For this reason, the prices can be lower.
Never eat near a famous sightseeing place, as prices will nearly always be inflated.
Restaurants in Europe, North America, and Singapore tend to offer lunch specials.
Check the guidebooks, or ask locals to learn about restaurants at your destination.
4. Use Public Transport
If you plan to rent a car on your vacation, keep in mind that hotels charge for parking. You will also need to pay for fuel and any damage to the car in addition to the rental cost.
Choose public transport. You will pay a lot less, and you will get to experience life like a local.
5. Choose Trains and Cruises
Rail companies offer senior citizen discounts. Amtrak offers a 10% senior citizen discount for travelers 65 years and older. The offer applies in North America.
Carry proof of your age, like an identification card, to get the offer.
If you travel cross-country, you'll receive a 10% senior-citizen discount. This discount applies to anyone ages 60 and older.
The UK, Spain, and Italy offer passes for senior travelers. Buy a pass and get access to discounts on trains.
Additionally, remember that airlines charge for snacks, Wi-Fi, and extra leg space. Cruises offer a solution to those issues.
You will have access to a buffet that is included in the price of travel, and additional pillows and blankets will be complementary when on a cruise. Most of the charges are included in the booking.
Cruises such as Royal Caribbean and Carnival offer senior-citizen discounts. The discount applies to travelers ages 55 and older.
6. Use City Tourism Cards
City tourism cards give you discounts on museums and famous sightseeing places. The cards work as a ticket, so you will never have to wait in line to enter the places you visit.
Furthermore, you can use the public transport for free when you possess a city tourism card. The card also allows you discounts on selected restaurants and shopping malls.
The tourism offices in cities offer city tourism cards. Check with the offices for what perks your card offers.
7. Travel in the Offseason
Airlines offer cheaper flight tickets in the offseason. Hotels, too, charge less for rooms and food.
This is due to less demand. The New York Times reported hotels in Miami charge 50% less in the offseason than in peak seasons.
You'll pay less for spas and restaurants, too. Cities including Miami host 'restaurant weeks,' so you can grab incredible food deals.

For visitors, travel, student and other international travel medical insurance.
Visit insubuy.com or call 1 (866) INSUBUY or +1 (972) 985-4400

8. Insure Your Trip
It takes some planning to create a great vacation on a set budget. However, all it takes is one lost bag, one unexpected medical issue, or a cancelled flight to blow that budget out of the water. This is why it is essential to protect your trip investment with travel insurance or travel medical insurance.
While your insurance cannot prevent something from going awry on your trip, it can provide financial protection if it does. This allows you to plan your trip with confidence, knowing that you can be protected from big unexpected expenses when things don't go the way you had planned.
Stay informed about offers and discounts
Airlines, hotels, cruises — senior travelers receive discounts everywhere. If you stay informed about the offers, you never have to empty your savings for a vacation.
We are sorry that this post was not useful for you!
Let us improve this post!
Tell us how we can improve this post?