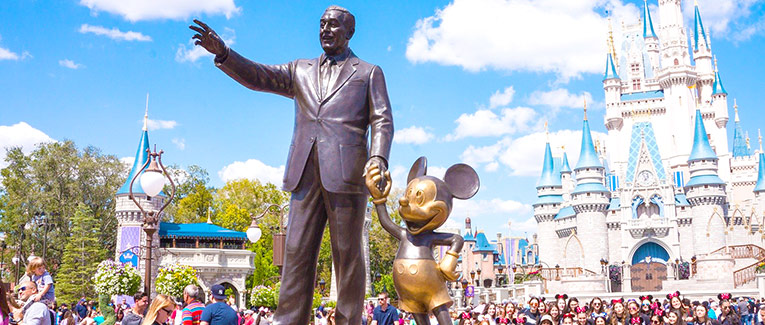 The famed Mickey Waffle. The hearty Turkey Leg. The finger-licking Churros. Disney theme parks are equipped to serve foods that make visitors want to return, even if only for the food!
In fact, it is rare for a theme park chain to be so well-known for its food. Most theme parks serve fan favorites like pizzas and burgers.
But, not Disney Parks.
The culinary experience at Disney Parks is a treat. Of course, inside knowledge adds that generous drizzle of hot chocolate sauce over your brownie, so read on.

For visitors, travel, student and other international travel medical insurance.
Visit insubuy.com or call +1 (866) INSUBUY or +1 (972) 985-4400

1. The Second Floor Is Usually Empty
Many restaurants at Disney hide an unnoticed second floor. But it's not a secret. If you enter a restaurant and see that it's crowded, check if it has a second floor. If you see a second-floor window or balcony from outside, it is a good indicator of another dining hall.
Many people prefer to sit downstairs, especially at counter service restaurants. Why? Because carrying the food upstairs is a challenge. But, if you're confident in your tray-balancing abilities, head upstairs. The second-floor dining hall will be less crowded, and you can enjoy some peace and quiet while you eat.
2. How To Enter The Park Before Opening
A breakfast reservation at some restaurants can get you into the parks before the doors officially open. All four parks at Walt Disney World have breakfast reservations starting at 7:45 A.M. If you're able to snag a reservation, you can spend a full hour in an almost empty park.
Heads up, you need to be quick to grab the reservation.
Most people recommend a reservation between 8 and 8:15 A.M. Since you are allowed to enter the park at 7:45, a later reservation gives you just enough time to get pictures and take in the magic without having to rush. But if you go too late, you'll have to hasten your dining experience.
A breakfast reservation is an ideal time to meet Disney characters. You won't have to wait in long lines as you normally would at the park.
3. Get Free Ice Water from Counter-Service Restaurants
A nice, crisp glass of ice water is the perfect drink to quench your thirst after a series of rides. But, buying your water at Disney will add up in expense.
Thankfully, most counter-service restaurants will serve ice water for free on request. The trick is to approach the counter when it's not too busy. The workers will be much less overwhelmed and you may even get an extra cup.
4. Be At The Right Place At The Right Time
Many people hesitate to have dinner at Disney parks for fear of missing out on the fireworks show. But, what if we told you that you could do both?
If you plan ahead, you can get seats at restaurants that have an excellent view of the fireworks and the parade. This will eliminate the need to push amongst the throngs of other parade-watchers to get a good view.
At Magic Kingdom, Ohana and California Grill offer excellent views of the fireworks when you're seated. The giant walls made of glass make for the perfect windows.
At Epcot, Rose and Crown at the United Kingdom pavilion offer a view of not one, but two shows at Epcot. But, getting a patio seat at the restaurant is a struggle. You can also head to the Spice Road Table at the Morocco pavilion for a nice view.
5. Set-Price Meals with An Advantage
Many table-service restaurants at Disney have a set-price policy. But, that doesn't automatically mean an overpriced meal.
Disney novices don't realize that if you're at a restaurant with a set-price policy, you can order however many nonalcoholic drinks you want. You can also order multiple entrees with your meal.
When you're ordering, mention to the waiter that one is the main entrée, and the other is a secondary entree. A secondary entree won't be served with the sides.
This is an insider Disney food secret that isn't flaunted around. So, don't expect your waiter to advertise the fact.
6. Cut Costs By Customizing Your Meal
It is no secret that the food at Disney is overpriced. Even the cheapest restaurant there is pretty expensive when compared to restaurants outside Disney.
But, the difference with the restaurants in the Happiest Place on Earth is that they are willing to go to any lengths to keep you satisfied.
You can customize any meal option on a restaurant's menu. For example, if you don't want fries with your burger, you can ask to leave it out. The price will be deducted from your meal.
7. Look A Little Closer For Unknown Dining Spaces
Both Walt Disney World and Disneyland have no shortage of dining spaces. The drawback with the popular places, though, is that they are crowded all the time.
Worry not; this doesn't mean you can't enjoy a hearty meal at Disney. If you look through a magnifying glass, you can find many restaurants that don't draw much crowd, but serve the best food at Disney.
Of these, La Hacienda de San Angel is one that is located in Epcot's Mexico pavilion. The restaurant serves mouthwatering and authentic Mexican cuisine. If you want to try new food at Disney, give this restaurant a shot.
Teppan Edo is another hidden gem located in the Japan pavilion at Epcot. It has teppanyaki grills attached to the tables, and offers a unique culinary experience.
On one side, it is a shame that these restaurants haven't got their due credits. But, it is also an advantage because you can enjoy your meal in relative privacy.
8. Secret Menu Items
Ordering from the normal menu is overrated, isn't it? Ordering from a secret menu gives you a sense of thrill that you know something no one else does. If you want to experience that emotion, then order one of these Disney secret menu items:
Frozen Brown Elephant
The frozen brown elephant, dubbed so due to its dirty brownish-grey color, is a mixture of cold Coca-Cola with creamy Amarula liqueur. This adult drink was first introduced during the Epcot Food and Wine Festival.
It was a huge fan favorite that was even featured on the regular menu for a while. But, the drink went back undercover and is available at the Refreshment Outpost subject to the availability of Amarula liqueur.
Loaded BBQ Tater Tots
What can beat crispy tater tots served with a generous topping of barbeque sauce, brisket, cheese sauce, and green onion? This delectable dish is a Disneyland secret menu item available at the River Belle Terrace.
This is a filling side that will have everyone asking for seconds.
Dole Whip
You may be rolling your eyes at us for this one. Dole Whip is, after all, one of the most famous dishes at the Disney parks. But, did you know you can make a secret upgrade to the traditional Dole Whip that takes the dish up a notch?
It is only available at the Tropical Hideaway in Adventureland at Disneyland. Ask for a topping of sweet and salty candied bacon on your Dole Whip. You can request this upgrade on any flavor of Dole Whip. Once you try it this way, you won't like to go back to the traditional Dole Whip.
Mickey's Fun Wheel
The Cove Bar in Disney's California Adventure has an entire menu of secret alcoholic drinks. Mickey's Fun Wheel is a creative twist of the strong Long Island Iced Tea.
This drink is served with passion fruit vodka, blue curacao, and pineapple juice in addition to the classic ingredients. The vibrant drink makes for the perfect Instagram picture.
Some people choose their Disney vacation dates based on the restaurant reservations they're able to get. If you're one of those people, these Disney food secrets will surely elevate your dining experience.

For visitors, travel, student and other international travel medical insurance.
Visit insubuy.com or call 1 (866) INSUBUY or +1 (972) 985-4400

One Last Tip
Your gastronomic Disney adventure is sure to be an enjoyable experience, but you still have to be cautious. Unfamiliar foods can contain items you may be allergic to, and there's always the small chance you could be exposed to a food or water-borne pathogen. If you're a victim of food poisoning or an allergic reaction, medical treatment may be required.
Though all Disney parks have medical facilities, they are not equipped to handle all types of emergencies. You may need to be transferred to a local hospital. If you're visiting a Disney Park in a foreign country, you cannot count on your domestic health insurance to provide coverage for your treatment. Therefore, it is essential that you purchase travel medical insurance or travel insurance for yourself, and your entire family before your trip begins.
International insurance can provide coverage for unexpected illnesses and injuries that occur abroad. It can help protect you from paying large out-of-pocket expenses for medical treatment; potentially saving your vacation budget. Though we hope your Disney vacation is safe and enjoyable for all, it pays to insure yourself in case of the unexpected.
We are sorry that this post was not useful for you!
Let us improve this post!
Tell us how we can improve this post?