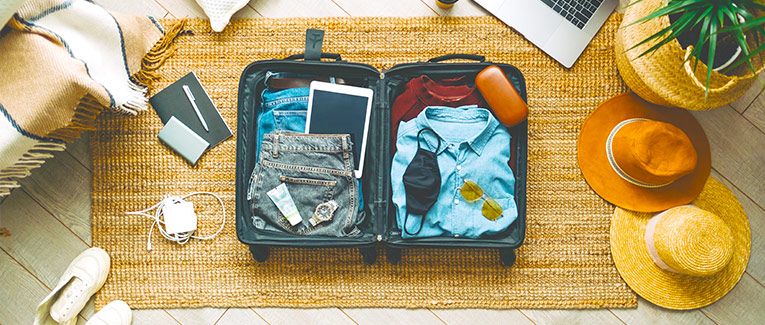 It is always smart to be prepared. You never know when an emergency will strike, and it is important that you are ready to deal with anything that comes your way. There are several travel accessories that can be useful to you in times of emergencies.
These travel accessories will see you through any rough patches. We've tried to keep them small and lightweight, but rest assured, when it comes to these items, it's better to have and not need, than to need and not have.
This list does not include the obvious items like a backpack or water bottle, but we have included items that you might not initially think about.
Items That Should Never Leave Your Travel Kit
1. Water Purification Systems
These could be any kind of gadget that allows you to turn contaminated water into safe-to-drink water.
There are a variety of them available on the market. There are instant purification straws, water bottles with built-in carbon filtration systems, water purification pellets (halogens), and ultraviolet pen filters.
The main reason you want one of these on your person at all times, is that you cannot trust the quality of water everywhere.
Everyone's body reacts differently to new strains of water, as each place's water is a different cocktail of minerals, microorganisms, and impurities.
Remember the following three points when picking which water purification system you may need:
Water pellets remove bacteria, not physical impurities, and you might have a long wait time (30 minutes to four hours).
Water straws remove physical impurities, some microorganisms, and are instant.
Water-filtration bottles remove some impurities, some microorganisms, and can storewater.
2. A Swiss Army Knife
There is a reason that these knives have been traveler's trusty companions for over a century. These multi-utility knives will become a daily companion if you let them.
They come in various shapes and sizes, ranging from small 1.5" knives to full-fledged 7" blades for cutting through foliage. They also come in credit-card form factors, but these have less functionality when compared to the foldable knife options.
Each Swiss army knife has multiple tools built into it that come in handy. The most common ones are: a toothpick, a saw, a ballpoint pen, a screwdriver set, a couple blades, universal wrenches, wire cutters and strippers, a can opener, a fish scaler, a magnifying glass, a chisel, a bottle opener, and even a corkscrew.
With a Swiss army knife, you can be prepared for most situations.
3. Emergency Thermal Blankets
These are 30-square-foot blankets that fit into the palm of your hand when packed. They are just a little over five inches square.
Their main function is to keep the body warm when the temperature drops unexpectedly and you don't have any warm clothes. Conversely, if you flip the blanket over, the reverse side actually deflects heat, too.
Of course, these are so unbelievably popular because they have other uses than just a blanket. They can be used as a rain poncho, a tent footprint, a backpack cover, a fishing lure, a bird repellent, emergency waterproof shelter, a tourniquet, a water-collector, a trail marker, and much, much more.
You should have a couple of these tiny saviors in your backpack at all times.
4. Surge Protectors And Universal Travel Adapters
Always carry a multi-plug surge protector, because not all electronics insurance cover damages abroad.
For one thing, hotels never seem to have enough plugs, and you also never know when the voltage may fluctuate. Sure, damages could be claimed, but in the interim, you're left without your phone, tablet, or laptop.
As a bonus to getting extra plugs, you receive protection from current-flux damages too. If this isn't your thing, many extension boards double up as surge protectors too. The only difference is that extension boards add a meter of wire to a surge protector, so you can move your devices further away from the outlet.
Also, you should carry a universal travel adapter. You could purchase the surge protector and then arrive at the hotel to find that the socket and plug aren't compatible. Having a universal travel adaptor will save you a lot of hassle.
5. RFID Tags And GPS Trackers
We recommend putting a TILE, airtag, or similar device into each of your bags (purse, suitcases, and backpacks), and making each TILE "ring" before leaving your hotel room.
This negates the possibility of leaving your bag behind in a hurry. If you travel with a lot of luggage, or with a lot of companions, these small investments could save you from stress and save your luggage.
6. Duct Tape
This universal fix-it-all item can actually be quite useful to a traveler. Here's how:
Use it as a DIY sink plug to do your own laundry in a hotel.
Repair your torn outer clothes like raincoats, parkas, or ponchos.
Fix a broken suitcase or seal a torn backpack.
Fashion a headlight with tape and a torch to free up your hands when hiking.
Childproof your hotel room. Put duct tape over the sockets so your toddlers don't stick their fingers in.
Use it as a trail marker, if hiking in a new area for the first time (or if there's another party due to follow you).
7. Power Banks
The importance of a power bank cannot be overstated. Modern-day power banks can come in backups of 10000 mAh to 50000 mAh.
Ultramodern options also come with USB type-c fast-charging, and can even juice up your laptop or camera battery.
They are super-portable, and for the functionality that they offer, you should never leave home without one. Most power banks have multiple connection points, so you can charge multiple devices at the same time.
Be advised though, there is not a power bank that supports dual fast-charging. That means that if you try to charge multiple devices at the same time, you'll probably only get 18W charge speeds.
Be wary of travel laws though – certain airlines restrict the size of power banks that a passenger is allowed to carry. If not allowed to check the power bank, you could always pop it into your flight carryon luggage though.
8. Travel Insurance
One of the most important things to purchase before any trip abroad takes up no room at all, and could prove very valuable: Travel insurance or travel medical insurance.
The fact is, accidents, mishaps, and bad luck can occur no matter where we are. On an international trip, a small mishap can quickly become a big headache. The airline could lose your luggage, you could have to suddenly cancel your trip at the last minute, or you could find yourself sick or injured in a foreign country. In any of these situations, a suitable international insurance plan can stand to save you a lot of money. It can provide coverage for your emergency medical treatment, reimburse you for lost baggage or a trip you're forced to cancel, and much more. Just compare policies before you buy, and purchase one with the right coverage for you.
9. Bonus: 10 under 10
Here are our top 10 otheraccessories that usually retail at under $10 USD:
Earplugs – block unwanted noise.
Sleeping Masks – block extra light.
AHat
Silica gel packets – keep things moisture-free.
A pack of Ziploc baggies/ garbage bags – waterproof storage.
A travel pillow – comfort is non-negotiable.
Safety locks – tough to crack, gives you an element of relief when leaving bags unattended.
Fanny packs – multi-utility storage on the go.
Portable luggage weighing scale – no more surprise extra baggage fees at airports.
Extra shoelaces.
These travel accessories can save you a lot of stress. Or at the very least, they'll make your trips more enjoyable. After all, nobody wants to spend their vacation prepping for the next day's trip — plan beforehand!
We are sorry that this post was not useful for you!
Let us improve this post!
Tell us how we can improve this post?