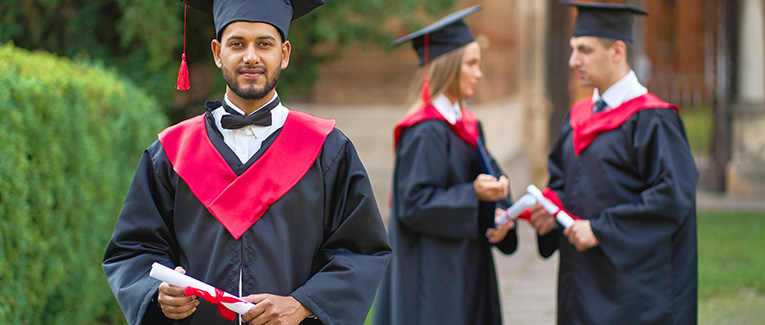 Finally! No more pulling all-nighters, no more slaving away at the laptop on a never-ending stream of assignments and projects, and no more tests to prepare for or grades to worry about.
Finishing your education feels like the beginning of a new life. It is a breath of fresh air, and the freedom to do as you please without any guilt or pressure. It must be all so liberating! But not for too long…
You are no longer required to attend classes, but freedom is a double-edged sword. You are still responsible for doing something with your life and taking care of yourself. There is no predetermined path, so you have to create your own. That's what adult life is mostly about.
Here are some options that you have after finishing your education that can help you answer the question: "What do I do after graduating from college?"
1. Carry on with your education
But, only if you want to. Continuing your education shouldn't be out of compulsion or a means of delaying the inevitable. If the prospect of starting a career scares you, there are baby steps you can take, which we'll talk about later. Education should serve the purpose of learning and furthering your career; it shouldn't be an excuse to avoid growing up.
What are the education options available to you while continuing to stay in the U.S?
Attending grad school for your masters
Starting your Ph.D. or doctoral research
Becoming a research assistant at your college
Doing a specialized skills course
Studying for a specific job or degree
2. Get a visa extension
While we're on the topic of staying in the U.S. after college ends, something crucial you need to do first is get your visa extended. You can't legally stay in the country on a student or exchange visitor visa after your studies have ended.
Here are some ways a student visa can be extended in the U.S:
If you are an F-1 visa holder, you can get an OPT (optional practical training) extension. It is a temporary employment authorization in your area of study. With this extension, you can stay for 12 more months. If you hold a degree in the STEM field, you are eligible for a STEM OPT extension which allows you to stay for 24 additional months (36 months total).
If you'd simply like to remain in the U.S. for a few months longer than your student visa allows – such as to see sights and visit friends or family – you can apply for a B-2 tourist visa. However, keep in mind that the maximum duration of stay in the U.S. on a B-2 visa is six months, and you will not be allowed to work, conduct business, or attend school full-time in the U.S. on this visa.
3. Renew your student insurance plan
Let's assume you decide to continue your U.S. education, and even get a visa extension. Well, of course, your existing student insurance expired along with your education period. So, now you need to renew your student insurance plan.
Since you've been in the U.S. for a while, you already know the lifesaver that insurance can be for a student. Purchasing insurance isn't all that matters. Where you purchase it from makes a world of difference. This is how:
Purchasing from a poor source can lead to quite a hassle post-purchase. This includes everything from your murky policy conditions to hitches in claim settlements.
On the other hand, if you purchase from a reputable source, you'll have assistance every step of the way.
However, if you are electing to stay in the U.S. and not continue your education, you will no longer qualify for student insurance. Depending on your situation, you may get insurance through your OPT employer, or you may need to purchase OPT medical insurance, temporary medical insurance, or visitors insurance.
4. Take a gap year—relax and find your passion
As urgent as getting on with your education or career might seem, deep down you might just want to rest. Years of schooling followed by grueling college work can wear people down. It's okay if you feel burnt out and want to spend your summer sipping cola and riding bikes for a change. Taking a gap year is the perfect opportunity for doing so.
There are mainly two ways a gap year will serve you:
A year is enough time to attempt activities you've always wanted to do, and give your mind and body some rest. By the end of it, you'll feel rejuvenated and motivated for life ahead. If you push yourself to chase the next big thing right out of college, you might lack that refreshed spirit.
Some people are naturally gifted and may already know what they're passionate about. But, that's not the case for most people. You might still be clueless about what you truly enjoy doing and what gives you purpose. These are crucial questions you need to answer before you embark on a fulfilling career. You don't need to have it all figured out, but you should know where to begin.
If you are planning to take a gap year, be aware that you will not be able to do so in the United States. Your F-1 or J-1 visa only allows you to remain in the U.S. as part of your education. If you decide to take a year off from school, you will need to travel back to your home country.
5. Do some career planning
Career planning is the difference between having a career and being successful in it.
Say you are a visual artist. Now, if you were to give yourself time to plan your career for success, you would:
Research and recognize that digital artists are way more likely to succeed in this age.
Take a graphic design or digital art course.
Decide on an industry you want to be part of, and intern at a suitable company that supports artists.
From thereon, you can do industry research and plan your career down to the last detail.
This is only an example, and your career plans might look a lot different. Remember that everything will not go according to plan, but having a roadmap is better than groping in the darkness.
6. Budget hard and keep tabs on your loans
Unless you were lucky enough to go to school without taking out loans, money might be tight when you are fresh out of college.
In order to properly deal with this, and not be scraping by every month, prepare a solid financial plan. Budget your monthly income and expenditure, find out the perfect loan repayment plan, and stick to your financial strategy.
Partying on the weekends and eating noodles for the rest of the month just won't cut it anymore.
7. Build your professional network
Now's the time to utilize all those connections you made in college, and create new ones as well. Who you know is just as important as what you know. A professional network is your safety net in times of crisis.
Seek out professors, college alumni, notable peers, or mutual connections who might help you out in your career path. You can ask them for specific advice, or request their help.
Attend career forums where you can meet representatives from different companies and sectors. They can introduce you to other people that can offer you exactly what you have been looking for. The more career-related events you can attend, the better.
Sign up on professional networking apps like LinkedIn. Track people who are living your dream career, connect with them, and follow them. You can emulate their path, or ask for advice.
Reach out to your idols. It could be a person you admire, or a company you want to work for. Send expertly crafted emails that compel the recipient to reply. It might seem awkward initially, but you should remember that if you don't ask, the answer is always no.
8. Get to work
The interval after college ends and your professional career begins is the prime time to explore work options and build a stunning resume. You will have enough practical experience and industry knowledge to land the job of your dreams when the time is right. But, before that happens, you have some grinding to do.
Remember those baby steps mentioned earlier? Here's how that'll help you ease into a job:
Do an internship. This way you can learn with hands-on experience, and come across promising opportunities.
Become a freelancer. Take one skill you already have, and master it. Build an impressive portfolio, then start working with clients.
If you have an innovative start-up idea, you can even start your own business. It's the ultimate way of being your own boss.
Turn your passion into a profession. Whether you love Pilates or rock climbing, you can always invest in a training course and get certified as a professional instructor or coach.
If the corporate world does not interest you, take up a volunteering or social welfare position in the U.S.
Enter the job world with an entry-level, part-time, or seasonal job. It could be any kind of work you'd like to try out.
Move to a new place outside the U.S. and start working. It's a great way to start fresh.
9. Travel for recreation
Visiting Yosemite National Park or going on a trek might be just the change of atmosphere you need right now. It doesn't need to be a lavish vacation. Even a few days out of your routine life can spell magic for your psychological health.
But, wherever you go, make sure you have adequate money to comfortably afford the trip. Don't spend money that is better used for more important causes.
10. Return home
Lastly, after college ends, you might just feel that home is where the heart is. Wanting to return home and see your family and friends is only natural.
If you feel that after your U.S. education, your home country is where you belong, allow yourself to stay. With a foreign education, it shouldn't be difficult to get a job. It'll also allow you to build up your savings. Whatever your heart calls for, follow that voice.
We are sorry that this post was not useful for you!
Let us improve this post!
Tell us how we can improve this post?