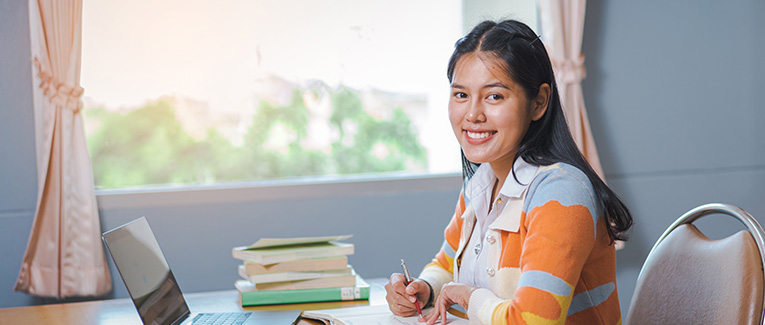 International students are often required to take English language proficiency tests in order to be admitted to colleges in the U.S. The minimum scores required vary for each university. When planning to apply to a specific college or university, be sure to check their language proficiency criteria to ensure you take the right tests and receive the required scores.
A common misconception is that you have to take the test if your native language is not English. In reality, when applying to most universities, you only have to take the exam if your primary language of instruction in high school was not English.
In some universities, like Harvard for example, the English Proficiency Exam is not required at all, and submitting your scores is optional. Do your research and check to see if this is the case with the university you want to apply to.
These are the general tests that you should keep in mind if you have to take the English Proficiency Exam:
TOEFL
The TOEFL iBT is a 120-question test that is accepted at most universities in the U.S. The test is taken on the computer. However, in order to take it, you must be physically present at one of the designated testing centers. You can locate testing centers in your country on the TOEFL website. The test takes place more than 50 times a year.
The test combines the four language-based skills that are required in a classroom: reading, listening, speaking, and writing. The test's scores are valid only for two years after the test date, after which they'll be inaccessible.
The first section on the test is reading. In this section, you have to read the given passages and answer the questions. There are 30 to 40 questions, and the time allotted is 54 to 72 minutes.
The second section is listening, which requires you to answer questions related to lectures or discussions. The time allotted is 41 to 57 minutes.
After the second section, you will be allowed a 10-minute break.
The third section is the speaking section, in which you will be required to speak about a topic that you are already familiar with and discuss what you have read. There are four tasks in this section, and the time allotted is 17 minutes.
The last section is writing. In this section, you will listen to or read a passage and then record your response. There are two questions like this, and the allotted time is 50 minutes.
In order to receive admission to your desired college, you should be able to score a 100 on this test with a score of at least 22 in each subsection.
Aside from this, to prepare there is also a free 'TOEFL Go!' application that you can install.

For visitors, travel, student and other international travel medical insurance.
Visit insubuy.com or call 1 (866) INSUBUY or +1 (972) 985-4400

IELTS
The two types of IELTS tests are Academic and General Training.
To study at an undergraduate level, you will need to take the IELTS Academic Test. These test scores are also valid for two years. The IELTS test is also conducted only at authorized centers where you have to be physically present.
The test will take two hours and 45 minutes, and is divided into six sections.
Section 1 is the listening section, and has a time limit of 30 minutes. You will have to listen to four recordings of native English speakers and then answer a set of questions.
Sections 2 and 3 are reading-based, each with an allotted time of 60 minutes. There are 40 questions in each section, and the questions are based on a wide variety of readings.
Sections 4 and 5 are writing sections with two tasks each. These sections will assess your writing level on an academic and general level. The time allotted for each section is 60 minutes.
Section 6 is a speaking section where, for a period of 14 minutes, spoken English is assessed in the form of an interview.
The test is marked using band scores, 1- 9. Each section is marked, and the marks are converted into bands. A score of 7 or higher is expected in all top-ranking colleges.
Duolingo English test
The Duolingo English Test is fairly new, and universities have only started accepting it in 2021. The test is very convenient, as it is taken online. Moreover, the results arrive in just two days.
The test is only 45 minutes long and assesses your reading, writing, speaking and listening skills. After this, you have to give a 10-minute interview via video call. Unlike the other tests, this only has one section and the questions have varying levels of difficulty.
You can prepare for the test online and take free practice tests, as well as access sample questions. There is also an online guide available that will lead you through the testing process. The test is scored out of 160 marks, and you are expected to have a score of at least 120.
You can take this test from the comfort of your home and spend less money and time. If all the colleges that you are applying to accept DET, then this is a good test to consider taking.
These three tests are the standard tests that most colleges will accept. TOEFL is the most widely accepted. However, it is advised to take all three, or at least two of the tests. This will ensure that even if you do poorly on one test, you have the scores from another test that can save you. If you do not receive the scores that you would like, you can take all of these tests as many times as you want.
We are sorry that this post was not useful for you!
Let us improve this post!
Tell us how we can improve this post?