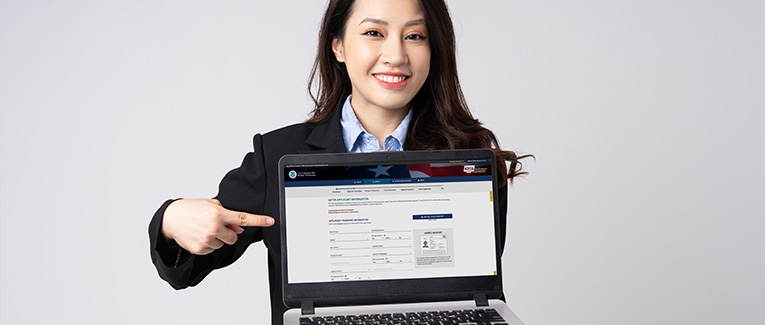 Timeframe
ESTA applications may be submitted at any time prior to travel. However, you are recommended that you submit an ESTA application as soon as you begin making travel plans. You are not required to have specific plans to travel the U.S. before you apply for an ESTA.
Every single person (including children and ticketed or non-ticketed infants) traveling under VWP must apply for ESTA authorization. You can either submit the authorization yourself or a third party, such as a friend, relative, or travel agent, can submit an ESTA application on your behalf. However, in any case, you are responsible for the truthfulness of the application.
ESTA will accept application from last minute and emergency travelers – those VWP travelers that arrive at the airport without an approved ESTA.

Application
You should make an online application at CBP Web Site.
Each traveler must complete a separate application. Even though the web site is available in many languages, all answers must be given in English. Mandatory fields are indicated by a red asterisk *.
The ESTA application involves the following steps:
Disclaimers
Applicant Information
Travel Information
Eligibility Questions
Review Application
Pay
Application Response
Once you complete an application, you are notified of your eligibility to travel to the U.S. under the VWP. In most cases, ESTA provides an almost immediate determination of eligibility to travel under the VWP.
There are three types of responses to an ESTA application:
Authorization Approved:
You are authorized to travel to the U.S. under the VWP. Of course, this does not guarantee your entry into the U.S.

A vast majority of travelers will receive an approved ESTA.


Authorization Pending:
You will need to check the Web site for updates within 72 hours to receive a final response. This does not indicate negative findings. Please return to the CBP web site, and choose "Update or Check the Status of a Previously Submitted Authorization to Travel to the United States".

Your application number, passport number, and birth date will be required to check the status of your application.

You will not be notified of your status via email, whether it was approved or denied.


Travel Not Authorized:
You will need to apply for a U.S. Visa to travel to the U.S.

You can reapply again for ESTA authorization after 24 hours. However, unless your circumstances have changed since the previous application, your authorization will be denied again. If you try to reapply with false information just to get ESTA authorization, you may be permanently ineligible for travel to the U.S.

It is not possible for the DHS or the U.S. Embassy/Consulate to tell you the exact reason for your ESTA denial. You may make a request for redress through the DHS Travel Redress Inquiry Program (TRIP) web site. However, there is no guarantee that it will resolve the VWP ineligibility that caused the ESTA application to be denied.

Some of the most common reasons for the denial are as follows:

You overstayed in the U.S. during your previous visit.


You engaged in unauthorized work, even though you entered the U.S. as a visitor previously.


You were previously denied entry or a U.S. visa.


One of your replies to the VWP eligibility questions in the application was "Yes".


If you had reported your passport earlier as lost or stolen but later found it, and you are using the passport number from that passport.
If your ESTA application was denied, and if you need to travel immediately, it is not possible for the U.S. Embassy or Consulate to give you an emergency visa appointment. Please plan in advance.
Information Security
The CBP web site to apply for ESTA is operated by the U.S. government and employs technology to prevent unauthorized access to the information entered and viewed. Access to such information is limited to those with a professional need-to-know basis, consistent with the Privacy Act System of Records Notice. Such use is to assist in anti-terrorism efforts or intelligence gathering related to national or international security or transnational crime.
Carriers do not receive the ESTA application information provided by the traveler to the DHS. However, they will receive the confirmation of the passenger's ESTA status via the Advance Passenger Information System (APIS)/APIS Quick Query (AQQ) system indicating whether an ESTA is required and whether authorization has been granted.
ESTA application data is actively stored during the validity of the ESTA authorization. After that, it is archived and stored for another twelve years to allow retrieval of the information for law enforcement, national security, or investigatory purposes. The number of officials that have access to the archived information is further limited. Data linked to active law enforcement lookout records, CBP matches to enforcement activities, and/or investigations or cases, including applications for ESTA that are denied, will remain accessible for the life of the law enforcement activities to which they are related. The ESTA application data is retained, according to the I-94W retention schedule, for 75 years.
ESTA application data may be shared by various departments of DHS on a need-to-know basis consistent with that department's mission. It may also be shared with the consular officers of Department of State to help them determine whether the visa should be issued to an applicant whose ESTA was denied. Information may be shared with other government agencies on a need-to-know basis.

Application Cost
There is a $14/person application fee to apply for ESTA. You can pay that with the following credit/debit cards: American Express, Discover, MasterCard, or Visa.

English Answers
You must provide (in English) biographical data, including your name, birth date, and passport information. You also need to answer the VWP eligibility questions regarding communicable diseases, arrests, convictions for certain crimes, and past history of visa revocation or deportation, among others.
The computer utilized to submit the ESTA application should be configured to include the U.S. English language with a suitable English font set as a language selection for keyboard input.
If you still can't type the answers in English, you must use another computer, or ask someone else to do so.

Reapplication
New ESTA authorization is required if:
You are issued a new passport, or if there is a change to your passport information


You change your name


You change your gender


Your country of citizenship changes


The circumstances underlying your previous responses to any of the ESTA application questions requiring a "yes" or "no" response have changed. E.g., you are convicted of a crime of moral turpitude, or you develop a contagious disease


If your ESTA authorization expires after you arrive in the U.S. but before you depart the U.S., you don't need to reapply. However, you will need a new ESTA authorization for future travel to the U.S. under the VWP.

Other Web Sites
The U.S. government charges a $14 fee to get ESTA authorization. However, there are several private web sites run by unauthorized third parties that charge much higher fees to provide information about ESTA and to submit the ESTA application on your behalf. Such web sites are not endorsed by, associated with, or affiliated in any way with the U.S. government.
Using those web sites will not increase your chances of ESTA approval or expedite the process.
It is best to avoid such web sites that charge you money.
Of course, if you don't have Internet access, or if you are not comfortable using the computer, and if you ask someone to apply on your behalf, it is OK as long as they charge a reasonable fee.
In any case, you are still responsible for answers submitted on your behalf.

Correcting or Updating Application Data
Before you submit the ESTA application, review all the data you entered for accuracy. Even the ESTA application asks you to reaffirm your passport number before you finally submit the application. If you realize that you have entered some of the data incorrectly, or you would like to update the data, it may or may not be possible to do so depending upon the type of data you would like to correct and/or update.
Not Changeable: It is not possible to update or correct any passport information (such as passport issuance date or passport expiration date), identifying biographic information, or eligibility questions after the application. You will have to submit a new ESTA application.
If your previous application was approved, you can just close the browser, open it again, and apply immediately with the new information. If your previous application was denied, you will have to wait at least 24 hours before reapplying again.
Even after closing the browser and reopening it, if you are unable to reapply, click on the "Ask a Question" tab at the top of the application page; in the question box, give your original application number (if you have it), full name, passport number, date of birth, contact phone number including country code, and a description of what was entered incorrectly. CBP will cancel your application and notify you when you can re-apply.
Changeable: It is possible to update or correct details like e-mail address, telephone number, carrier, flight number, city of embarkation, address while in the U.S., etc., using the ESTA update function.
In order to update any of the data that can be updated, you will need your ESTA application number. If you have forgotten or lost it, due to security and privacy reasons, it is not possible for CBP to provide your ESTA application number or travel authorization status. You must instead apply for new ESTA authorization. Your previous application will be automatically cancelled.

Social Media
While applying for ESTA, you can optionally provide your identifier with various providers/platforms. The government can use that information to validate legitimate travel, adjudicate VWP ineligibility waivers, as well as identify potential threats. Of course, they can only look at the public information according to your privacy settings. They can also use that information to identify potential deception or fraud.
We are sorry that this post was not useful for you!
Let us improve this post!
Tell us how we can improve this post?