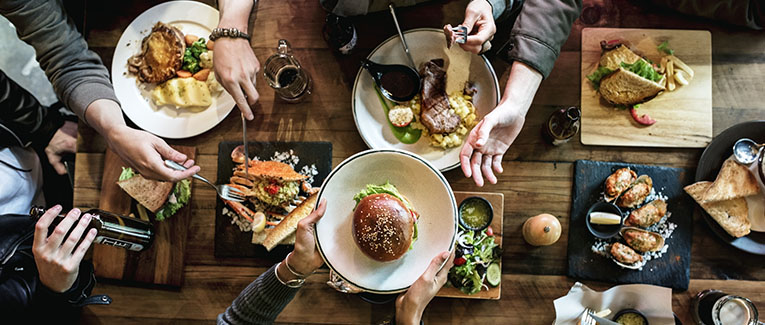 Mouth-watering, gooey, processed food.
That's the image that "American food" brings to your mind, isn't it? It's not completely off the mark. But among these rich, fatty foods, there is a lot to American cuisine that defines the nation's food palette today.
Immigrants and their native cuisines are entrenched in American food culture. This has given way to a thriving cuisine-fusion ecosystem.
It is difficult to define American cuisine, given the tussle between what is accepted and what is not.
The following list brings you some examples of arguably the most quintessential "American" dishes.
Buffalo Chicken Wings
Some call this popular Buffalo, New York, chicken-wing dish soul food, and they swear by its history. Over the years, it has fashioned itself into tenders, meatballs, and strips, but the original continues to be immensely popular.
The wings are deep-fried and dressed in a tangy buffalo sauce. There are two sides to the story, and both have contributed to the popularity of the wing and the sauce. If you go to Buffalo, do check out Anchor Bar and Young John's Wings 'n Things.
Pot Roast
This dish defined the childhood of a whole generation of Boomers. Think large family gatherings on Sundays during winter, and a steaming dish of beef and vegetables. That is what pot roast symbolizes today.
Tougher meat is usually what becomes pot roast as it is slow-cooked overnight. The slow cooking lends richness to the gravy and improves the meat's flavor.
The origin of pot roast is uncertain, but the French supposedly introduced it. Other variants add rice, potatoes, or other various vegetables, and some just go with the slow-cooked meat.
Tater Tots
Some locals call them the American twist to good old french fries. Tater tots are tiny grated potato shots that come with a dip.
Tater tots also come in variants that replace the taters with vegetables, or even cheese.
They were originally a patent of Ore-Ida, an American frozen food company. Tater tots have become a generic term now.
They continue to be a popular side dish and snack. You can find them in the frozen food aisle at the grocery store or at fast food joints.
Mac 'n' Cheese
Ah, the famous cheesy comfort food! Almost every house in America swears by this dish—the cheesier, the better.
The history of macaroni and cheese goes back to Thomas Jefferson, who imported it from France. As colonial as the history of mac 'n' cheese is, we can't deny its modern popularity as comfort food.
There are regional variations that replace macaroni with other pasta. It has even made it to the pizza topping list and is often enjoyed as a deep dish.
We recommend that the health- and weight-conscious enjoy this cheesy delight in moderation.
Meatloaf
Meatloaf might seem like a dry dish, when in fact it is anything but. The moisture gets packed in through eggs and sauce that enriches its grounded meaty fats.
While this dish isn't authentically American, it is quite a popular one that continues to dominate American homes. It is a popular main course item when warm, and a good sandwich filler when cold.
As with pot roast, older generations trace meatloaf back to their childhoods. Leftovers of meat and vegetables would often get baked into meatloaf.
Non-meat eaters can indulge in meat alternatives such as chickpeas or lentils.
Clam Chowder
New England claims this dish as their own. Clam chowder is a classic favorite of conservative, east coast communities. In the modern day, it is a popular dish all over the U.S.
If you are looking for traditional American food, clam chowder is as close to traditional you can get. The New England clam chowder typically has a broth with clams, milk, and salted pork.
The most common variations of the clam chowder come in a trio: the clear, white, and red chowders. Clam chowder's texture and color vary by region.
Grits
Simply put, grits are a cornmeal porridge typical of the South. It's a popular breakfast dish and quite filling.
You may call this dish authentically American, given its roots in Native American cuisine. Over time, this adoption added more ingredients and made its way to the dinner table.
Meat, fish eggs, celery, and shrimp are common additions to grits. If you are a fan of corn-based foodstuffs, you ought to try famous southern cornbread, as well.
Alaskan Salmon
If cooking is not your forte, it can get tiresome to eat processed food every day. Take a break from them and try out fresh seafood: a wild Alaskan salmon.
Technically, you would have to travel to Alaska for this, but it's worth it. The Russians and the indigenous population have had a good influence on Alaskan cuisine.
You can order Wild Alaskan Salmon all over the country, but it would beat the experience of having it fresh. The locals swear by its nutrients, and slow cooking enhances its flavors.
Alaskan seafood, especially crabs and lobsters, are also to die for. If you plan on visiting Alaska, do add seafood to your to-do list.
Apple Pie
How could we miss out on the classic American dessert? Apple pie tops the list of American classics. It is also one of the oldest desserts brought into the country.
It is hard to peg apple pie's origins, as the preparation varies depending on the country. The American Apple Pie is a blend of the Swedish, French, and Dutch methods.
If you happen to try apple pie at a friend's home, take notes on the ingredients, the baking style, and the crust. The variations can make for an interesting history conversation.
Key Lime Pie
The origin of this popular dessert is unknown, but Florida residents pride themselves on being the connoisseurs of this dish.
It often gets served seated on a crusty bed of graham crackers or pie base, or by itself. It is a 3-ingredient recipe and easy to make at home. The "key" to this lime pie is the key limes that make the dessert more fragrant.
You can find key lime pie in most bakeries across America.
Conclusion
Given the infancy of North America compared to most parts of the world, "traditional" American food is hard to define. It's only Thanksgiving that falls into the bracket of a traditional American meal, with its traditional menu of turkey, mashed potatoes, gravy, stuffing, vegetables, and pumpkin pie for dessert.
Our list shared our personal favorites, some must-tries for fresh immigrants. There are regional variations to these popular fares, and the best way to sample them is through someone's homemade food.
With the right recipe and some basic culinary skills, these American favorites can be easily cooked at home. If ingredients are not available at a local store, you will find them online.
We are sorry that this post was not useful for you!
Let us improve this post!
Tell us how we can improve this post?