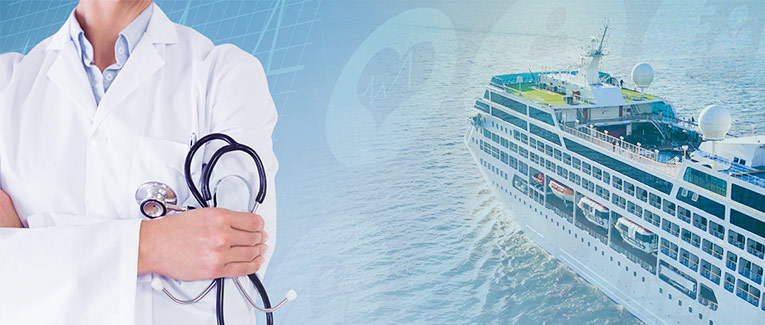 There are a number of things that could go wrong on a cruise. You may face thievery, or the food may not be suitable for you. But a medical emergency on a cruise, in the middle of the ocean, will make any doctor turn white with fear.
While on land, all you have to do is call emergency services, and they will quickly send an ambulance to your location. However, things are a little different when you are on a giant ship in the middle of the sea.
Falling sick on a cruise isn't on anybody's vacation itinerary, but that doesn't mean that they cannot crop up. So if you don't know how to handle medical issues on a ship, this is the article for you.
It is always prudent to have a medical contingency plan in place, especially if you know you are susceptible to certain sicknesses like cardiovascular, pulmonary, or respiratory issues.
One very important point to remember is that the average health insurance policy that you have at home might not cover medical bills outside of your country of residence, and especially not cruise-related ones.
Therefore, if you have plans to conquer the high seas, it would behoove you to purchase travel insurance or travel medical insurance.
An emergency medical situation at sea can escalate quickly, easily pushing bills into six figures. If it is a serious illness and emergency medical evacuation is required, that price only increases. If your finances are important to you, health insurance on a cruise is not a second option.
Confused as to which insurance plan to choose? Head over to Insubuy to compare various insurance policies. Here you find all details "at a glance" for easy comparison.
Medical Emergency on a Cruise – The First Line of Defense
The term "medical emergency" differs from person to person. For someone with lung disease, a simple cold can prove fatal. Others may be susceptible to strokes or heart attacks.
All cruise ships are required to have at least one doctor and two nurses on board. The medical staff should ideally have at least three years of postgraduate experience in internal or emergency medicine, per person.
Most major cruise ships operate with a minimum of two doctors, and three to six fully qualified nurses aboard. Most cruise ships are also fully equipped to deal with minor surgeries. That said, cruise ship infirmaries are not equipped to deal with major illnesses like stroke and cardiac arrest.
They can, however, stabilize patients enough to safely transport them to onshore medical facilities where proper care can be administered. The reason is that cruise ships very rarely have specialized doctors on board. The onboard physicians are more likely to be general practitioners, so as to best cater to the needs of the majority.
However, major cruise lines expect their doctors to adhere to grueling standards. For example, Carnival Cruises requires all of their physicians to meet or exceed the standards set by the cruise ship section of the American College of Emergency Physicians (ACEP). Additionally, Carnival also requires its doctors to have experience with cardiac medicines, general medicine, and emergency and critical care service.
If you do suffer a medical situation on board a ship, it can go one of three ways:
You could be treated, declared fit, and discharged.
You could be treated, admitted to the infirmary, and told to seek attention at the next port of call.
You could be referred immediately to onshore medical facilities and be evacuated by helicopter or speedboat at your expense. With travel insurance offering coverage for emergency medical evacuation, you may be covered for the cost of this.
What to Do In Case Of a Medical Emergency on a Cruise
If you're smart, you've purchased cruise ship travel insurance with medical coverage. Therefore, the first step would be to keep them updated on the situation.
The best way to do this is by contacting your agent or customer care hotline and asking to speak with a representative.
If you are worried about losing contact or consciousness, ask the ship parser, the doctor, or a nurse to keep the insurance company updated at all times.
Based on the seriousness of your condition, the ship's physician may quarantine you in your cabin, refer you to a hospital at the next port of call, ask the captain to divert to the nearest port, or outright evacuate you on priority.
Should the need arise to evacuate you from the ship via helicopter, the number one thing to remember is that the cost will be borne by you or your insurance company, not the ship.
This is why it is important to stay on top of your insurance game. Most overseas hospitals will not begin treatment until a deposit is paid to them in cash.
This can be a particularly aggravating problem, because insurance companies might refuse to pay cash, insisting on directly crediting the funds to the hospital. The best way around this is to pay the deposit out of your own pocket, and then file a claim with the agencies involved to get your money back.
If you have the means, inform your insurance company about this beforehand so that they can process the funds for the down payment before you reach the shore facility.
It is best to inform the ship's doctor about any previous complications that you have suffered. Indeed, the best thing to do would be to give your doctor full access to your medical files. If you have any previous complications, you should always carry this in your luggage.
If you haven't left for the cruise yet, ask your doctor to make a sort of summary of your medical history. If possible, request your doctor to collate your medical diagnosis onto a single letterhead, and carry this instead of your whole file.
If, after recovery, there are still days left on your cruise, you can always contact the captain and request to rejoin the cruise at a subsequent port. This is a rare occurrence, but if the cruise is lengthy and your recovery period was short, this may be your chance to rejuvenate back where you started.
Once You Get Home
The first thing to do when you reach home is to file claims with all of your insurance agencies to refund your money. Ideally, these are the claims that you will be filing:
Claim to cover costs for the unused part of your cruise.
Claim to cover medical bills paid overseas.
Claim to cover emergency transport from the ship to the shore.
Before you travel, it is essential that you read your insurance policy in detail. Make sure it covers a medical emergency on a cruise. To stay on the safer side, buy a plan with emergency evacuation as well. Having a thorough understanding of policy will help prevent unpleasant surprises if you do have to make a claim.
We are sorry that this post was not useful for you!
Let us improve this post!
Tell us how we can improve this post?