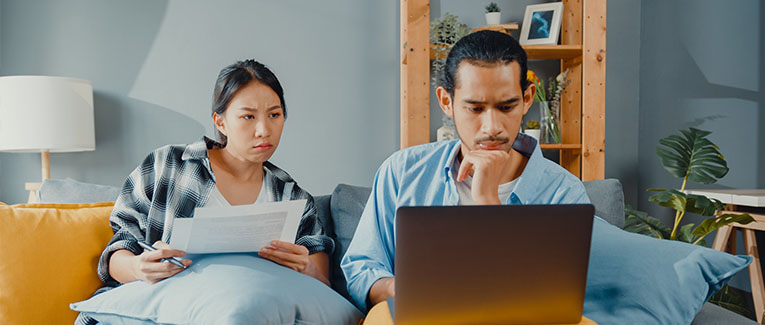 Q: Who can I sponsor to visit the US? Is it just close relatives like my parents or in-laws? Can I sponsor a cousin or a friend?
A: You can sponsor anyone you like. However, the closer the relationship or bond, the easier it would be to justify why you are sponsoring them.
If you try to sponsor your cousin's mother-in-law's aunt, the question arises, "why?" As long as you can justify it with strong evidence/reason, it is fine.
If you try to sponsor an unrelated person whom you met during your last trip to India, again, the question would arise why you would want to sponsor him/her. As long as you can justify it with strong evidence, it is fine.
Applicants should try not to get the affidavit of support from the persons they have not even met (arranged through a travel agent or visa consultant), or from those with whom they are not in regular contact with.
Q: I live in the US and my parents would like to visit the US. My parents are well off and they are able to pay for all of their US trip-related expenses. Should I sponsor them?
A: If the visitors are able to take care of their US trip-related expenses, it is best that they self-sponsor. It would be much stronger than someone else sponsoring them.
Q: I am a green card holder and my wife is a US citizen. I would like to invite my parents. Who should sponsor, myself and/or wife? Since my wife is a US citizen, will she be a stronger sponsor?
A: A sponsor's legal status in the US does not make any difference or make the sponsorship any stronger or weaker based on a particular type of legal status. All that matters is that the sponsor is legally in the US, even if the sponsor is on a temporary work visa.
Q: I don't have any sponsor in the USA. Is it possible for me to visit the USA on my own?
A: Yes. The application process is the same except that you have to show enough financial resources to prove that you can sponsor your trip yourself. Carry your last 3 years of income tax returns and bank statements/passbook that show a steady flow of money over the last few years. Any other ties such as a good paying stable job or business you can show are also important.
Q: How many people can I sponsor at the same time? Can I sponsor my parents and in-laws at the same time?
A: There is no limit on how many people you can sponsor as long as you can show that you are able to indeed take care of all of them at the same time.
Q: My parents are going for a US tourist visa interview next week and my in-laws are going for a tourist visa interview one day after that. Do I have to mention my parents in Form I-134 that I fill for my in-laws?
A: Yes. When you fill the Form I-134 for your in-laws, please mention that you have previously sponsored your parents.
You should do that even if your parents were not asked to show sponsorship documents at the time of their visa interview.
Q: Can I send the sponsorship documents directly to the US consulate?
A: No. The US consulate has no way to track the documents sent by the sponsors and match it to the applicants (visitors). Do not send them to the US Embassy/Consulate/CGI. The sponsor should send the documents directly to the applicant, who can share them with the consular officer at the time of the interview.
Q: I would like to sponsor a relative, but I am not confident about sharing my financial information to them. Can I send the documents directly to the US consulate or in a sealed envelope?
A: No.
In this case, you should really consider not sponsoring them.
Q: I am not really comfortable sharing my financial details to the person who I am sponsoring. Can I just send the invitation letter to them? Isn't that enough? Why do I need to send all those financial documents?
A: Sponsoring someone means taking care of their financial responsibilities while they are in the US. You are sponsoring someone because the applicant does not have the financial means (enough money) to visit the US on their own.
If you just send them an invitation letter, you are just inviting them, you are not really sponsoring them. In that case, the visitor would have to prove that they have the financial means to visit the US on their own.
Q: I am sponsoring my relatives, can I send the guarantee letter to the consulate so that the consulate can give them a visa?
A: Having a sponsor or offer to guarantee a person's return to their home country does not guarantee the issuance of a visa. US immigration law makes no provisions for offers of guarantee or bond for issuing a non-immigrant visa. The burden of proof of non-immigrant intent is entirely on the applicant. Send all documents directly to the applicant.
Q: I am sponsoring my parents' tourist visas. Is my original birth certificate really required?
A: If you are sponsoring your parents and you are not a US citizen, your original birth certificate is required. If someone has not asked for it, it does not mean that it is not required.
If you don't have an original birth certificate, please look for alternatives.
Plain copies, notarized copies, 10th class mark sheet, school leaving certificate, etc. are not acceptable.
Q: How recent should the sponsorship documents be?
A: The documents should be as recent as possible. 3-4 month old documents are fine. Documents older than 6 months should be avoided.
Q: I am on an H-B visa and I would like to sponsor my parents to visit the US My H-1B expires in the next 3 months and my employer has not yet filed for the extension. (Or my current H1-B petition has expired and the employer has filed for an extension.) Would it be a problem? Would they get only a 3- month visa? Would they get only 2 to 3 months to stay in the USA?
A: As long as you are in a valid legal status at the time of sponsoring them, it is not a problem. The duration of a visa stamp or the duration of the I-94 stamp does not depend upon your H-1B visa validity.
Can a visitor visa really be sponsored?
We are sorry that this post was not useful for you!
Let us improve this post!
Tell us how we can improve this post?