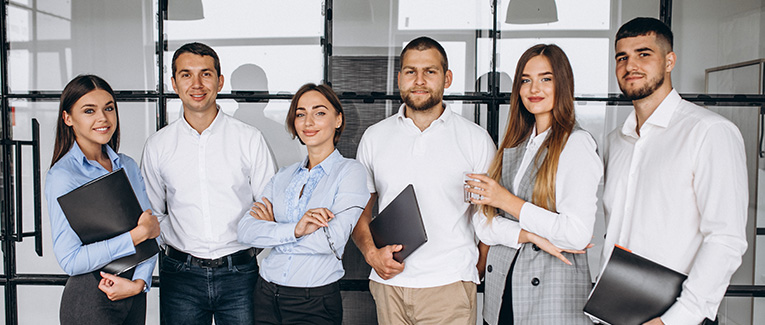 Your outfit often defines how people perceive you, and can make or break your first impression.
With so much riding on it, picking out your attire can be a nerve-wracking experience. Never more so than when you're just getting started in a new place or meeting new people.
But, do not worry. This guide is here to rescue you from that impending minor meltdown over what to wear. It also has your back for all occasions, so you aren't judged before you even open your mouth to say hello.
American clothing tends to be quite casual and comfortable for everyday wear. But, when it comes to workplaces and special events, certain dress codes must be followed. So be sure to ask human resources, your college advisor, or event organizer what the dress code is so you can plan based on that.
Here's a breakdown of fashion fundamentals in the U.S., and guidelines for what to wear for each dress code:
Casual
Casual essentially means that you don't need to dress up much. Relaxed, comfortable outfits are not just accepted, but even expected in these places.
A casual dress code in America usually refers to a pair of jeans paired with a t-shirt, for both men and women. Jeans are probably America's favorite pants. Almost everyone in the country owns a pair and wears them regularly.
Alternatives include khakis or shorts along with sweaters, hoodies, or linen outfits. For women, a casual dress code also includes comfortable day-dresses and skirts.
A casual outfit is not complete without a pair of sneakers, flip-flops, sandals, or boots.
Where to wear 'casual' outfits: College, schools, everyday wear, and casual get-togethers like barbeques, and while traveling.
In some situations, like when you're out for a walk or grocery shopping, even loungewear is acceptable.
Tip: Avoid controversial graphic tees, as some people might find them offensive.
Smart/Dressy Casual
A dressy casual dress code involves a combination of relaxed and refined pieces. This is also called 'smart casual' when used in the context of workplace dress codes.
For this type of dress, dark jeans with minimal wash are an easy way to make an outfit sharper and more appropriate.
Avoid sneakers, unless they're classy-looking ones that you would never wear to the gym. Definitely avoid flip-flops. Instead, go with boots, loafers, heels, or dressy sandals. You can also use a few accessories like hats, scarves, and jewelry if that's your style.
For women, dressy casual is anything from blouses and slacks to jumpsuits or dresses. Whereas for men, it involves button-down shirts, khakis, slacks, sweaters, or polos.
When dressing smart casual for the workplace, lean on the conservative side to play it safe. Avoid anything with bling or too much frill.
Tip: You could put on a blazer on top of your t-shirt or blouse to take your outfit from casual to dressy while on the go.
Where to wear 'dressy casual' outfits: Nights out with friends, first dates, a few workplaces (especially at newer tech companies), relaxed company parties, and the occasional chilled-out wedding.
Business Casual
While this is a popular dress code for most workplaces in the U.S., it is also often the most confusing to navigate. It can mean different things in different organizations, so always check with your HR department for more specific guidelines.
In general, a business casual dress code allows people to add personality to their outfit while looking professional.
For men, this means dress shirts and dress pants (or khakis in the summer) with formal shoes or loafers. But, avoid a pair of jeans, as they do not cut it for business wear. Colored shirts with muted patterns like checks and stripes are acceptable.
A business casual outfit does not call for a tie to be worn. If a tie is worn, however, it must be in a conservative pattern and not too flashy.
Pullovers worn over the shirt, only in simple patterns and colors, are also allowed. Sneakers and loud, flashy jackets, on the other hand, are a complete no-no.
For women, 'business casual' is an outfit made of formal separates rather than a full-blown suit. So, a blouse or button-down shirt paired with a formal skirt, khakis, or trousers would work well. Again, bright patterns must be avoided, along with low-cut tops or skirts that are too short.
Additionally, to keep up with the weather, sweaters or blazers can be layered on. Jewelry is usually kept minimal and modest for all business dress codes.
Footwear for women can be flats, loafers, pumps, or boots, but must be closed-toe always.
Where to wear 'business casual' outfits: Most workplaces, networking events, and interviews (depending on the industry and organization).
Tip: Some workplaces prefer a 'business professional' dress code. This is an intermediate style, between business casual and business formal. It requires a full suit and jacket in conservative colors and prints, for both men and women.
Business Formal
As the name suggests, 'business formal' is as formal as it gets at a workplace. It is usually worn only by top-level executives, or by those working in finance, law, and other client-facing industries.
A business formal outfit for men must be above all else, crisp and well-tailored. The standard is a one, two, or three-button suit, paired with close-toed brown or black oxfords. The suit must be solid, neutral-colored, and preferably paired with a white dress shirt. Loafers and bright, loud pieces are not accepted in business formal wear.
For women, it can be a well-cut pantsuit or skirt suit, once again in neutral colors and with a white shirt. Footwear must be closed-toe and in neutral colors only. If it is a skirt suit, then dark-colored tights are also recommended.
Where to wear 'business formal' outfits: Workplaces with strict dress codes, formal conferences, executive meetings, and job interviews in conservative fields.
Cocktail
Cocktail attire is by principle more 'fun' than formal attire, and less 'glam' than a black-tie outfit.
For men, this suggests a dark suit worn with a tie, and formal shoes. Although for daytime events, a light-colored suit is also occasionally acceptable.
For women, it traditionally means a knee-length dress in an elegant fabric like silk, lace, or velvet, with a pair of pumps. But today, cocktail dresses for women are a lot more flexible. They range from the standard little black dress to a snazzy skirt-blouse outfit, or even a statement jumpsuit.
A good guide when deciding between a classic dress and something spunkier is to go with the hosts' style. For a traditional host, go classy; and for someone more playful, your outfits can get creative.
Where to wear 'cocktail' outfits: Most weddings, holiday parties, anniversary celebrations, school or college events, and fundraisers.
Tip: Cocktail dress codes are usually reserved for special occasions and events, so don't wear anything too tight or uncomfortable. You'll have to stay in that attire for a few hours, and will be squirming in discomfort the whole time if your outfit constricts you.
Black Tie
The 'Black Tie' dress code is reserved for very formal evening events.
For men, a black-tie event means a complete tuxedo ensemble with a bowtie, and black wingtips or oxfords. If not, a formal dinner jacket is sometimes acceptable. No matter what, the outfit must be very crisp and in dark neutral colors only.
For women, elegant floor-length dresses are worn, paired with pumps or strappy sandals. Once again, these dresses are made from sophisticated fabrics like silk, lace, velvet, or chiffon.
Women's black-tie outfits do not necessarily have to be darker colors like men's must. Rich jewel tones and brighter colored dresses are also accepted.
Black-tie events are also an occasion for women to bring out their classy jewelry and clutches.
Where to wear 'black tie' outfits: Formal evening weddings, galas, sophisticated fundraisers, and balls.
Closing Tips
With half a dozen types of dress codes, it can seem overwhelming (and expensive) to be dressed right for all social scenarios. But this is where having quality wardrobe staples comes in handy.
Having a few good-quality classics will save you major time and money in the long run. Get yourself a pair of well-fitted jeans, comfortable t-shirts, crisp formal shirts, and trousers or skirts.
Using your creativity with these staples will take you a long way towards showing up impeccably dressed at all times. You can mix and match individual pieces to dress an outfit up or down depending on the occasion and dress code.
Above all else though, Americans appreciate a clean, well-groomed personality at all times. Ensure that your clothes are well-fitted, freshly laundered, and neatly pressed no matter what you're wearing. An outfit like that, along with good personal hygiene and grooming, will get you an approving nod. So, use this guide as your starting point to find your style, and show up with confidence to make a great first (or second) impression.
We are sorry that this post was not useful for you!
Let us improve this post!
Tell us how we can improve this post?