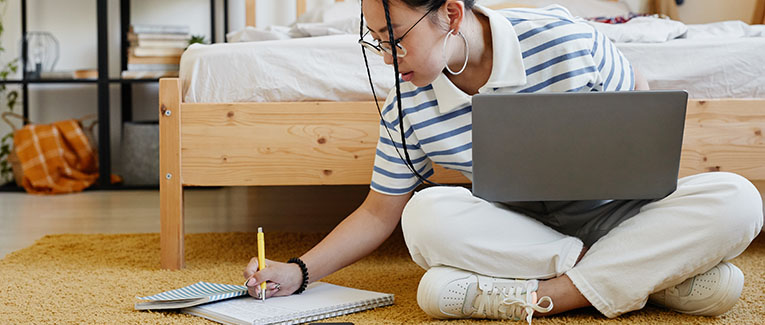 You're extremely excited about being accepted into an awesome university in the U.S., and can't wait for classes to start. But, now comes the formidable task of finding a home away from home. How do you choose the right student housing? How do you find a roommate?
In this guide, we'll share our best tips for international students to find student housing in the U.S.
Note: All data in this report is current as of September, 2021.
On-campus student housing
Dormitories or Residence Halls
Staying in a college dorm is one of the best ways to experience college life and make friends.
Each college categorizes its dorms differently. Types of dorms include:
Freshman dorms
Single-gender dorms
Coed dorms
Special dorms – for differently-abled people
Types of dorm rooms
Shared rooms
These rooms can be doubles, triples, or quads.
Bathrooms are communal, so get used to sharing your bathroom either with only your roommates, or the entire dorm floor.
Suite rooms
These apartment-style rooms usually have multiple bedrooms, a common area, a shared bathroom, and a kitchen area.
How do you apply for a dorm room?
Apply for a dorm room via your university's website
Specify your preferences including same-gender or coed dorms, shared or suite rooms, etc.
The university will then try to match your requirements
Pros of dorm living
Great way to socialize and make friends. (Think mixers, PJ parties, etc.)
Easy access to academic activities
No cooking! Eat from the cafeteria, or opt for flexible meal programs where you can pay in advance for all meals
No utility bills or commuting costs
Cons of dorm living
Relatively expensive compared to a shared off-campus apartment.
Only the basic furniture is usually provided
Lack of space and privacy
Dorms might not allow overnight guests
Off-campus student housing options
Rent your own apartment
It might come with a steep price tag depending on which city you are in.
You will also need a cosigner, or a hefty upfront deposit.
Sublet an apartment
Can't afford to rent your own apartment? Sublet one!
(Sublet is when you take over someone else's lease.)
All you need to do is pay one month's advance rent along with a security deposit.
On the flipside, sublet leases are usually short-term. So, you'll need to hunt for another apartment when the lease ends.
Share an apartment with roommates
Want a good mix of privacy and social living with your student housing?
Shared apartments are your best bet!
Finding a good roommates can get a bit tricky though. You don't want to end up with a party animal if you like your peace and quiet, right? Or worse, someone who dodges the rent!
So, how do you find your ideal roommates for student housing?
Connect with other international students who are joining your degree program
Scout for student-run university groups on Facebook where you can meet plenty of students looking for roommates
Give roommate finder apps like Roomsurf, and Roomiea whirl
Opt for a Homestay
Anxious about living in a new country and staying away from your family? Why not consider a homestay for your student housing solution?
You get to immerse yourself in American culture, and enjoy the comfort of staying with a family.
You will have your own room with all the basic furniture, with a shared or private bathroom and other common shared areas. Most homestays provide all meals, so that's one less thing to worry about.
How do you find trustworthy host families?
Look up websites likeUniversal Student Housing and StudentRoomStayConcierge.
How do international students find housing?
Check with your university
Your university should be your first resource when looking for housing.
Enquire with your International Student Office or your liaison officer. They can give you the breakdown of the various housing options available near campus, connect you with other students who are looking for roommates, and give you tons of housing advice.
Many universities also collaborate with third party websites that provide off-campus housing.
For instance, Northwestern University has a partnership with Places4Students.com.
Join social media groups
Most universities have Facebook, WhatsApp, and other social media groups specifically for international students hunting for housing.
Join these groups, connect with other students, and ask away!
Scan Rental websites
A few of them include:
Zillow
Uloop
Rent.com
Apartments.com
Check other sources
Scan through student notice boards (both online and offline)
Browse through the classifieds in the local newspapers, especially the Sunday editions
Contact real-estate agents. Beware of high brokerage fees, though.
On-campus vs Off-campus student housing: How to decide
What matters the most to you? Make a list
Prefer staying on-campus so you don't have to think about your daily commute?
Does the idea of living with roommates in a no-curfew apartment appeal to you?
Once you're clear about what you want, go ahead and look for the appropriate type of student housing.
Chalk out your budget
Decide how much you can spend each month on expenses like accommodation, food, and transport.
Living in a dorm can add up, especially with added things like meal plans.
Apartment rental figures also fluctuate widely depending on the city you are in.
Things to know before renting an apartment
How to zero in on the right neighborhood?
Use apps like Google Maps and Street view to figure out your campus' location and familiarize yourself with the surrounding neighborhoods.
Ask questions like:
Is it a safe neighborhood?
Are all the essentials available here? Restaurants, grocery stores, etc.
Is it within 2-3 miles of your college campus?
Does it have easy access to public transport?
Once you've shortlisted a couple of areas, you can then begin hunting for apartments in these areas.
Documents required for renting an apartment
Passport or photo ID
Your I-20 form
Social security number (if you have one)
Proof of good credit history. You could either show your current banking statement, or a letter from your banker in your home country.
Co-signer information
Proof of financial assistance. If you have a scholarship or aid, you can use this as proof.
School's offer letter
Personal references
Costs associated with renting an apartment
While budgeting for your apartment costs, you need to consider the below costs as well.
These include:
Electricity
Internet
Heating
A refundable fee that you pay before you move in.
Amount: Usually 1 month's rent.
A non-refundable fee that is used for running your credit check, background check, and rental history.
Approximate cost: $40 to $100 per renter
A non-refundable fee for holding the apartment off the market while your application is being processed.
Approximate cost: $50 to $200
Your landlord's insurance would only cover the building, so you need renter's insurance to protect your belongings in case of unforeseen events like theft or fire. It can also protect you from liability if someone gets hurt on your property.
Most landlords require that you purchase a renter's insurance policy.
Apart from these fees, you could also encounter other fees like:
Move-In and Move-Out Fees
Parking Fees
Elevator Fees and Deposits
Read your lease agreement very closely.
Figure out:
Your responsibilities and liabilities
Landlord's responsibilities
Refund policy for security deposit
Penalties for breaking your lease
Subletting policy
Policy on adding residents to the lease
Terms for eviction
Beware of rental scammers
The bitter truth is that International students are easy prey for rental scammers.
But, don't sweat just yet.
Here are a few red flags that'll help you sniff out a scammer from a mile away!
Rental rates that are too good to be true.
The landlord claims he is traveling or sick, and hence can't give you a tour of the property.
The landlord is unable to answer any basic questions that you have about things like safety concerns or total square footage.
Exorbitant background check fees (more than $30 – $60).
No hard copy of the lease agreement.
How to protect yourself from scammers
Scout online for properties that have attached photos. Avoid text-only posts.
Do a reverse image Google search to ensure the pictures haven't been copied from elsewhere.
Use Google Maps to double-check the address.
Cross-check on websites like Zillow to ensure that a property is really owned by the supposed landlord's organization.
Verify if your landlord is legit. Scrutinize the ownership records at your county courthouse, or check with the local government agencies.
Request for a face-to-face meeting with the landlord before any transaction.
NEVER EVER make payments or sign a lease without personally seeing a property,
Cash and wire transfer payments are a strict NO-NO. Use checks so that you have a payment paper trail.
Happy student housing hunting!
We are sorry that this post was not useful for you!
Let us improve this post!
Tell us how we can improve this post?