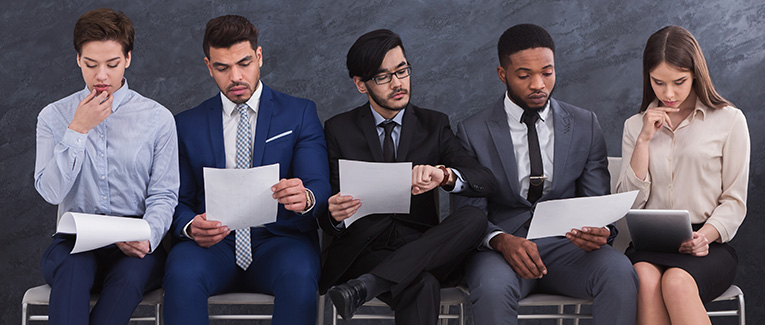 Looking for a job in the U.S. after graduating can be complicated. You have to send out resumes, participate in job interviews, and find a company that is willing to hire an international graduate. Additionally, you only have a limited time period to look for a job, after which you will be required to go back to your home country if you do not gain employment.
Here are the details you need to keep in mind while searching for a job in the U.S.:
Picking the Right Employer
You can look for jobs on websites like indeed.com by using keywords that describe the jobs you are interested in and meet your qualifications.
Once you find a job that you are interested in applying to, analyze the job posting. Think about what qualifications you have that match the job description, what you can learn, and what possible factors might prevent you from getting the job. While considering different jobs, pay attention to your strengths, interests, skills, and values. Then pick a job in which you think you can be successful.
Work on your soft skills like problem-solving and communication. All companies are equipped to train you for the hard skills, but it is your soft skills that distinguish you from other applicants. Along with this, refine your resume and cover letter, as these two factors determine the probability of securing an interview.
When to Apply
Optional Practical Training (OPT) allows students with F-1 visa status, who have completed or have been pursuing their degree for more than three months, to work for one year on their student visa to get practical training.
Once you graduate, you will have 90 days to look for a job. Keep in mind that if you take 80 days to find a job and then get fired, you only have 10 remaining days to look for a new one. So, if you want to secure a job, be sure to do it as soon as possible.
The length of your OPT depends on your degree. STEM graduates get a three-year work permit, while other graduates get one year.
You Need an EAD Card
You are required to fill out a form to get Employment Authorization Document (EAD) during your last semester at your university. You have to list the date that you would like to start your OPT, as OPT does not start right after you graduate. You can choose to start your OPT up to 60 days after your last exam is completed.
However, in the case that you get a job within the 60-day window, the company will not yet be able to hire you because your OPT has not started yet. So, if in your last semester you have interviews scheduled and have a good chance at getting hired, try to use only 30 days of your window.
H-1B Visa
You can apply for an H-1B visa. If approved, you can work in the U.S. on a H-1B visa for a maximum of six years. It would be beneficial to seek out a company for which you can intern that offers H-1B visa assistance. After your internship and proving yourself valuable to the company, you can ask the company if they are willing to sponsor you for an H-1B visa.
However, not all H-1B visa applications are approved. Even if your application is picked, your employer has to prove that they couldn't find someone for your position who already has a U.S. work permit. Getting an H-1B visa is especially difficult for undergraduate students.
O-1 Visa
An O-1 Visa is awarded to people who have extraordinary abilities. These people are exceptionally talented in their fields. If you are very good at what you do, you might qualify for this. To prove that you are extraordinary, you will need evidence like articles that have been written about you, or proof of an influx of profit during your time with a company.
If you think you have the ability to acquire this visa, instead of waiting and looking for a job after graduation, you can start working as soon as possible. If are working on a startup company, try gaining funding and earn noteworthy success. An O-1 visa provides an initial grant for three years, after which it can be renewed one year at a time, or for another three years to complete the same activity. In this case, the visa may be extended indefinitely. This visa is also easier to obtain than the H-1B Visa, but only so long as you have the extraordinary abilities to qualify for it.
The EB-1A visa is in the Green Card category of the O-1 visa. The EB-1A visa is given only to people that are at the top of their fields, and the standards are much higher than that of an O-1 visa.
Interning While Studying
Under an F-1 visa, students are not permitted to work off-campus during their first academic year. Students will only be allowed to start Curricular Practical Training (CPT) after their first year. This allows international students to get paid for a full-time job, or part time internship. The internship should be a part of the established curriculum in your university, so you might need to speak to your academic advisor about CPT before applying.
Doing an internship while studying will help you network and get on the radar of different companies. Once you start looking for jobs, you can apply to the same companies you interned for, or you might be able to intern long enough for one of them to sponsor you.
American companies tend to hire American graduates, because immigration laws have been getting stricter. If you want to secure a job in the U.S. after graduation as an international student, you have to start planning and working towards your goals from day one. Do not wait until you graduate to have clear goals set. Build relationships with your professor and peers, because networking is essential to help you get the right job.
We are sorry that this post was not useful for you!
Let us improve this post!
Tell us how we can improve this post?