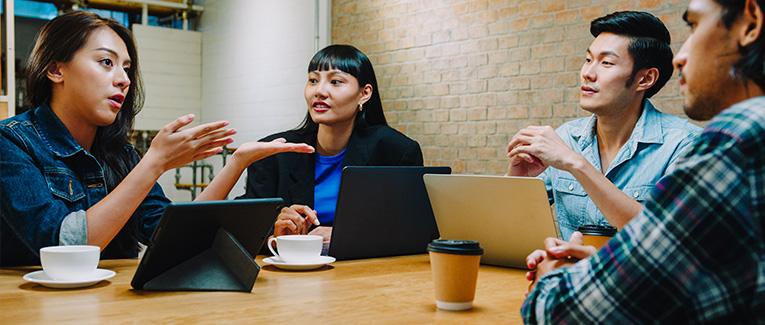 As a business major, an internship is an integral part of your coursework. The trick to getting a good internship position is to start early and explore all possible options. Research individual companies to understand how your resume can stand out among hundreds of others. Talk to your classmates and professors to understand industry trends.
Internships in the U.S. come with many rules and regulations. Make sure you are aware of your Curricular Practical Training (CPT) and Optional Practical Training (OPT) regulations before applying. F1 students are usually required to complete a year of studies before applying for CPT. The application process can be quite complicated and tedious. Plan your application time accordingly.
How to Find Internship Opportunities in the U.S.
Talk to your academic counselor
Some colleges collaborate with industry partners in order to provide internship opportunities to their students. Your academic counselor should be your first point of contact for important questions. Get information on eligibility criteria, required academic credits, when you can start applying, and how long it takes to process the application.
Research online
There are many websites that list local internship opportunities. These websites include LinkedIn, Glassdoor, and Indeed. Don't limit yourself to multinational corporations and large companies, since they attract more competition. Look for available internship opportunities with local businesses, startups, and small to medium-sized companies.
Ask around your peer group
Leverage your network and use social media to reach out to your peers and alumni groups. Ask around to see if they know of any suitable opportunities, and get referrals from your family and acquaintances, if needed.
9 Best Business Internship Opportunities in the U.S.
1. Dell Technology
The company offers paid internships in the fields of finance, accounting, HR, global operations, and marketing. According to the company, they plan to do 25% of their external hiring from college campuses. Generally, internship durations are for 10 or 12 weeks. Applicants can expect to earn approximately $24.00 USD per hour during their time here as per information published in 2021.
2. Facebook
Facebook is an exciting place to work and intern. They pride themselves on their internship opportunities, since applicants work closely with their executives to troubleshoot real-time problems. They offer 12-week paid summer programs where you can participate in hackathons, question-and-answer sessions, and other events. Interns in these programs can earn up to $8,000 per month as of 2021.
3. Google
This tech giant offers business, engineering, and technology internship positions at various locations. International students in the U.S. can explore the MBA internship opportunity. Although the work culture is pretty relaxed, competition for intern positions is quite stiff, so be sure to apply early. Interns at Google are also compensated quite well, being paid an average of $8,000 per month as of 2021.
4. Enterprise Rent-a-Car
Enterprise was listed by Business Week (2006) as one of the top 10 places to start a career. The company offers internship opportunities in management, accounting and brand-positioning. They have a fun work environment, but workdays can sometimes stretch to the weekends. Applicants can expect to earn approximately $10.00 -$12.00 USD per hour as of June, 2021.
5. USEH International
USEH International offers paid internships for J1 visa applicants. They cover different fields of business studies like sales, marketing, human resources, and finance. Applicants will have to go through a screening process that generally takes six to nine weeks. The paperwork is handled through their partner government agency. Once approved, candidates can get an internship position in the U.S. for a six to 12-month period.
6. World Internship
World Internship provides personalized service to students seeking an international internship. They act as mediators between companies and applicants. From sponsoring J1 visas to a student's accommodation needs, everything is taken care of, albeit at a price. Internship opportunities can be sought in accounting, finance, entrepreneurship and marketing.
7. Intern Group
The Intern Group provides internship positions in California, New York, and Toronto. They offer placements in finance and accounting, HR, supply chain and business. Their services are paid and include visa assistance, accommodations, pick-up and drop-off from the airport, and any other assistance you might need.
8. Global Experience
Global Experience provides tailored internship opportunities in New York City. For a fee, they take care of accommodation and document processing, and offer any other help students might need. Internship periods range from eight weeks in the summer, to 12-15 weeks in spring and fall. Since New York is the financial hub of the country, there are a lot of exciting opportunities students can explore here.
9. Sage Corps
Sage Corps provides paid internship opportunities at startup companies in Chicago and Denver. For a fee, they assist students with document processing, lodging needs and pre and post-departure support. They accept applications from students in all majors, and even offer academic credits. Although work life is a bit hectic at startups, there is much to learn from the exciting work culture.
How to Gain Maximum Value Out of Your Business Internship?
Consider your internship like a pilot test to experience the inner workings of the corporate world. Often, high-performing applicants secure full-time jobs with the same company upon completion of their internship. But even if you don't get a job-offer, it is still a great platform to network, build connections and gain experience.
Showing gratitude to your employer for giving you the opportunity is never a bad idea. Make the most of your career opportunities here. Stay connected with your colleagues even after your internship is over. You never know how they might help you in the future.
We are sorry that this post was not useful for you!
Let us improve this post!
Tell us how we can improve this post?